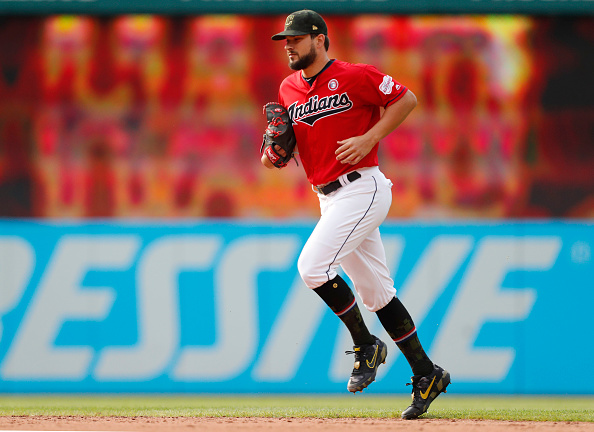 Don't look now, but the Cleveland Indians have suddenly started playing consistently good baseball for the first time all season. Sure, they're still 10.5 games back from the first place Twins. That said, they've won three of their past four series, and are now coming up on a soft spot in their schedule.
All of this makes the latest rumor regarding the Indians…we'll call it "oddly timed."
Despite the sudden turnaround, Buster Olney of ESPN has claimed teams around the league believe Cleveland will deal star closer Brad Hand before the trade deadline.  While the Tribe still has work to do before we can start talking October baseball, it seems a bit strange to hear that, even though things are getting back on track, the team is still viewed as a seller this summer.
Unless, that is, the Indians have already shifted their focus to next year. While the Hand rumor doesn't confirm anything, it does seem to hint Cleveland is starting to prioritize the 2020 season over trying to make a postseason run this summer.
Again, the Indians will need more than just a couple weeks of solid baseball before we can believe they're ready to contend in 2019. Still, this rumor has fans confused for multiple reasons.
For one, as bleak as things have looked this year, it's far too early to bury this team. While the division currently looks out of reach, Cleveland is only two games back from a wild card spot. It's not the ideal way to make the playoffs, sure, but the Tribe is hardly in a position to complain about how it gets to October
It'd only be natural for fans to interpret the shopping of Hand as this being yet another player the Indians can't afford to pay. However, this is off-base, as well.
Hand is not only under contract through the 2021 season, he's also owed laughably little considering how well he's playing. The closer is set to make $7 million next season, and $10 million the year after that, provided the team picks up his option.
For a 29-year-old reliever in the middle of a career-best season, that's an absurd discount.
With that said, if the Indians have the rest of the league convinced Hand is up for grabs, it really forces you to believe they're shifting their focus past 2019.
Sure, the bullpen has performed much better than we anticipated heading into the year. However, there's a difference between "better than expected" and "good enough to make a pitcher with a 0.98 ERA expendable."
No team shops a reliever as talented as Hand if it also expects to make a serious run in October. Why would Cleveland weaken what could arguably the top performing area of its roster by removing the best player from it?
You could argue the Indians are trying to see what win-now additions they can make by dangling Hand in the trade market. Considering both his contract and his current performance, it's not a leap to say they could get quite a haul for him.
That said, it feels lofty to think the Indians could get a few proven big-league players in exchange for Hand.
When they acquired the closer last season, it required parting with their top prospect, catcher Francisco Mejia. In fact, that got them both Hand and fellow reliever Adam Cimber.
While Hand has arguably driven up his value even more this season, I'd expect a top prospect or two to be the best Cleveland can get.
While that's certainly not a bad return, I wouldn't see it as a win-now move. A great prospect panning out in the majors is never a guarantee.
Nothing has happened yet beyond Olney's rumor. For all we know, it never becomes anything more than this, and Hand is still in Cleveland once the trade deadline passes.
Still, it's confusing to see the Indians' best string of performances paired with rumors of them shopping what could be their lone all-star this year. If whispers about Hand start to grow louder, it could officially signal the Indians' desire to load up for next year, regardless of how it affects this season.

NEO Sports Insiders Newsletter
Sign up to receive our NEOSI newsletter, and keep up to date with all the latest Cleveland sports news.