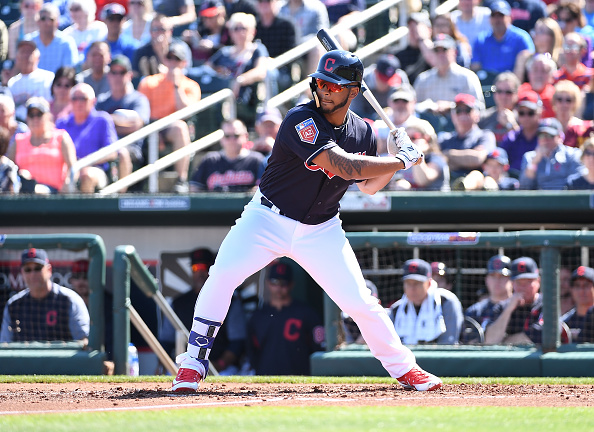 Where's Bobby Bradley?
That's what I find myself asking after losses like the one seen from the Cleveland Indians Wednesday. When you watch the Tribe put up zero offense, and waste multiple opportunities to do so, you can't help but wonder why the team's power-hitting prospect remains buried in the minors.
When doing so, I can't figure out a reason for Bradley to stay in Columbus any longer. Frankly, I struggle to believe the Indians can come up with one, either. It's time for Cleveland to bring him to the big leagues, if only because there's no longer a valid excuse not to.
To be fair, I've already proposed one explanation as to why the Indians haven't called up Bradley. However, a refusal to admit Jake Bauers is currently over-matched in the majors is hardly a good enough reason to keep one of their top-performing prospects in Columbus.
Outside of that, what other explanation can you come up with when selling the idea Cleveland is right to hold Bradley back?
We can go ahead and toss the "this team needs veterans over youth" excuse, just as the Indians did when they DFA'd Carlos Gonzalez back in May. As soon as the younger Oscar Mercado was prioritized over an aging vet, this signaled the end of Cleveland's trademark overvaluing of older players.
So, if the team is no longer preventing call-ups from getting significant playing time, why isn't Bradley getting an opportunity?
The easiest red flag to find with him is his noticeably high strikeout rate. I'm not here to pretend this isn't an issue with Bradley, as his 79 K's are second only to one player in the International League. In a perfect world, he uses his time in the minors to get this straightened out.
However, since when is Cleveland one to gripe about strikeout concerns? Bauers, the player most likely keeping Bradley in Triple A, is second on the Indians with 63 K's this year. The only player worse than him – outfielder Leonys Martin – has 73. Both continue to get consistent playing time.
Knowing that, we can scratch "he strikes out too much" off the list of excuses for not calling Bradley up.
To me, the most surprising aspect of Cleveland's refusal to promote Bradley is how much of an impact the team's last call-up is having.
It took the Indians too long to finally bring Mercado up to the majors, and we seem to get more proof of this every day. All the young outfielder has done since being promoted from Columbus is provide consistent offense, generate the fourth-highest batting average on the team and secure the No.2 spot in Cleveland's batting order.
While nobody is claiming he's putting up MVP-caliber numbers, Mercado has clearly provided a jolt, a shot to the arm of an offense which had been dead in the water before he was promoted.
Knowing this, knowing that the Indians are already seeing early returns after starting a youth movement, why wouldn't they double down? Why wouldn't they bring up a prospect who's near the top of the International League in both home runs and RBIs? Why wouldn't they add power to a lineup which, on most nights, is devoid of it?
The truth is the Indians don't have a valid answer to any of those questions. Pride in Bauers, concerns about strikeouts, or putting too much weight in veteran leadership. None of these effectively explain why Bradley hasn't been called up.
Despite a recent string of quality play, it's clear the Indians still need offensive help. They appear to have a potential solution to this, yet he's currently toiling away in their farm. Fans continue eagerly waiting for him to be promoted, if only because there's no good reason for Cleveland to hold him back anymore.

NEO Sports Insiders Newsletter
Sign up to receive our NEOSI newsletter, and keep up to date with all the latest Cleveland sports news.