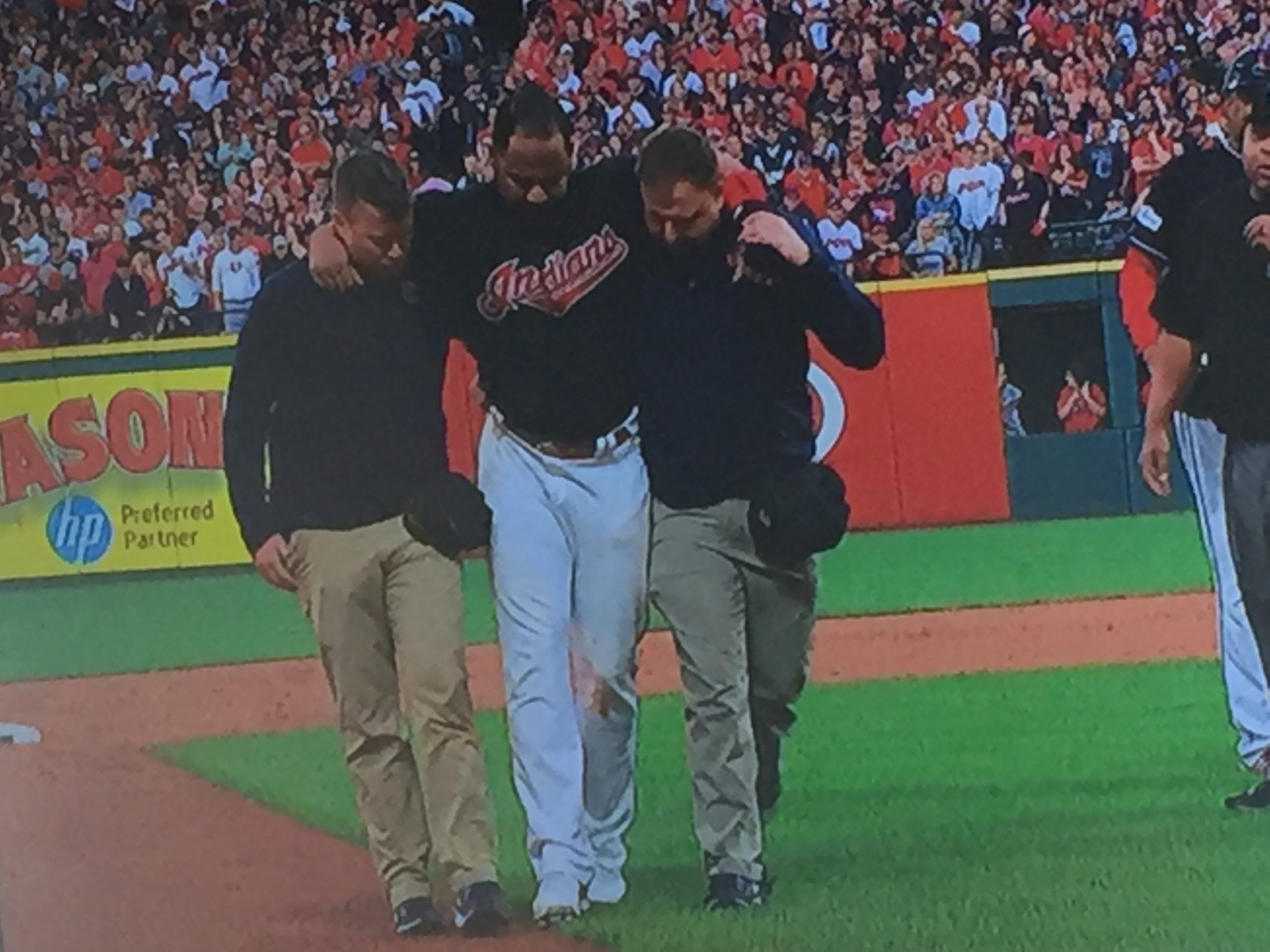 NEW YORK– During the first inning of yesterday's wild 13-inning long ALDS Game 2 against the New York Yankees, Indians DH Edwin Encarnacion rolled his right ankle trying to get back to second base after a line out. Encarnacion left the stadium on crutches and in a walking boot, and after the game Indians' manager Terry Francona said that Encarnacion had gotten an MRI and would be day to day.
Francona provided an update on Encarnacion, who remarkably has not been ruled out for Game 3 on Sunday, while speaking with reporters during his media availability on Saturday. Most notably, even with the injury, the team will not be making any roster moves.
"He is, I would say, I don't know if remarkably better is a good word, but pretty close," Francona said. "He's doing much better today. I don't think he's going to start tomorrow, but he's not been ruled out either. So we'll take our time and allow him to continue to get treatment. But, if he's that close to being available, that's a really good sign. So we're obviously not going to do anything roster-wise."
"Now, he came in on crutches, so I don't think you're going to see him stealing any bases, but we'll let the medical people do their stuff today," Francona continued. "We'll let them do their stuff tomorrow and then we'll kind of see where he's at. He might be able to pinch-hit. He might not be able to pinch-hit. He might be able to DH. We'll see. There's no way to know yet."
While Encarnacion exited the contest early, Francona put Michael Brantley into the game at the DH position on Friday. Brantley, who suffered an ankle sprain of his own at the beginning of August, was activated from the disabled list in the final week of the regular season.
On Friday before Encarnacion's injury, Francona said he would likely have Brantley come off the bench in a pinch-hitting role in Game 2, and that there was a possibility that he could start in the outfield in Game 3 on Sunday. Now, however, Brantley will likely get the starting nod but at the DH position.
"If Edwin doesn't play, he walks into the DH spot," Francona said.  "That's easy. As far as the lineup goes, I don't know yet. I mean, one, we've got to check on Edwin. And then we'll put it together. [Bench coach Brad Mills] and I will sit down later and kind of look at things. But we need to talk to our guys first."
There's little doubt how much being in the lineup means to Brantley, who missed the entirety of the Indians' Postseason run in 2016, and played in just 11 regular season games after having surgery on his right shoulder.
"Every single day, whether everybody else is out doing interviews and the bright lights are on, he's back in the back working hard, never missed a day," Francona said. "For him to get an opportunity to be part of what we're doing is extra meaningful to him. And before Edwin went down, he was most likely going to play left field as long as he felt physically good enough. But just now, just kind of makes it easy. If you have a choice to make, and you have an open slot at DH, it just seems common sense to put him there."

NEO Sports Insiders Newsletter
Sign up to receive our NEOSI newsletter, and keep up to date with all the latest Cleveland sports news.