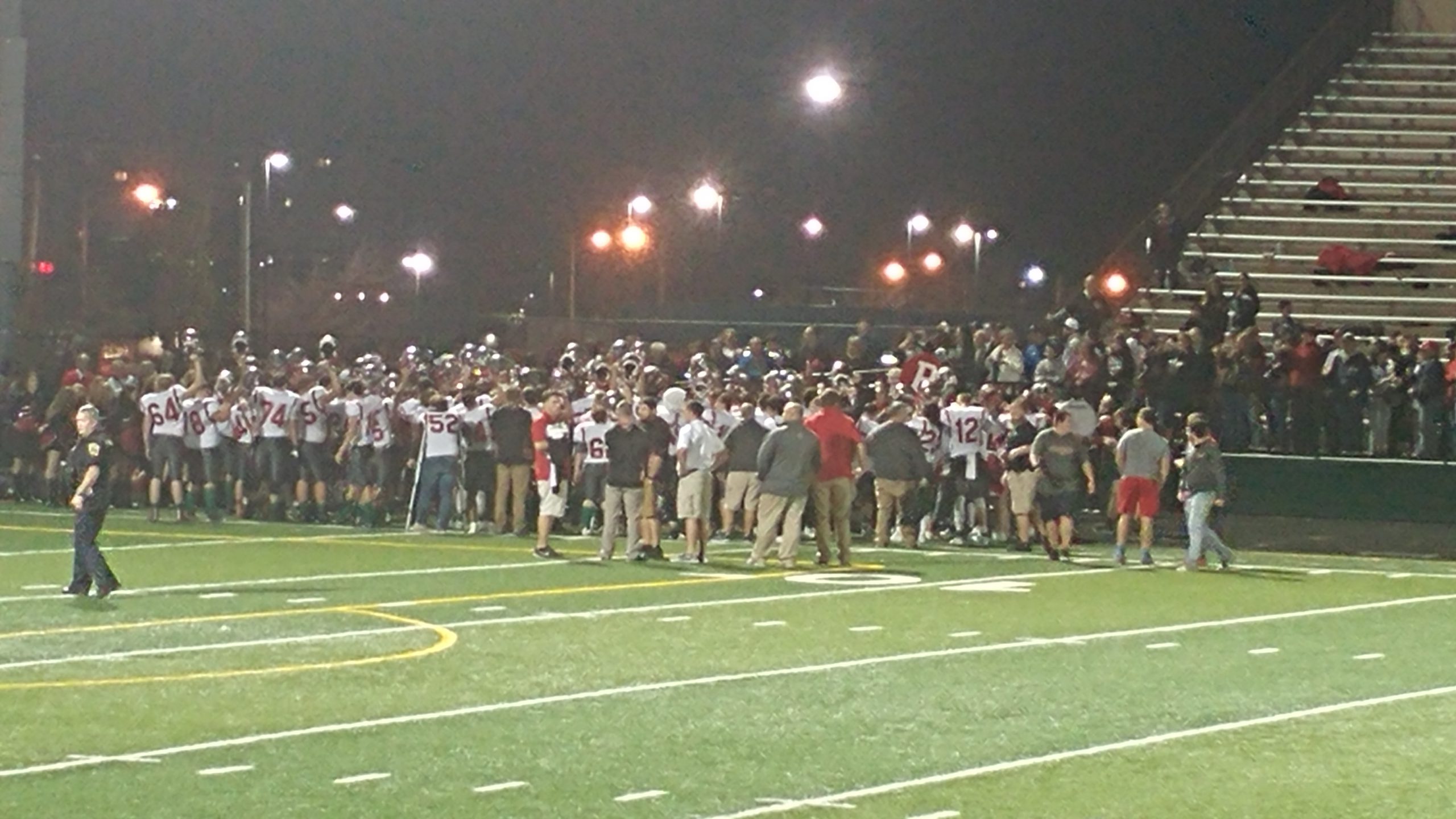 This article is brought to you by our fine sponsors at BA Sweetie. Visit them today!
PARMA, OHIO– The Parma Redmen and Valley Forge Patriots took the field for a clash at Byers Field, both teams sitting at 3-4 on the year. Though the Great Lakes Conference Championship was out of the question, both teams were playing for the pride that would result in defeating their rival.
It was a very gritty game, as both teams earned a lot of their yardage in between the tackles. Valley Forge dominated the first half by a clear margin, outscoring Parma 17-0 in the first half.
John Quinones led the Patriots to three scoring drives, highlighted by the sixty-one yard touchdown pass to Sam Rizzuto on the first play from scrimmage. Not long after, Quinones charged in from three yards out to make it 14-0 Patriots. A field goal in the second quarter made it 17-0, as the teams would head into halftime with that score intact.
It was a strong start to the second half for Parma, as they quickly climbed out of a seventeen-point hole.
Jonah Bagby would cap off a long opening drive for the Redmen to start the second half, finishing the lengthy possession with a thirteen-yard touchdown run. Parma would capitalize on a two-point conversion to come away with eight points on the drive.
Mark Post would lead the Redmen to another touchdown drive with a forty-four yard sprint for six points. The Redmen would take another chance at two points and convert to make it a 17-16 game.
A Mike Pappas rush for a Patriots touchdown was quickly negated, as Justin Yates found Janjetovic in the end zone for the score. Mark Post charged into the end zone to give Parma their first lead of the game by a score of 24-23 late in the fourth quarter.
A tough Patriots drive ended with Quinones taking a sack to force a turnover on downs. The Patriots would recover the ball off a mark that would end Valley Forge's hopes and complete the Parma comeback, as the Redmen would hold on for the 24-23 victory.
Parma moves to 4-4 and Valley Forge drops to 3-5 after a wacky game that had everything a football fan wanted.
"What I love about these guys, especially my seniors, is how just much they love football," said Parma Head Coach Bruce Saba after the game. "So they don't disrespect the game ever by not playing hard, no matter what the score is. Tonight it worked out in our favor."
Mark Post, who serves as one half of the quarterback tandem along with Justin Yates, explained how much this rivalry game meant to him.
"This is something I look forward to every single year. We came ready to play."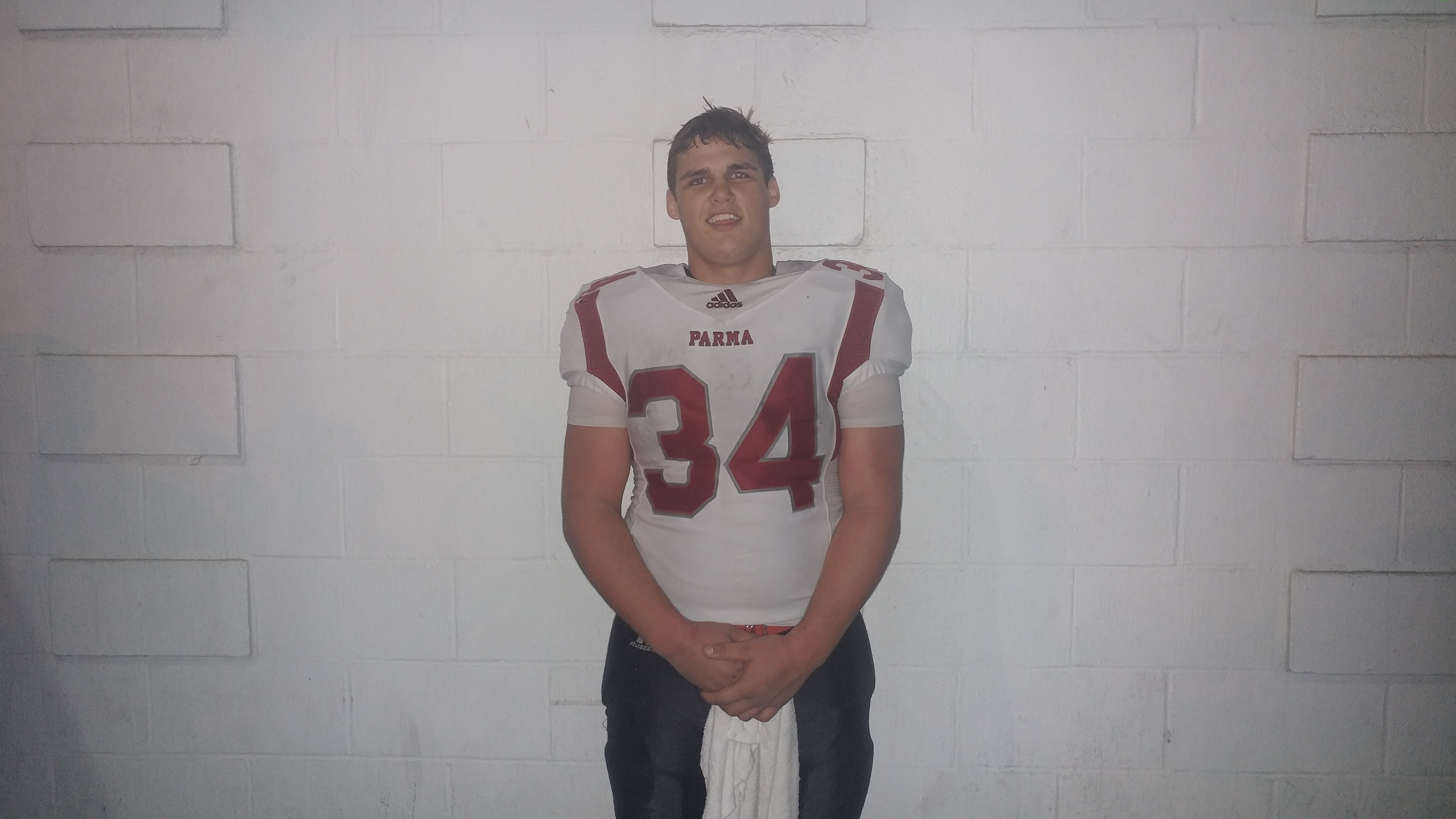 Player Of The Game: Mark Post
6-for-12, 62 yards passing, 1 passing touchdown
24 rushes, 168 rushing yards, 1 rushing touchdown

NEO Sports Insiders Newsletter
Sign up to receive our NEOSI newsletter, and keep up to date with all the latest Cleveland sports news.