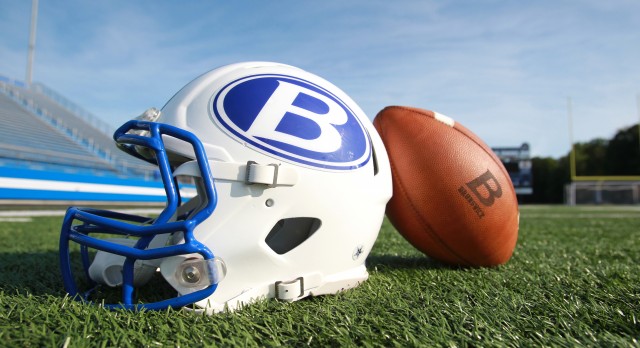 **My weekly Brunswick Blue Devils football coverage is sponsored by MDG Flooring America in Medina. Click on the link HERE to browse their site and download their coupon for either $100 off your purchase or 12 months special financing. Whether you need carpet or you need tile, they go the extra mile.**
EUCLID, OHIO– The Euclid Panthers came into tonight's Greater Cleveland Conference game against the Brunswick Blue Devils needing a win to solidify their playoff probabilities and to stay undefeated within the conference. Brunswick came to Euclid in hopes of an upset win that could kickstart any playoff chances they have left. In one crazy, high-scoring affair, the Euclid Panthers defeated Brunswick, 78-54.
On both teams' opening drives, it was the Ethan Flanigan show. He intercepted a pass from Euclid's Aubrey Shabazz and then had a touchdown run to put the Blue Devils up by 7.
Euclid's offense under Shabazz took the ball on the next drive down the field, and that drive ended in a Ronald Lee three-yard TD run. Lee scored again a couple of minutes later on a 55-yard run to put Euclid up, 13-7. Unfortunately for the Blue Devils, Euclid didn't slow down from there and just kept pouring the points on.
After a Brandon Wright 52-yard touchdown run and an interception of Brunswick's Zamiska, Euclid's Shabazz took off on a 45-yard touchdown run to put the Panthers up 26-7 with under a minute left in the first quarter.
After a 33-yard touchdown pass for Euclid by Shabazz to Jovan Owens, Brunswick finally got back on the scoreboard after quarterback Cole Zamiska took off for an 80-yard touchdown run to bring the visitors within 20 halfway through the second quarter.
Euclid's Brandon Wright was handed the ball for the second time in the game and just like the first carry, he scored, this time on a 29-yard jaunt to take a 27-point lead with just over four minutes left.
One minute later, Brunswick's Flanigan scored again, this time from seven yards out. But, unfortunately for them, they gave Euclid's offense way too much time before the half, and the Panthers took advantage as Shabazz hit Lee on a 30-yard scoring pass to put the Panthers up 47-20 right before the half.
Euclid is well-known for slowing down when having a big lead at halftime, and Brunswick took advantage of that on the opening drive of the second half, as Zamiska hit tight end Zak Zografos for an eight-yard touchdown pass that with the extra point, brought Brunswick to within 20 points. Zografos made the one-handed catch in the corner of the end zone, over a Euclid defender.
After a line-drive onside kick that bounced off a Euclid player was recovered by Brunswick, the Blue Devils went on a 74-yard scoring drive that ended on an Ethan Flanigan two-yard touchdown run to bring Brunswick within 13 just halfway through the third frame.
Thankfully for the Panthers, they still have Ronald Lee as he took off untouched for a 62-yard touchdown run to give Euclid a little breathing room, but on the first play of Brunswick's next drive, Zamiska scored on an 87-yard touchdown run.
After Euclid scored on Lee's fourth touchdown run of the night, Brunswick answered with a 40-yard pass from Zamiska to Zografos to make the score 61-48 with just over a minute left in the third.
After Brunswick held Euclid to a 30-yard field goal by Mamadou Mbaye, Brunswick answered on a scoring drive highlighted by a 50-yard run from Flanigan, and ended with a 22-yard touchdown run, also by Flanigan. Brunswick's two-point conversion was no good, leaving Euclid up, 64-54, with just over seven minutes left in the game.
Euclid added a 48-yard TD run by Shabazz and a five-yard scoring run by Lee to make the score 78-54 with just over three minutes left. Brunswick brought in reserve players to wind the clock down, and Euclid got the ball back with just over one minute left. Ultimately, the Panthers ran the clock out to end the game with a 78-54 win.
Scoring Summary:
1st quarter:
B- Flanigan 1 yard TD run (Kick good)
E- Lee 3 yard TD run (Kick blocked)
E- Lee 55 yard TD run (Kick good)
E- Wright 52 yard TD run (Kick good)
E- Shabazz 45 yard TD run (Kick no good)
2nd Quarter:
E- Shabazz 33 yard TD pass to Owens (Kick good)
B- Zamiska 80 yard TD run (Kick no good)
E- Wright 29 yard TD run (Kick good)
B- Flanigan 7 yard TD run (Kick good)
E- Shabazz 30 yard TD pass to Lee (Kick good)
3rd Quarter:
B- Zamiska 8 yard TD pass to Zografos (Kick good)
B- Flanigan 2 yard TD run (Kick good)
E- Lee 62 yard TD run (Kick good)
B- Zamiska 87 yard run (Kick good)
E- Lee 38 yard TD run (Kick good)
B- Zamiska 40 yard TD pass to Zografos (Kick good)
4th Quarter:
E- 30 yard FG by Mbaye
B- Flanigan 22 yard TD run (Two point try failed)
E- Shabazz 48 yard TD run (Kick good)
E- Lee 5 yard TD run (Kick good)
Player of the Game:
Euclid's Ronald Lee, 23 carries for 350 yards and four touchdowns, two receptions for 57 yards and one touchdown.
| | | | | | |
| --- | --- | --- | --- | --- | --- |
| |        1 |         2 |         3 |        4 |    Total |
| Brunswick |        7 |         13 |         28 |         6 |       54 |
| Euclid |       26 |         21 |         21 |         17 |       78 |
**Please visit MDG Flooring America for all of your flooring needs. They are located at 3812 Pearl Road Suite C in Medina. They can be reached at (330) 391-7184 or online at the link on top of this page.
Please help the Red Cross help victims of the recent hurricanes. Text REDCROSS to 90999 to make a $10 donation today.**

NEO Sports Insiders Newsletter
Sign up to receive our NEOSI newsletter, and keep up to date with all the latest Cleveland sports news.