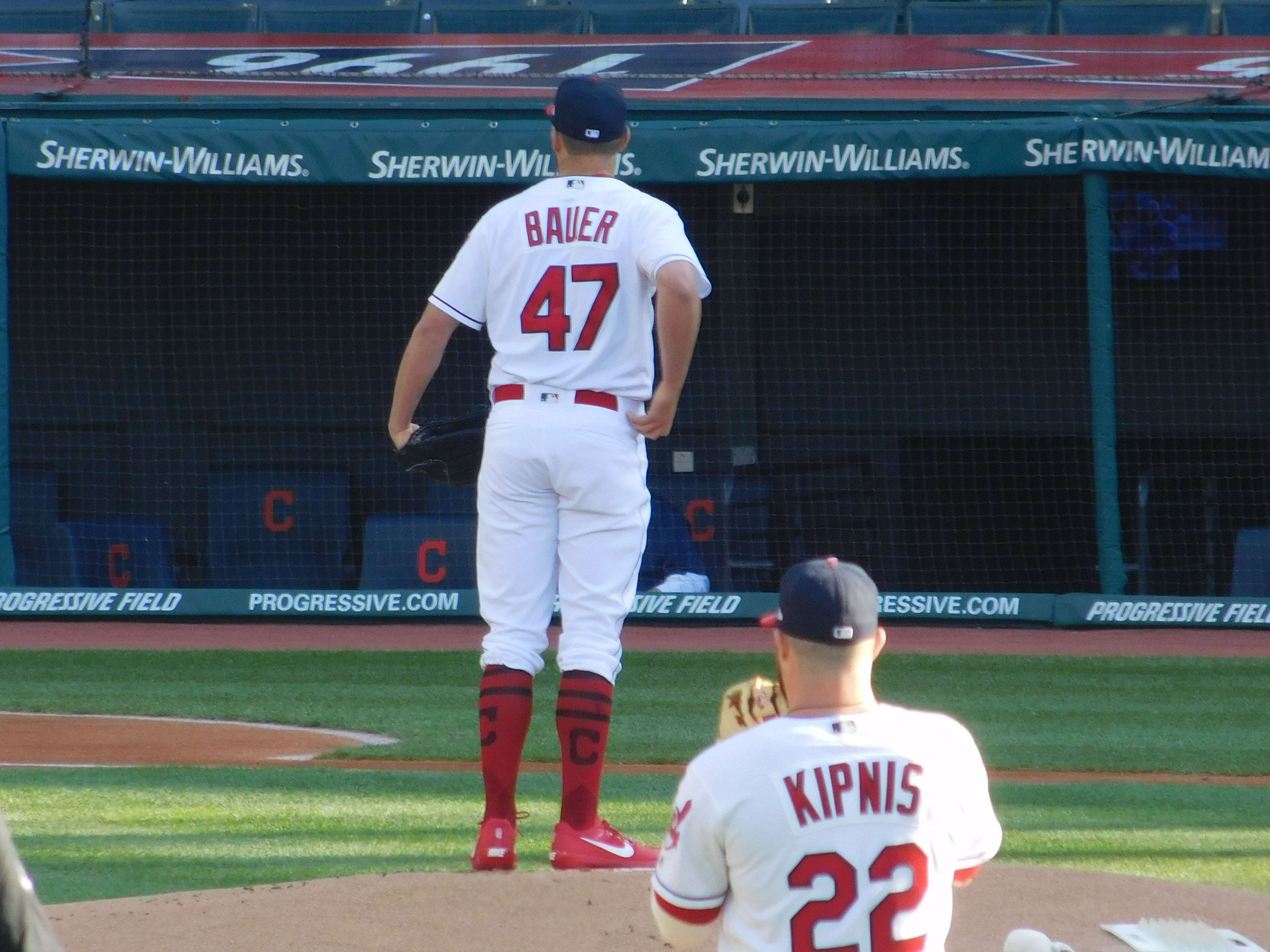 by Mike Holzheimer
CLEVELAND– Cleveland Indians starting pitcher Trevor Bauer is a very talented big league player. His attention to detail and his intense pregame and off-season workout regiment validates his commitment towards being one of the American League's top hurlers.
Bauer can also be described as, well, unique. He truly isn't afraid of speaking his mind to anyone at any time. His postgame interviews and tweets have gotten the attention of many media members and fans along with opposing players and managers.
In professional sports, it is often the case where an organization will "put up" with a certain player's antics and attitudes if that player's talent produces success coinciding with championships and consistent winning. Those results seem to allow team presidents, owners and coaches to look the other way, if you will, understanding that such conduct adds up to more pluses than minuses.
Such may be the case for Bauer, who, when he is sharp on that hill, along with pitching teammates Corey Kluber and Carlos Carrasco, may give the Indians one of the better "top 3" starters of any rotation in Major League Baseball.
Still, Bauer continues to get more recognition for his activities on Twitter, as opposed to his breaking off of curve balls leaving opposing batters frustrated and confused having just been called out on strikes.
Earlier this month, Bauer took to his social media account discussing the Houston Astros' pitching staff, in particular, their success rate regarding increased spin on pitches. Of course, Bauer's tweet didn't go unnoticed by Houston players, who shot back at the Tribe's starting pitcher jokingly referring to him as "Tyler" Bauer.
The next day Bauer claimed he never made any accusatory statements against Houston, and said he had nothing but respect for the organization.
Bauer proceeded, though, to ask a question about why have rules if you're not going to follow them. Such an inquiry could indirectly imply he believes somebody is not following the rules. Additionally, if one has respect for another organization, then why bother to bring such an issue up publicly on Twitter?
Sometimes one can show respect simply by leaving one alone and not say anything at all, despite what one may be thinking.
It seemingly is not in Bauer's nature to leave well enough alone as he is always looking to stir the pot. A good example of that was his decision to tape the first name "Tyler" above his last name on his jersey during Friday night's game against the Astros, a contest the Tribe lost, 4-1. One has to question the maturity level on such a move.
The "increased spin rate" incident prompted Tribe manager Terry Francona to text an apology to Houston manager A.J. Hinch prior to the start of this weekend's series between the two teams. And while Francona did the classy and professional thing, he should never have had to do that. A manager has far more important things to worry about prior to the start of a big series with the defending World Series champions than taking part in "damage control" procedures for his players.
But this is what apparently goes with the territory when professional sports teams are dealing with a "personality" of the game.
There is no questioning Bauer's talent, overall ability and competitiveness. One may suggest he should channel all of his energy and thoughts towards events on the field, as opposed to waging controversial issues off the diamond.
Bauer might do well to focus on that mound of dirt and rubber he stands upon every fifth day to deliver successful pitches to his target some 60 feet, 6 inches away. He should concentrate more on delivering strikes to home plate, as opposed to striking back on social media.

NEO Sports Insiders Newsletter
Sign up to receive our NEOSI newsletter, and keep up to date with all the latest Cleveland sports news.