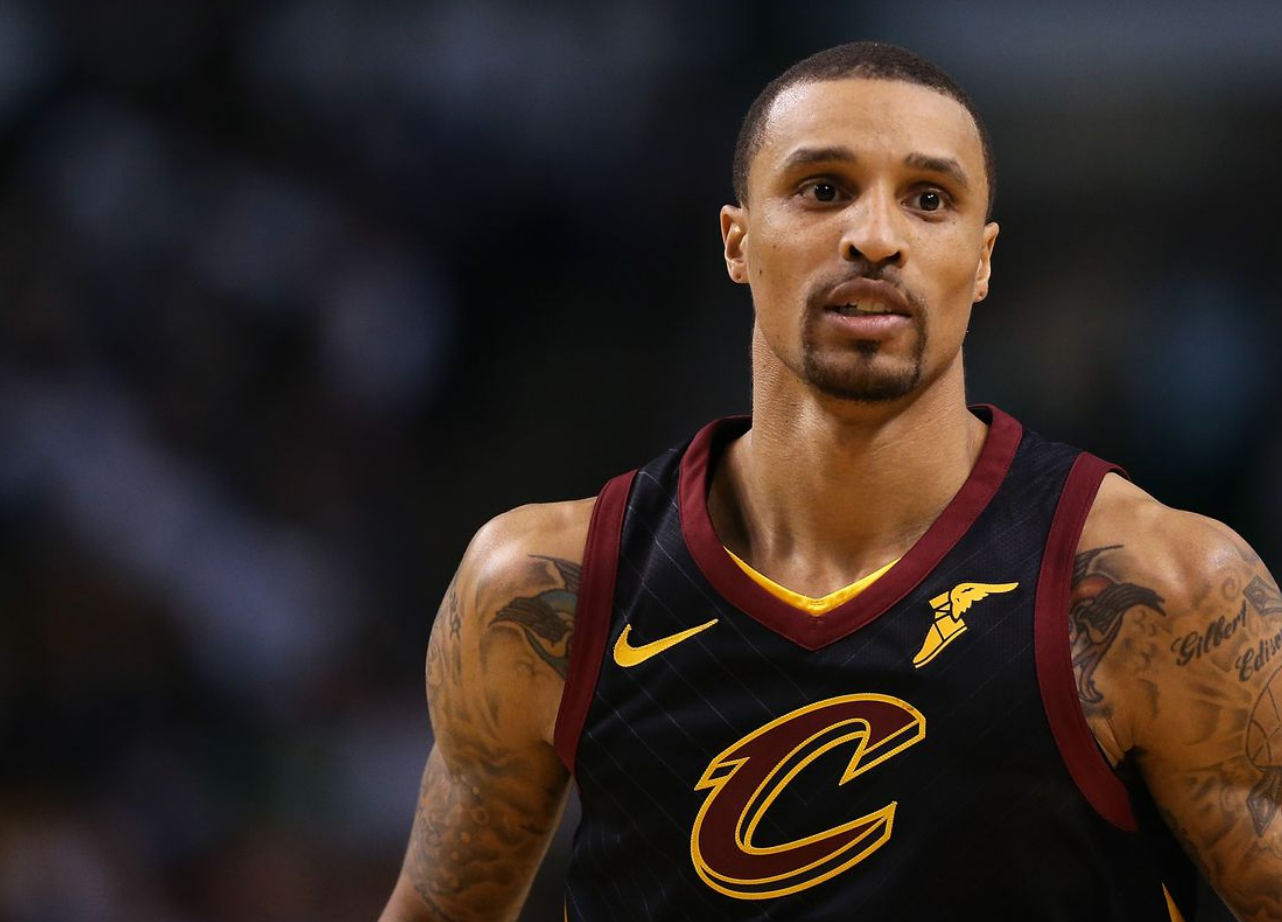 CLEVELAND– Through two games of the Eastern Conference Finals, George Hill had a total of just eight points and one assists as the Cavs fell into a 2-0 series deficit.
At Thursday's practice Hill was asked about his less than stellar performances.
"I'm trying to figure it out myself," he said. "I gotta be more assertive. I gotta play with that edge … There's no one to blame but myself. You gotta look yourself in the mirror and say 'What can I do better?'"
Hill and head coach Tyronn Lue came to the conclusion that the most important thing to do for Hill going into Game 3 was to play with more pace and aggression.
It's something he seemed to figure out in Saturday's Game 3.
Hill ended the game with 13 points, 11 of which came in the first quarter, three rebounds and two assists. He and James combined for 23 of the Cavs' 32 points in the first frame, as they jumped out to a 15-point lead.
Hill said it was in his mind to come into Saturday with an attacking mindset, as a result of his poor play in Games 1 and 2,.
"I said, 'I gotta figure out how to make an imprint on the game, if it's defensively, if it's offensively, just being somebody out there that they have to respect and honor,'" Hill said. "Knowing that we needed some much-needed help here from Game 1 and Game 2 maybe inspired myself just to be aggressive, drive to the basket, take shots with confidence and just have fun out there."
It was mission accomplished for Hill, who struck at the rim, from 3-point land, and from mid-range. Since Hill was hitting early, the defense, as he said, was forced to respect him as an offensive facilitator. As the game went on, the Cavs' shooters had more room to operate and get comfortable.
"When (Hill's) aggressive scoring the basketball, I think his penetration, it opens things up for our shooters and everybody on the perimeter," Lue said after the game. Just him playing fast with speed and with pace really changed our offense.
"He's been in the league for awhile and he understands– he's a vet. Just playing with more force, more pace, more speed, he did that early on in the game."
Ty on what Hill's aggressiveness does for the team's ball movement as a whole: "When he's aggressive scoring the basketball, his penetration opens things up for our shooters on the perimeter." pic.twitter.com/RQAsjUwzUn

— Ashley Bastock (@AshleyBastock42) May 20, 2018
The Cavs had five other players end the game in double-digits (LeBron James-27, Kyle Korver-14, Kevin Love-13, J.R. Smith-11, Tristan Thompson-10), and also shot 17-of-34 from behind the 3-point arc.
After the game, James also stressed how important it is for the Cavs' frontcourt to get going early in order to help his own game and the team as a whole.
"No matter if they are making shots or not, we want them to be aggressive," he said. "It just keeps the defense at bay. It allows me and Kevin to have more open lanes as well when those guys are being aggressive, looking for their shots. You saw that in G-Hill's mindset to start the game. He just had an aggressive mindset that if they're going to slide under his pick-and-rolls, he's going to shoot it, he gets a swing-swing, he's going to shoot it. He's going to attack."
LeBron on Hill and JR being aggressive early: "It's very important for our guards to be aggressive. No matter if they're making shots or not it just keeps the defense at bay and allows me and Kev to have more open lanes as well." pic.twitter.com/VYwwAv7ROL

— Ashley Bastock (@AshleyBastock42) May 20, 2018
In Game 2, the Cavs starting frontcourt of Hill and Smith got outscored by Boston's Jayson Tatum and Jaylen Brown, 41-3. On Saturday, there was more parity even though Boston still won the battle, 23-21.
The way Hill in particular played on Saturday was more in line with how he played throughout the Cavs' semifinal series against the Toronto Raptors. During that series he averaged 10.3 points per game, and the Cavs came away with a sweep. If they want to have any hope of digging themselves out of the 2-1 hole they're currently in, they are going to need more of the aggressive George Hill from Saturday night, as opposed to the one from the first two games of the series.
He certainly isn't showing any signs of letting up for Monday night's Game 4.
"We still got our backs against the wall, we're still down 2-1 so we can't be satisfied with today," Hill said. "We got another Game on Monday, and we gotta come out with that same effort. It's a must-win for us, and we're down 2-1, so there's no time to be settling."

NEO Sports Insiders Newsletter
Sign up to receive our NEOSI newsletter, and keep up to date with all the latest Cleveland sports news.