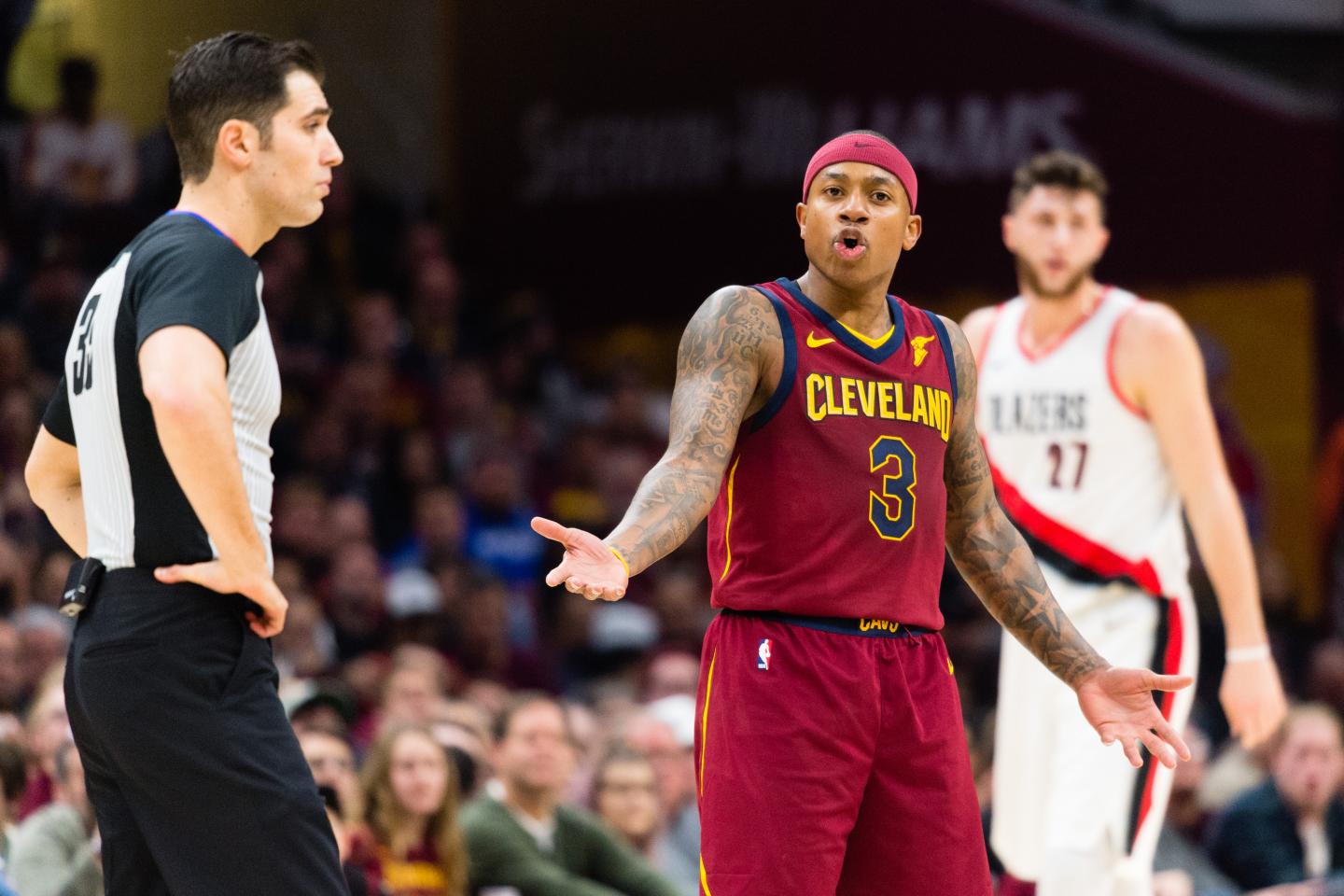 Isaiah Thomas was nowhere near advertised during his extremely short tenure with the Cleveland Cavaliers. Poor shooting, frequently turning the ball over, and locker room drama added to a player who was already a helpless defender. It wasn't Boston's version of IT4 or even Phoenix's installment of Thomas that the Cavaliers received this season.
Instead, it was a guy more worried about a max contract in the off-season than helping Cleveland get back to the NBA Finals for the fourth straight time.
But let's be honest. Isaiah Thomas was never going to be truly appreciated while in Cleveland, especially when he was considered the replacement for franchise cornerstone Kyrie Irving.
It was just two seasons ago that Irving hit the biggest shot in Cavaliers history, and quite possibly the biggest moment in Cleveland sports history, when he drilled a three-point shot over Steph Curry to lift Cleveland to its first team championship since 1964.
Just days later, Irving was reaching out and shaking hands with fans while enjoying the company of 1.3 million fans rejoicing in the Cavs' 2016 championship. Irving was a superstar in the eyes of the city. He was the star that younger age groups wanted to get behind, as his personality and swagger matched his on-court performance. Quite simply, Irving was never going to be replaced.
That's why it was so hard for Koby Altman and company to make the move this off-season to trade Irving to the Boston Celtics. It was a move that had to be done as Irving had already stated that he was not happy in Cleveland anymore and that he would not want to play on the court with LeBron James. But in all reality, there wasn't a player out there that could bring to the table what he had since his arrival in 2011.
Irving served as more than just a talented player you could watch and enjoy. He was the face of the new wave of Cleveland basketball when LeBron James left for Miami. Sure, those Cavaliers teams didn't win a whole heck of a lot of games but they were a lot of fun to watch and even set the groundwork for LeBron's return home. It was even mentioned by LeBron during an All-Star weekend while he was with the Heat just how much he wanted to play with Irving. It seemed like it was only a matter of time.
Can you imagine being the guy that has to fill in at the point guard position for a former top pick in the 2011 NBA Draft and fan-favorite? Can you imagine having the insane amount of pressure on everything you do, from how you possess the ball and play on the floor to how you handle the questions everyone has for you?
Obviously, Thomas was not good in Cleveland and it was clear that he wasn't a fit by his fourth game played with the Cavs. Just over 14 points and four rebounds a game is what Thomas averaged and while the numbers were much lower, it wouldn't have mattered.
For every basket Thomas made, there were three turnovers that had fans in attendance and at home growling in frustration of how 'Kyrie wouldn't have done that'. For every time Thomas would get blocked while attacking the basket, there were critics exclaiming of how Kyrie would've recognized the pressure and changed the trajectory of his shot to get a marvelous basket. Even on the defensive end, where Irving still struggles to this day, there were fans ready to argue the fact that Irving would've at least held his own.
There was no way that Thomas would've escaped the shadows of Kyrie. Not by the end of the season, not in two seasons, not ever. Fans were not only missing Kyrie, they were turning on Isaiah by the day. When he entered a game, more boos than cheers were heard inside The Q. The Cavs even had to disable comments on his birthday post on Instagram due to the backlash of fans and the ugliness that it was reaching. That's how bad it was.
The biggest difference between the two comes off the court and it's this: Kyrie argued with LeBron and the front office but mustered up the tolerance to bring Cleveland a championship while Isaiah couldn't get 20 games into his Cavaliers run before criticizing everyone in the building.
It's extremely fair to say that Thomas never lived up to the hype in Cleveland. But it's also fair to say that Thomas never stood a chance in Cleveland. He was brought in to help Cleveland fans move on from Kyrie and get excited about his game, fresh off of an MVP-esque season. Instead, he served as a reminder that Cleveland no longer had one of the top point guards in the NBA and instead were tasked with hoping Thomas would return to form after coming off of a major hip injury.
He never did return to form while with the Wine and Gold and refused to adapt to the team's style of play. For that reason, he's in Tinseltown.

NEO Sports Insiders Newsletter
Sign up to receive our NEOSI newsletter, and keep up to date with all the latest Cleveland sports news.