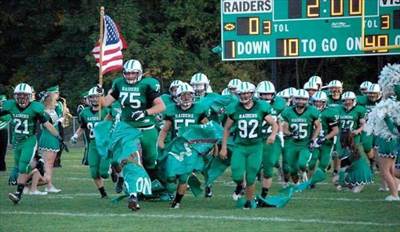 Columbia is a team that holds a very tight stranglehold on the Stripes Division of the Patriot Athletic Conference. For a team that has won the division every year since 2012, it seems like the time for Columbia is now. Transitioning from winning division titles to winning playoff games is a big leap and coach Jason Ward knows it will be a test.
Jason Ward is no stranger to being a stellar coach, as he has compiled a 70-36 record at Columbia for the eleven years he's been there. After a terrific 10-0 regular season, Ward looks to grow from the loss in the playoffs to Smithville, a game in which they failed to score.
"I think one of the things we took away from it was you don't have to be huge to be tough and physical."
Ward and the Raiders were not the only impressive team in the PAC, as the Buckeye Bucks steamrolled the Stars Division, taking an undefeated record into the playoffs as well.
When talking about the other top-notch team in the PAC, I asked Coach Ward if he ever paid attention to the Bucks while having a terrific season themselves.
"No not really. It would be different if we crossed over with those guys and had them on our schedule…I always root for our conference teams. I think it's great when we can get a couple schools from both sides into the playoffs."
For a team that averaged 42.3 points per game last year, I asked what the offense will look like this year.
"Brandon Coleman is our tailback coming back. He was a freshman last year and ran for almost 800 yards, ten touchdowns. I believe he's one of the more special players in the county…It's really gonna come down to our offensive line and how well they can come together."
Coach Ward said this when asked how the team will keep the focus on the brand new season and not the previous accomplishments.
"Just go 1-0 every week…doesn't really matter what we've done in the past. It's all about the next game because that's the biggest game."