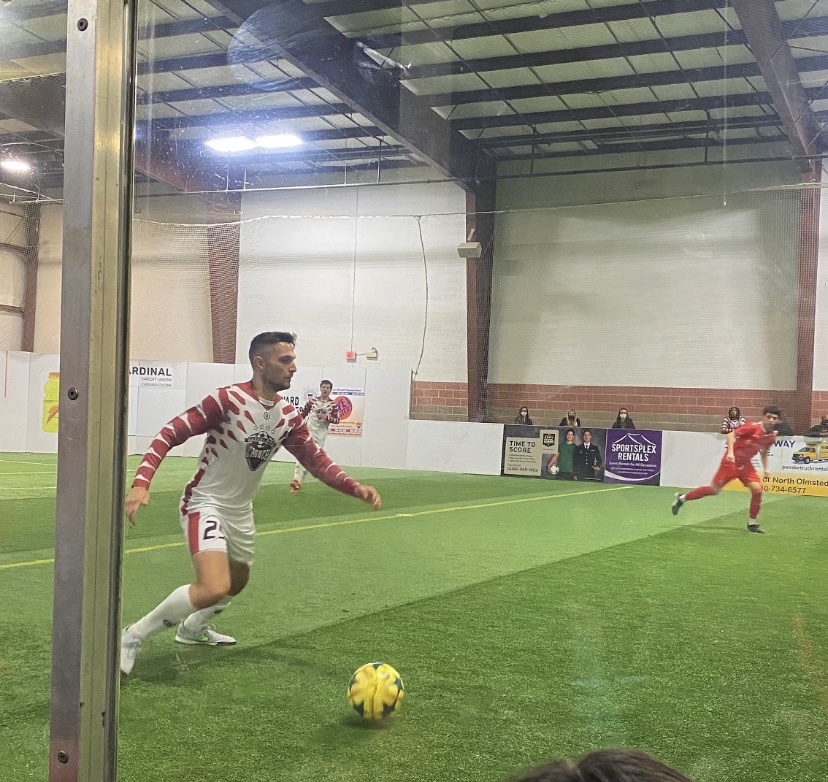 Hunter Johnson started playing soccer at the young age of three. His father coached him. Back then and currently, his parents have been a huge source of support.
Johnson attended high school at Copley. During his time there, the soccer team was always in the district finals. Johnson spoke highly of his coach, David Antel, at Copley. Antel was an integral piece of the foundation that built Johnson's soccer career. He aided in the recruitment of Johnson to attend Ashland University.
During Johnson's time at Ashland, he speaks of how much he gained from the international players there: "I played with guys from Germany, Indonesia, Portugal, England and New Zealand. I learned many different techniques and style of play from them."
The coaches at Ashland were important to Johnson. He garnered a great deal of knowledge during his time there. In May of 2021, the Ashland University men's soccer team won the program's third GLIAC Tournament championship.
During his limited down time, Johnson enjoys trail running with his brother. He's also participated in 5K and Spartan races. Johnson spoke fondly of his girlfriend as well, who's a huge part of his life.
Steven Gerrard is one of Johnson's favorite soccer players. The reasons for this he said are several. Gerrard was such a versatile player, a workhorse who kept his head down and really focused. Gerrard has been described as timid at times yet saves his grit when the stakes are the highest.
Johnson tries to model his game after Gerrard He told me "I'm not the flashiest player and I may not be the strongest or have the best touches, but I give 110 percent" So far this approach has propelled Johnson to the player he is today.
When Johnson graduated in December of 2021, he wasn't ready to stop playing soccer. He reached out to, Rylan Wikle, who's a current member of the Cleveland Crunch. Wikle and Johnson were going to play in a summer league, but the league didn't play due to COVID. Johnson also contacted the Crunch's head coach, Louis Kastelich. Coach had him come out for training and Johnson joined the team in January.
The Crunch is on fire this season. As of this article they are undefeated with a record of 8-0. Johnson attributes the culture of the team as a major part of their success. I asked him if he felt uncomfortable joining the team during the season and he told me "No, everyone has been welcoming. They have that family unit feeling. If I have any questions they answer or refer me to someone who can."
I was curious if he was given a hard time as the new guy and Johnson said, "not really, sometimes during practice with rondo, they put me in the middle…which is respectable and how it was in college as well." The team is made up of incredibly talented players however, you can see how much fun they have while playing. Johnson agreed and added "within a team you have to joke around, it can't always be business…creating bonds…that's what makes us so successful."
Johnson enjoys the energy the fans bring to the Crunch games. Kids often come up to him and the other players afterward. The fact that they look up to him isn't lost on Johnson. There's a quiet confidence about #25 along with excitement about being a part of the Crunch. Coach Kastelich recognizes Johnson's hard work as he had this to say about the rookie ""Hunter has come in and done a very good job for us. He shows up and puts the work in and has added a nice attacking option to our defense. Similarly, to our other young guys, he may go through ups and downs, but he is willing to learn from them and get better each day. I look forward to helping him learn the differences between indoor and outdoor and seeing him grow into this league."
To see Johnson and the rest of team finish out the season get your tickets for fan appreciation night. Cleveland soccer fans definitely have Crunch fever.

NEO Sports Insiders Newsletter
Sign up to receive our NEOSI newsletter, and keep up to date with all the latest Cleveland sports news.