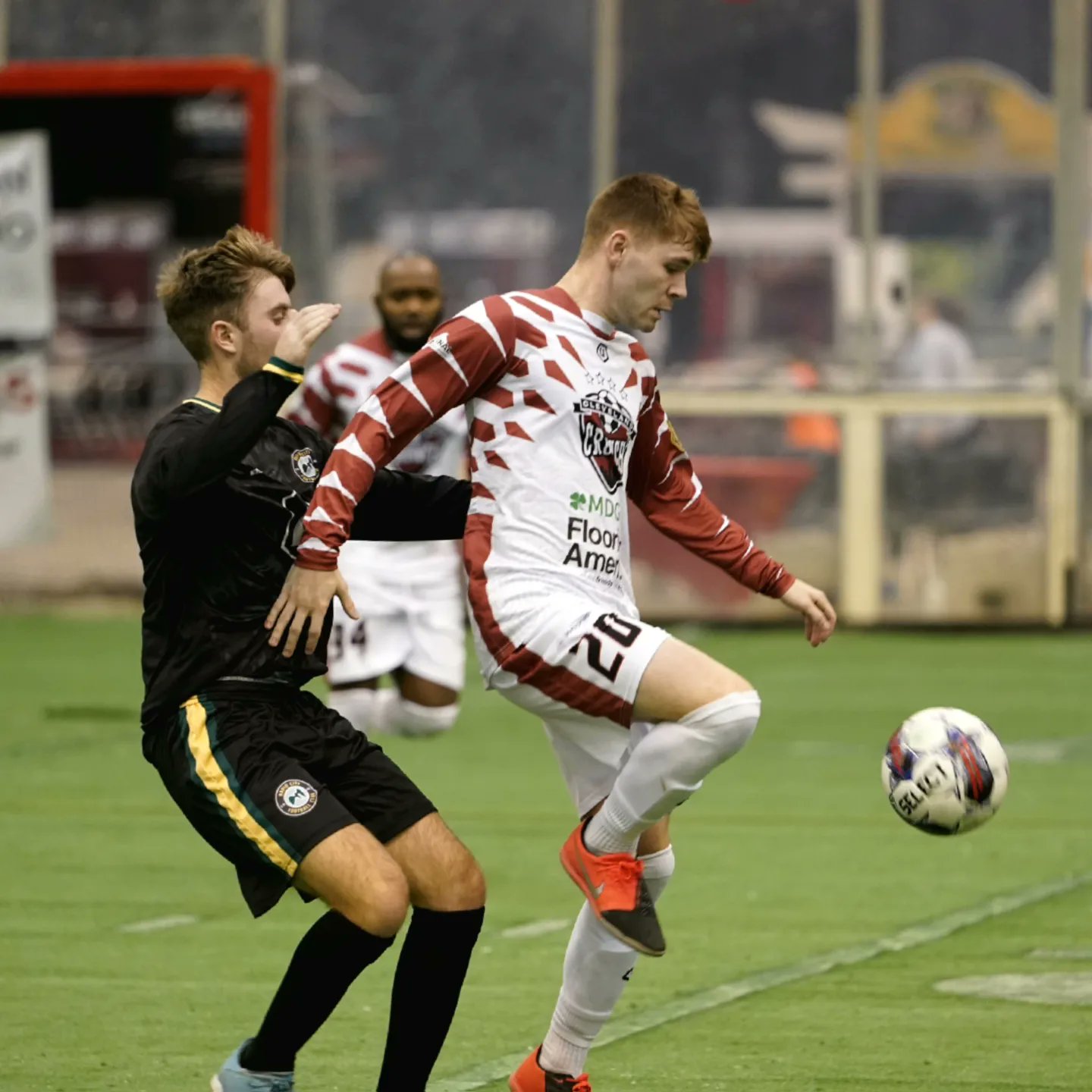 Crunch Bites February 5th!
Quiet week as the team doesn't play again until Saturday at the Soccer SportsPlex. So, we give you a look back at the weekend home opener, Kevin and his young fans, the debut of the Czar, and a list of the MLIS leaders as of Sunday morning.
Look back at the weekend at the IX Center.
Honor Guard!
The Brunswick VFW 9520 had the honors of presenting the colors at the home opener!
Kevin and the kids!
The Debut of Parker Csiszar
MHS alumni Parker Csiszar made his debut with the Cleveland Crunch this past weekend and recorded a hat trick against Grand Rapids. Congratulations Parker! pic.twitter.com/1WwL7CHzky

— Medina HS Boys Soccer (@BeesBoysSoccer) January 31, 2023
Photo by @viper98, Luigi Musto
In 2018, Medina HS boys soccer had the dubious task of defeating Archbishop Moeller, who was predominantly the #1 team in Ohio for the entire year. Medina had lost a heart-breaking double overtime state final in 2017 to Beavercreek HS. And they weren't about to let the #1 team stop them and their dreams.
Medina's secret weapon? Junior Parker Csiszar! With almost ten minutes gone in the first OT, Parker decided to end the match. Taking a pass from teammate Josh Cabacungan, he whirled around a defender, and deposited the ball into the back of the net, setting off a wild celebration.
Medina's coach, Simon Spelling, speaking to cleveland.com, said:
"He's very quiet, but he's like a stealth bomber. He just shows up, and then the game's over."
Parker's senior year was not as fortunate as they suffered a 3-0 defeat to St Ignatius in the state semi-final. After the high school season, Parker decided to attend Cleveland State University, and now finds his potential pro career beginning with the Cleveland Crunch!
Good luck, Parker! Too soon for the "czar" nickname?
MLIS Stats and where the Crunch fall
Goals Leader                      Team
14      Manuel Lira             Omaha
13      Dominique Salcedo Springfield
10     Admir Suljevic        Crunch
Assists Leader                     Team
9         Admir Suljevic       Crunch
9         Desmond Williams Springfield
8         Manuel Lira            Omaha
Goals Against AVG Leader                Team
4.69                       Marijo Musa     Crunch
5.33                        Jose Campo       Wichita
5.37                       Ricardo Porcayo Chicago
Save %age             Leader                Team
.753                       Marijo Musa    Crunch
.742                       Jose Campo       Wichita
.731                       Joel Barroso       Springfield
Odds and Ends

Only three games last night in the MLIS season last night.

Wichita defeated Springfield, 10-7. The Selection trailed 5-4 at half but dropped in six second half goals for the win. Wichita has only played 3 games to date, while Springfield has now a 5-3 record on the year with the loss.

Southern Conference leaders, Houston, kept fellow Texas squad, Austin, winless after a 16-3 shellacking! 

Milwaukee had their first home game after a name change to Brew City United but still stayed winless with a 10-4 loss to Illinois State Line Falcons. But t

hat name! Love it!
New team…familiar faces. Excited for the next adventure in the @MLISpro. pic.twitter.com/vZJeUFYZAM

— Brew City United (@BrewCityUnited) January 18, 2023
Stay well, soccer on, and see you in Cincinnati!
Missed last week's Crunch Bites? Here you go!
@Petrorock44

NEO Sports Insiders Newsletter
Sign up to receive our NEOSI newsletter, and keep up to date with all the latest Cleveland sports news.