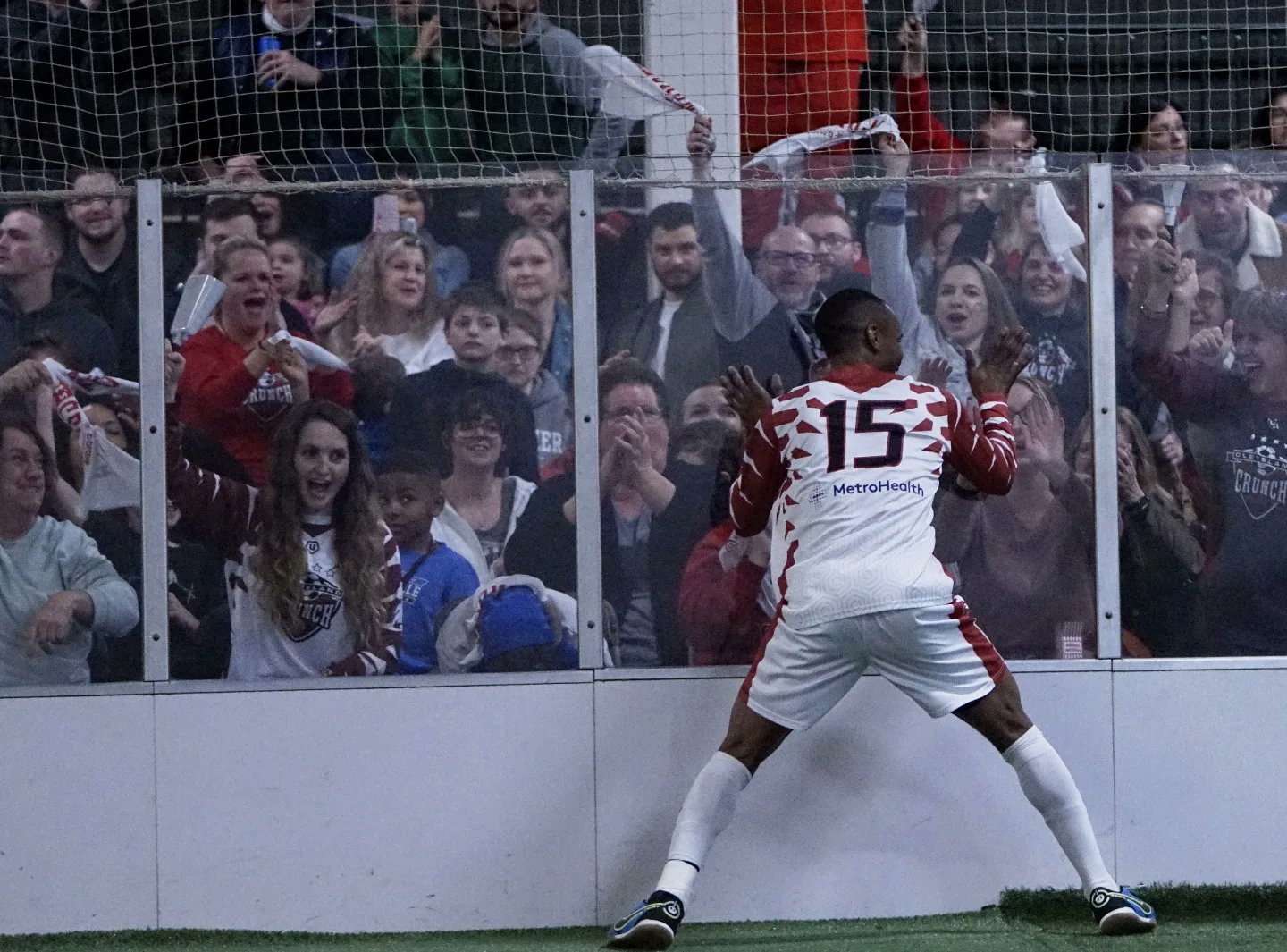 The MLIS playoff push has begun as the Crunch defeated Chicago in the wild card match up and now find themselves two games away from a championship.
This past Saturday night, your @clecrunch battled the @chicagomustangs in a wild card match. The outcome favored the Crunch with a 12 – 6 win to advance them to the final four this coming weekend in Chicago against the @omahakingsfc

📸 for @clecrunch@MLISpro@mlisnews pic.twitter.com/AUXbckgdWG

— Luigi Musto (@viperg98) March 27, 2023
We take a look at the three remaining teams and how the Crunch stack up to them.
Omaha Kings

Head Coach: Emmanuel Viel
Overall Record: 10-1
Home Record: 5-0
Away Record: 5-1
Goals For: 114 (10.36 goals per game)
Goals Against: 57 (5.18 goals allowed per game) (Courtesy of MLISPro.com)
Omaha were the winners in the Central division with a 10-1 record. They scored 114 goals, the fifth most in MLIS. Their differential is +57. The team leaders are all from the Nebraska area.
Omaha is led by perhaps the MVP for the league in Manuel Lira. Lira tallied 30 goals and amassed 52 points this season.
Manny Lira is from Omaha and graduated from Omaha South HS in 2010. He played soccer at Bellevue University winning league honors on more than one occasion. For the Crunch to win, they MUST keep him in check.
Defensively they are led by Morgan Penn and goalie Efren Flores. Morgan, also a former Bellevue soccer player, heads a stingy defense. Cleveland will need to be creative against this group. They are one of the best defensive teams in the MLISPro this year.
Flores is MLIS' top goalkeeper with a 5.21 goals against average (GAA) and #1 in wins with 10. Flores spent one year with Concordia University before joining the Kings.
The Kings are coached by co-owner Emmanuel Viel, a native Argentinian. 
Omaha, like Cleveland, has a strong soccer history the past 4 years. From PASL up through MLIS, they have won the M3 championship in 2020-21 and played in the semifinals for M2 before losing to the same team the Crunch lost to last year, the San Diego Shockers.
Follow them on Social Twitter   Facebook   Instagram
Houston Bolt

Head Coach: Rafael Lopez
Overall Record: 9-3
Home Record: 4-2
Away Record: 5-1
Goals For: 128 (10.66 goals per game)
Goals Against: 77 (6.42 goals allowed per game) (Courtesy of MLISPro.com)
The Bolt won their final five games this year to clinch the Southern Division. Coached by Rafael Lopez, Houston finished the year with a 9-3 record. Their physical style of play has led to three players in the top five for fouls, but they also can score goals fast!
The net-minder, Gabe Enciso, is one of MLIS's best. Gabe is third in GAA with 5.95 and 2nd with a .694 save percentage. He was called up midseason and has posted a 7-0 record since!
Leading this late season charge has been Irvin Ramirez with 29 points, Jeminson Mejia with 11 goals and 17 assists (11/17), and David Brown with 12 goals in only 6 games since his signing.
Irvin was with the Houston Dynamo development program and spent a year at High Point University. Then, he played professionally with teams from France, Israel and Mexico. His experience and the number of guys who can score make this a dangerous team. The only drawback? They haven't played in over 3 weeks since clinching the division.
That will be interesting to watch. Cleveland has had many games in that span. Boban Cancar and David Jordan and the rest of the defenders for the Crunch will have their hands full stopping this crew. 
Follow them on Social  Twitter   Facebook    Instagram  
Grand Rapids

Head Coach: Louis Stephens III
Overall Record: 10-2
Home Record: 5-1
Away Record: 5-1
Goals For: 132 (11.00 goals per game)
Goals Against: 70 (5.83 goals allowed per game)
Previous Meetings: 2-2 vs. Cleveland (Courtesy of MLISPro.com)
Crunch fans are quite used to seeing Rapid City FC. As members of the Eastern Division they are a rivalry in the making. 
The Crunch won the first two meetings of the year, but Grand Rapids won the last two, securing their division crown. They own a 10-2 record, scoring 11 goals per game and only allowing 5.83 a contest.
They are led by a bevy of scorers most notably Nermin Crnkic. Crnkic led the team with 19/28 but again their core scoring later in the year came from midseason acquisitions like TJ Ifaturoti, Elmedin Zukic and Alexis Mendez who all garnered at least 17 points in five games!
But you could point to when Jay Toric was named the starting goalie as the point their season turned upwards. He has been undefeated (7-0) and boasts a 5.75 GAA during that time.
Marijo Musa with Cleveland has a 5.85 GAA and a .708 save percentage (Tops in MLIS). His MOTM from the playoff win over Chicago could propel Cleveland to the championship game. Two great net-minders!
Owner Louis Stephens III, a former soccer player with Michigan State, has put together a strong club but really hits the right notes on the league:
 "When we were notified that prominent M2 teams such as the Swerve, Crunch and Chicago Mustangs, were in our region at the MLIS, it was a match made in heaven. For us in Grand Rapids, it is a great fit at the perfect time. We have a community that is enriched in soccer tradition but has never had a professional soccer team to call our own. I love direction of the league and see a bright future for potential teams looking to join the league." 
Follow them on Social Twitter    Facebook    Instagram
Cleveland Crunch
Head Coach: Benny Dargle
Overall Record: 9-3
Home Record: 5-1
Away Record: 4-2
Goals For: 134 (11.17 goals per game)
Goals Against: 69 (5.75 goals allowed per game)
Previous Meetings: 2-2 vs. Grand Rapids
Crunch Twitter   Facebook   Instagram    Twitch
Playoffs MLIS

Only Cleveland and Rapid City FC have played each other during the season. They are on opposite sides of the bracket. A final between them would be incredible! But each has their own obstacles to get past.

#4 Cleveland v #1 Omaha

When: 6:00 PM Saturday

Where: C

hicago's Grand Sports Arena

#3 Houston v #2 Rapid City

When: 8:30 PM Saturday

Where: Chicago's Grand Sports Arena
Finals MLIS
Winner of CLE/OMA v Winner of HOU/RPC
WHEN: TBD
Where: Chicago's Grand Sports Arena
Our Predictions?
Semifinals Crunch over Omaha, 17-16. Rapid City defeats Houston, 15-10
Finals Crunch over Rapid City, 10-9, OT winner!

NEO Sports Insiders Newsletter
Sign up to receive our NEOSI newsletter, and keep up to date with all the latest Cleveland sports news.