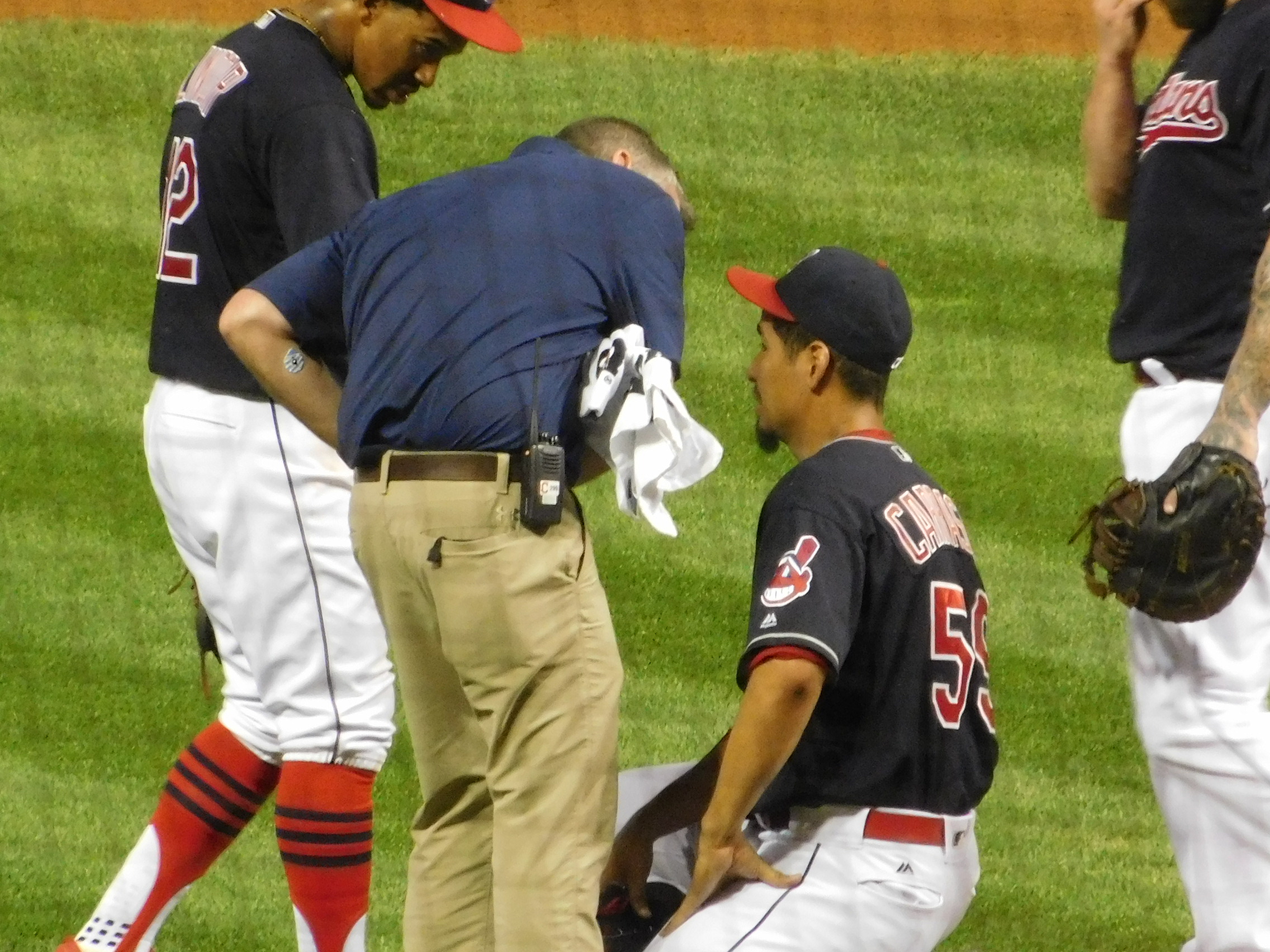 CLEVELAND– Carlos Carrasco left the game early with an injury and the Tribe bats never got going as the Indians fell to the Minnesota Twins for the second straight day, 9-3.
The Indians were unable to recover after Minnesota put up four runs in the first inning as Carrasco was struggling with locating his pitches and allowed Minnesota to settle in. As he left the game in the second inning after being hit by a line drive, the bullpen was unable to minimize damage.
Here are three takeaways from the loss.
1. Carrasco exits early and the bullpen struggles to piece the rest together
Carrasco lasted just one and one-third innings on Saturday, as he was removed from the game after being hit in the arm by a line drive off the bat of Minnesota's Joe Mauer. Official word from the team came down that Carrasco left with a right forearm contusion, and after the game, the team confirmed that Carrasco was still at the hospital being examined.
"They took him to the hospital for X-rays, and they want to look more," manager Terry Francona said. "When you look inside a pitcher's elbow, there's a lot going on. So they're going to do a scan here probably now. So right now, I think they said it was a contusion and the hope is that's all it is. We'll know more by tomorrow."
There is not expected to be a medical update on Carrasco tonight.
Francona gives an update on Carrasco. Along with x-rays he will be getting a scan to allow doctors to see his elbow better. pic.twitter.com/a9Ezvfi2AH

— Ashley Bastock (@AshleyBastock42) June 16, 2018
Before the line drive, though, Carrasco was struggling. In the first inning, Minnesota made it through their order, recording four runs on four hits to take an early 4-0 lead.
"He was missing his spots, not by a lot," Francona said, "but he fell behind in the count and then when he came in with a fastball, they were ready to hit it and they leaned on it pretty good."
The Tribe bullpen from there gave up nine hits and five more runs the rest of the way.
The one, albeit odd, highlight in the bullpen's evening was a 1-2-3 inning for Brandon Guyer, who made his first career MLB pitching appearance in the ninth. The last Indians position player to pitch in a game was Michael Martinez in April of 2017.
"Try not to get hurt and throw strikes, that was my goal," Guyer said of his outing. "Honestly, I just wanted to throw strikes. I knew if I did, they'd probably put it in play most likely and I didn't know how that was going to go. They try to take me deep, got under some and luckily I was able to get out of it."
2. Rosario keeps rolling against Cleveland
Minnesota's Eddie Rosario has been hot all year against the Indians and he isn't showing any signs of slowing down.
He followed up his 2-for-4 Friday performance with another stellar outing on Saturday, going 4-for-4 with a a home run in the eighth inning, a double, a pair of singles, two RBI, a walk and a stolen base.
The homer was the final run of the game for the Twins, as he clobbered a 92 mph four-seamer from Adam Plutko to give the Twins a 9-3 lead.
Against Cleveland in 2018, that brings his average up to .471 (16-of-34) to go along with his six homers and 11 RBI.
"With Rosario, probably need to throw a few pitches out of the zone just because he is hitting the first pitch he sees, he's so comfortable," Francona said after the game. "I mean they're a good hitting team to begin with, it's contagious. We talk about it all the time with us, you get runners on, the holes open, guys are moving."
3. Closing the gap early, then struggling to find offense
Despite their early 4-0 deficit, the Indians began battling back immediately in the first inning. Francisco Lindor led off with a 423-foot home run to pull the Tribe to within 4-1. It was his 16th homer this year and his fourth leading off.
Two at-bats later, Jose Ramirez followed up Lindor with a solo shot of his own to right field for his 21st homer this season.
But after their two big swings in the first inning, the Tribe bats stalled somewhat. Their only other run of the evening came on a sacrifice fly from Tyler Naquin in the fourth inning, as they ended the game with 10 hits and eight men left on base.

NEO Sports Insiders Newsletter
Sign up to receive our NEOSI newsletter, and keep up to date with all the latest Cleveland sports news.