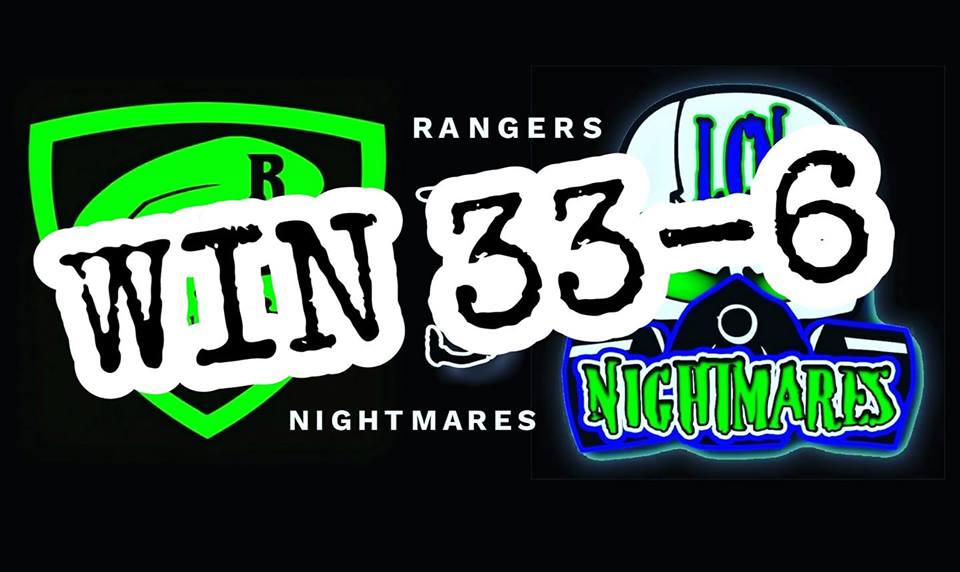 OBERLIN, Ohio – It was a blowout from start to finish tonight as the Lorain County Nightmares improved their record to 3-3 with a 33-6 dominant win over the visiting Pittsburgh Rangers.  After a tight first half that saw the Nightmares build a 13-6 halftime lead, the Nightmares went off in the second half, outscoring the Rangers 20-0 to win with ease.
The Nightmares came into tonight's game without leading rusher Dontez Smith and needed others to step up and fill the void, several men certainly did.  Aries Irby finished with 59 yards on the ground, including a pivotal fourth down conversion on the opening drive of the game for the Nightmares.  His counterpart in the backfield, David Mosby finished with 76 monster yards.
Most of the big damage from the nightmares was done through the air however, as Brandon DiMarco launched 4 touchdown passes, and even ran for one.  DiMarco was efficient, finishing with 228 yards on 13 of 22 passing.  It was another great second half for DiMarco, who has been a second half player all season.
Two of his touchdown passes came in the second half, along with an amazing TD run that saw him put the game away as he got hit so hard, he flipped upside down, but held onto the ball for the score.
There was a big injury to a Rangers wide receiver, that caused a 35-minute delay.  Then the halftime break was right after that.  This created nearly an hour of real time without DiMarco seeing the field.  I asked him how he was able to stay sharp following the long break and finish the game as strong as he did, "We really stressed in the break that we needed to get going.  We talked about it at halftime that we needed to come out strong and finish the game.  We did that today and the O-Line blocked great for myself and the running backs.  Everything we talked about at halftime, came out in the second half."
A big factor in the Nightmares coming away with 4 turnovers, was constant pressure from the defensive line.  Sonny Hazlewood was a part of all 8 Nightmare sacks.  I spoke with Sonny after the game on why the Nightmare defense played so well yet again tonight, "We were able to build off what we started doing last week and that is the get off, flying to the ball.  As a team we just kept swarming to the ball."
Defensive star Vaughn Sprinkle gave his feedback on why things went so well, "We talked about it all week and went with the new game plan to get some more pressure from our defensive ends.  We worked hard and prepared hard.  Our coaches did a good job coaching us up and planning a great game plan for us to execute so well."
Another Nightmare with a big night, was TJ Howell who finished with 93 yards on 5 catches, including two touchdowns.  I spoke with Howell about his big night as well, "The game plan was to get outside with the guys we knew they'd have covering me.  I needed to get outside or over the top.  I struggled this week to get healthy, but I came out tonight and just turned it up a notch."
Howell had two touchdown catches tonight and that is the type of big night we've come to expect out of him.  Jimmy Wagner got a few extra touches himself tonight as normal starting receiver CJ Powell was battling with nagging injuries.  Wagner took full advantage of the sudden playing time as he caught his first touchdown pass of the season.  Wagner had this to say about his big moment, "My teammate called a slide play and I just came back on it and it worked."
The Nightmares forced the Rangers into a three and out to start the game.  The Rangers then had to punt from the back of their end zone, which gave the ball to Nightmares on the opposing 25.  Aries Irby would convert a crucial fourth and inches to keep the drive alive, a gutsy call by head coach Jamie Ray Adams that paid off.  One play later it was DiMarco finding Rob Johnson in the corner of the end zone to start the scoring.
A little later in the first quarter, it was DiMarco and the Nightmares striking again though the air.  This time around it was the JCU graduate hitting a Howell on a 29-yard launch which would put Lorain County up 13-0 after one quarter of play.  The Rangers would cut it to 13-6 with under a minute to go in the second quarter.
The Nightmares were done messing around in the second half and went for blood early and often.  The second half scoring spree saw two touchdown passes from DiMarco.  One to Jimmy Wagner and then another long bomb to TJ Howell.  The scoring also consisted of a DiMarco touchdown scramble off of a botched snap.  Dimarco turned a near disaster into six points.
Coach Adams further explained his No Mercy attitude after the game, "Being a team that is younger, building chemistry and still building, it is really important to keep your foot on the other team's throat. Building chemistry is a focal point and this an opportunity to do just that.  It helps with confidence and team moral across the board.  When you're up on a team and smell blood, you have to be the shark sometimes.  Mercy is dead with me in this league, I'm not here to make friends, I'm here to win games and I want everybody on my team to ripple that message."

NEO Sports Insiders Newsletter
Sign up to receive our NEOSI newsletter, and keep up to date with all the latest Cleveland sports news.