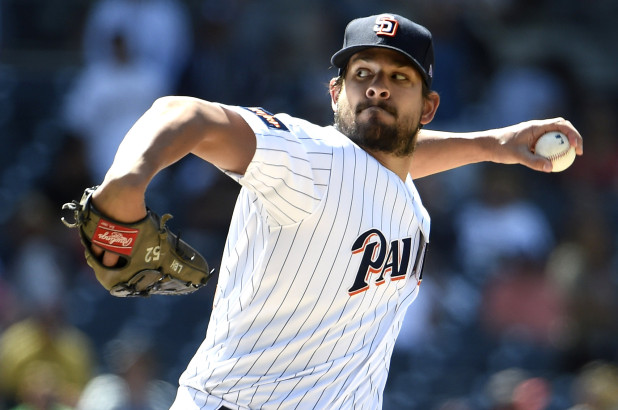 CLEVELAND– On Wednesday afternoon, as Indians president of baseball operations Chris Antonetti was working out the final details of a trade to acquire San Diego relievers Brad Hand and Adam Cimber, he wasn't in his office or a conference room.
"I was zip lining with my younger daughter," he said. "So we had multiple trade conversations going not only with San Diego but with a few other teams. That was a place she wanted to go around the All-Star break, it was the one day we were getting away.
"Thankfully at least I had a harness, so I wasn't in danger of falling off the platform."
And while he was in one of the most unconventional locations possible sorting out the final details of the trade on Wednesday, Antonetti pulled off the kind of deal that has become his M.O. over recent years– the kind that helps the Tribe both now and in the future.
Yes, even though that meant giving up the team's top prospect in catcher Francisco Mejia.
"Really tough to trade Francisco," Antonetti said in a press conference with reporters on Thursday. "It's a guy that we think has a chance to be a really good Major League player, but in order to get back players like Brad Hand and Adam Cimber who have multiple years of control, we knew we were going to have to part with considerable talent and we did that in trading Francisco."
And in the end, that control is what makes Hand and Cimber so valuable. Sure, Antonetti has made deals before for players who ended up being rentals (Jay Bruce, Joe Smith), but oftentimes he makes deals for guys that the Indians will get to keep under contract in the years to come– think the Ubaldo Jimenez trade in 2011 and the Andrew Miller trade in 2016.
Now with this latest deal, it is more of the same. Hand is locked up for the next few seasons as he signed a three-year, $19.75 million extension in 2018 that has a club option for 2021. The Indians will have Cimber under their control until the 2024 season when he's 33 years old.
Ultimately, with the length of time on Hand and Cimber's contracts, combined with their talent and the Tribe's desperate need for some bullpen help, it was practically a deal that was too good to pass up, even though it meant parting ways with Mejia.
"I think we've talked at different junctures in the past at taking a multi-year approach to team building, and we've placed a premium at acquiring guys that not only can impact one season but a handful of seasons," Antonetti said. "As we looked at our roster, we know that there are a handful of players that are on expiring contracts, and a few of them in the bullpen, so one of the things we've sought to do, dating back to spring training and extending through the deadline and continues to be a focus for us is acquire guys that can help us in the bullpen beyond this year, and both Brad and Adam should do that."
Hand is an All-Star with 24 saves so far this season and a 3.05 ERA through 41 appearances. This season, he's amassed 65 strikeouts. Cimber uses a unique low slot delivery (think Brad Ziegler or Darren O'Day) and is 3-5 with a 3.17 ERA this season in 42 games, 48.1 innings for the Padres. He offers some versatility to the pen as a right-hander who can strike out right-handed batters.
What exact roles they will settle into remains to be seen, but it wouldn't be surprising to see Hand split time closing with Cody Allen, and see a lot of time in late innings even if Allen is being used in the ninth. And if Allen decides to walk after this season, it certainly doesn't hurt to have Hand, who has plenty of experience games in high-leverage situations, already locked up.
"I think what we've tried to do is build a deep and versatile bullpen and we think both of these guys will fit into that mix and give (Terry Francona) a couple of additional options to get outs late in the game," Antonetti said. "Exactly how we use them and what roles they'll settle into, we'll see that evolve over the course of the next few weeks and next few months."

NEO Sports Insiders Newsletter
Sign up to receive our NEOSI newsletter, and keep up to date with all the latest Cleveland sports news.