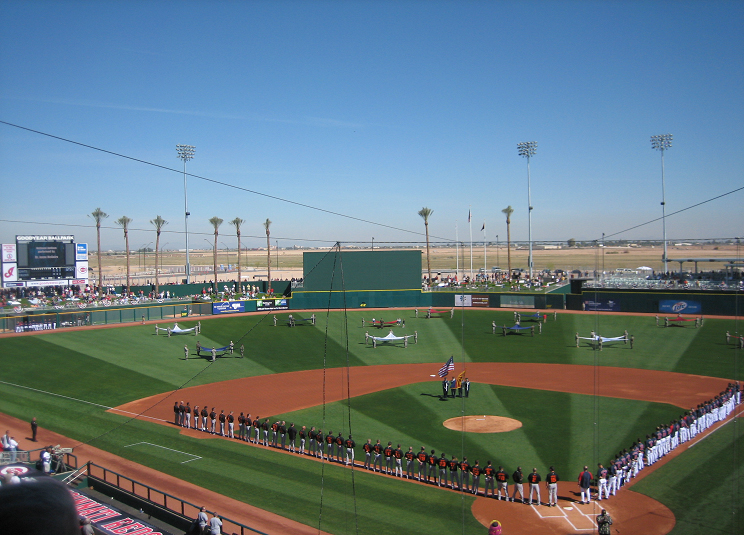 Today the Tribe announced their information for 2017 Spring Training in Goodyear, Arizona – a great facility and place to watch the team get ready for another season as they look to defend their American League crown.
Here's the release from the team on the events of the spring:
The Cleveland Indians on Friday announced their schedule for 2017 Cactus League play in Arizona, a schedule that opens against the Cincinnati Reds at Goodyear Ballpark. The Tribe will play 16 games as the home team at Goodyear Ballpark, plus 20 away games.
Pitchers and catchers are scheduled to report to Goodyear, AZ, on February 12, and the full squad reports on February 16.
TICKET ON SALE
Single-game tickets for Tribe Spring Training games go on sale on Thursday, Dec. 1, at 10 AM MST – only at Indians.com/Spring.
Season Tickets: Goodyear Season Tickets offer significant savings over Single-Game prices, along with premium seat locations, merchandise and concession discount vouchers, Season Ticket Holder Appreciation party access and more. Season Tickets can be purchased at Indians.com/Spring and go on sale Monday November 21.
Mini Plans: Fans have the opportunity to pick any three (3) or more games of their choice from both the Cleveland Indians and Cincinnati Reds home schedules. Mini Plans will go on sale November 28 at 10AM MST.
Groups: Outings offer discounted tickets, personalized service, scoreboard welcome and more. Group tickets go on sale Nov. 21 at 10AM MST.
Flex Books: Ten (10) ticket vouchers, specially priced, in the Infield Box or Outfield Box that can be used for any Indians game or games at Goodyear Ballpark during the 2017 season. (Subject to availability.)
Cleveland Indians Spring Training tickets will be available at Indians.com, Goodyear Ballpark's Ticket Office, by phone at 1-800-745-3000 or 1-866-48-TRIBE.
PROMOTIONAL DAYS/SPECIAL EVENTS
2017 at Goodyear Ballpark includes many promotions and special events, including player autographs, a Corey Kluber All-Star bobblehead, Catch on the Field, Kids Days Sundays and more.
The full promotional/special event calendar is available at Indians.com/Spring.
 NEW FOR 2017: FAN EXPERIENCE PACKAGES
Three new Fan Experience Packages are available for fans this Spring in Goodyear, including:
On-Field Workout: A 90-minute, post-game on-field workout session hosted on Fields 1 and 2 at the Player Development Complex. Fans will have the opportunity to take cuts in the indoor batting cages, field ground balls in the infield, shag fly balls in the outfield and compete in an individual batting challenge competition.
·         Dates: March 11, 25
·         Cost: $130/person
Player/Broadcaster Meet-n-Greet: A 60-minute, postgame meet-and-greet and Q&A session with 2-3 Indians players and a member of the Indians Broadcast team. This fan favorite event will be hosted at the newly renovated Right Field Pavilion at Goodyear Ballpark, and will include light snacks and refreshments during the event. A cash bar will also be available.
·         Dates: March 5, 19
·         Cost: $105/person
Batting Practice Fan Zone: Fans will have a chance to watch pregame batting practice up close and personal on the field, directly behind the batting cage on Field 1 at the Player Development Complex.
·         Date: March 17
·         Cost: $80/person
To book your Fan Experience Package visit Indians.com/Spring or call the Goodyear Ballpark ticket office at 623-882-3130.
TRAVEL PACKAGES
Indians fans should call 1-855-298-5444 for more details and to book a Spring Training trip today.
2017 SPRING TRAINING SCHEDULE
DAY

DATE

OPPONENT

LOCATION

Saturday

Feb. 25

Cincinnati

Goodyear

Sunday

Feb. 26

Chicago Cubs

Mesa

Monday

Feb. 27

Texas

Goodyear

Tuesday

Feb. 28

Oakland

Mesa

Wednesday

March 1

Seattle

Goodyear

Thursday

March 2

LA Dodgers

Glendale

Friday

March 3

Colorado

Goodyear

Saturday

March 4

Oakland

Mesa (1:10PM)

Sunday

March 5

San Diego

Goodyear

Monday

March 6

Milwaukee

Goodyear

Monday

March 6

San Francisco

Scottsdale

Tuesday

March 7

OFF DAY

Wednesday

March 8

Seattle

Peoria

Thursday

March 9

LA Angels

Goodyear

Friday

March 10

San Francisco

Scottsdale

Saturday

March 11

Kansas City

Goodyear

Sunday

March 12

San Diego

Peoria

Monday

March 13

Chicago WS

Glendale

Tuesday

March 14

San Francisco

Goodyear

Wednesday

March 15

Texas

Surprise

Thursday

March 16

Oakland

Goodyear

Friday

March 17

Cincinnati

Goodyear (ss)

Friday

March 17

Texas

San Antonio (7:05PM CT) (ss)

Saturday

March 18

Kansas City

Surprise (ss)

Saturday

March 18

Texas

San Antonio (2:05PM CT) (ss)

Sunday

March 19

Arizona

Goodyear

Monday

March 20

LA Dodgers

Goodyear

Tuesday

March 21

OFF DAY

Wednesday

March 22

Colorado

Salt River (1:10PM)

Thursday

March 23

Colorado

Goodyear

Friday

March 24

Chicago Cubs

Mesa

Saturday

March 25

Chicago WS

Goodyear

Sunday

March 26

Arizona

Salt River (1:10PM)

Monday

March 27

Chicago Cubs

Goodyear (6:05PM)

Tuesday

March 28

Milwaukee

Maryvale

Wednesday

March 29

Cincinnati

Goodyear (12:05PM)

Thursday

March 30