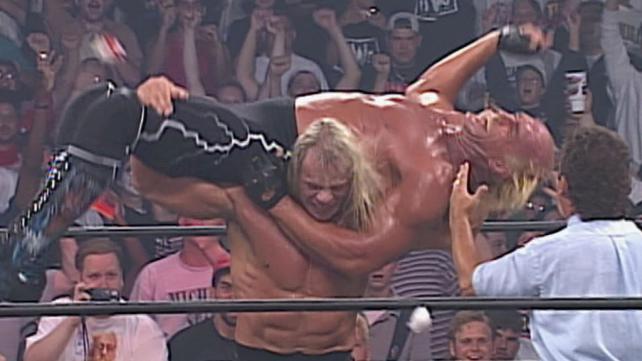 Many if not all wrestling fans will tell you that the most shameful and useless title reign with the WCW World Championship was when David Arquette won the belt in the Spring of 2000. Many others cite it as the day WCW died.
Arquette held the title for 12 days until the Slamboree pay-per-view on May 7, 2000, when he was booked to defend the championship against Jarrett and Page in a Triple Cage match, the same match featured in the climax of Ready to Rumble. In the end, he turned on Page and gave the victory to Jarrett.
A shameful title reign and a black mark for wrestling, no doubt about it, but certainly not the worst.  Ironically enough, the worst title reign in WCW History was from the man who in many ways saved WCW when he arrived there in July of 1994.
Let's dig a little deeper shall we?
In wrestling lore it was always known that promotions had the "rule" that a champion must defend his title every 30 days or he would be stripped of it. In the hey day of the 1980's it was never questioned because despite the fact of limited television and pay per view shows, they ran house shows 300 days a year.  In which the champion was always on and headlined.
When Hulk Hogan came to the WCW in July of 1994, that started to change. His first world title reign lasted from July of 1994 till October of 1995.  He made limited defenses, but still enough that people didn't question it.
It wasn't until his second reign with belt from August 1996 – December 1997 that his lack of defenses would begin to stick out like a sore thumb. Because of Hogan's contract, he only had to appear on limited episodes of Nitro and Pay Per Views.
Despite the NWO angle being as hot as it was, Bischoff knew better then to offend his Golden Goose by asking him to work extra dates.  We see the same thing now with the WWE and Brock Lesnar.
With the exception of a Five-day hiccup in the summer of 1997, Hulk Hogan had the longest title reign in WCW History. It began with his win over the Giant at Hog Wild 1996 in the beginning of the NWO, and ended at WCW Starrcade 97 in his epic loss to Sting.
I use the term "epic" loosely as that is a blog meant for a different day.  The fact that he spent five days without the belt during this stretch is lost on everyone and not worth even bringing up.
With a reign that lasted 500 of 505 days, one would think that the champion defended his belt atleast 200-330 times. Those fans would be wrong.
Hollywood Hulk Hogan failed to defend the belt at Fall Brawl 1996. He took part in the War Games Match Beyond instead.
He did make a rare defense at the next month's Halloween Havoc against Macho Man Randy Savage where he secured the victory with the help of The Giant.  World War 3 in 1996 saw him opt for a contract signing with Rowdy Roddy Piper, instead of a match.
He did wrestle and LOSE at Starrcade 1996 against Piper, but for reasons no one ever explained, the belt wasn't on the line.  The next month, he would end up in a no contest brawl with the Giant.  In what was only his third title defense.
His fourth title defense would come the next month in a very RARE title defense victory, only the second of his entire reign when he knocked off Rowdy Roddy Piper at SuperBrawl 1997 with the help of Macho Man Randy Savage.  That was in February, he would not defend the belt again for over six months.  He was injury free during that stretch, but it didn't matter.
He wrestled at Uncensored 97, but once again, in a tag match.  He skipped the next three WCW Pay Per View's all together.  (Spring Stampede, Slamboree, and The Great American Bash) before wrestling in yet another Tag Team Match with Dennis Rodman at Bash at the Beach 1997.
At the one year mark of his reign, he decided to make an impromptu title defense on a Nitro to Lex Luger on August 4th 1997, and lost the belt.  It was only a few nights later that he won it back however.  Despite winning it back, his title defense was a loss.  He wouldn't make another one until Starrcade as once again he failed to even appear at Fall Brawl 1997.
He was at Halloween Havoc 1997, where he lost yet again to Piper, and yet again, it was a non title match!  He made a cameo at World War 3 before making his fifth and final title defense in a losing effort, dropping the belt to Sting at Starrcade 1997.  In a match that was later held up.
To Recap.  Hogan held the belt for 500 of 505 days.  Defended it only 5 times where he went
2-2-1 during that stretch.  He also wrestled in two singles matches of the non title variety to Piper, in which he lost both.
Not exactly a reign for the ages.  But at least the 18 month build up for his match with Sting would have the ultimate pay off correct?  Not exactly,,, ,and that my friends, is a  subject for another article to come soon!

NEO Sports Insiders Newsletter
Sign up to receive our NEOSI newsletter, and keep up to date with all the latest Cleveland sports news.