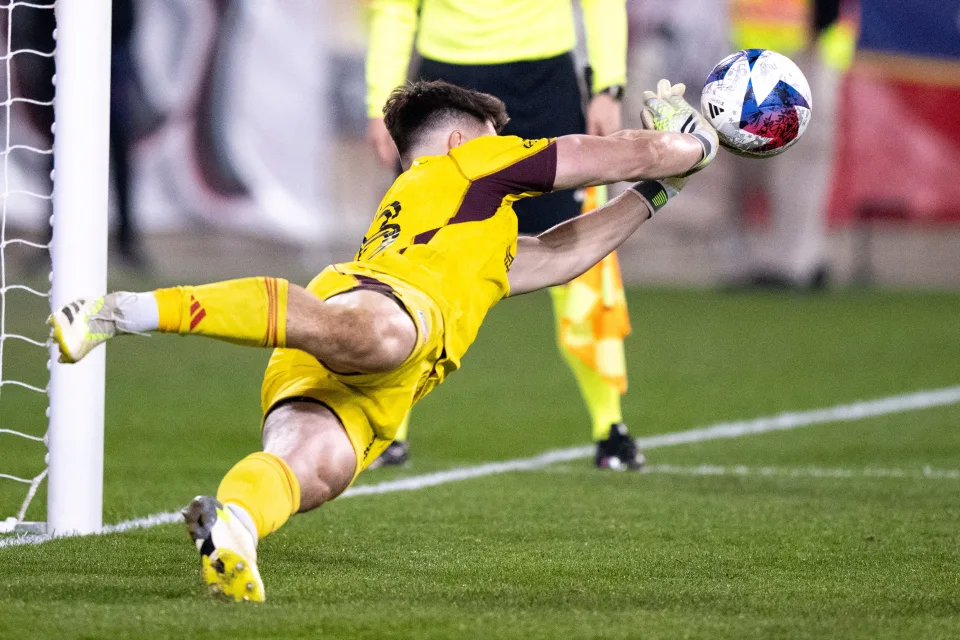 Roman Celentano looked passive during the first few of the ten penalty kicks that were going to determine a winner for game two in the Audi2023 MLS Playoffs. But when it mattered most, the keeper from Indiana University dove to his right and blocked the attempt of Andres Reyes helping FC Cincinnati move to the quarterfinals of the Eastern playoffs with a 1-1, (8-7 PKs) win in New York.
🤷‍♂️🤷‍♂️🤷‍♂️ pic.twitter.com/pGDjRsDqCP

— S – FC Cincinnati (@fccincinnati) November 5, 2023
The drama of penalty kicks is a new feature by MLS for this first round of the playoffs. This #NYRBvCIN PK took ten rounds with big time misses and makes making for excitement in New Jersey. 
Third time the "playoffs" charm for FCC
New York had two opportunities to grab the win during these kicks and force both clubs back to Cincinnati for the deciding match. 
Each team hit their first penalties until Cincinnati's Santiago Arias saw a weak kick saved by New York's Carolos Coronel. Sean Nealis and Cameron Harper nailed their kicks for the NY squad. Brandon Vazquez was able to drive one in leading to the young draft pick for Red Bulls, John Tolkin, to keep his team's hopes alive again! But his shot hit the left post as Celentano dove to his right only to see the ball fly forward!
John Tolkin HITS THE POST on his penalty new york red bulls vs fc cincinnati pic.twitter.com/p8QJZKqhRr

— Frank (@Frank7901822696) November 5, 2023
Tied, the two clubs matched three PK's in succession. Then, Yerson Mosquera, the Cincy defender, had his attempt parried away and again, New York was a kick away from coming back to Cincinnati next Saturday. The 18 year old Red Bull phenom, Serge Ngoma, stepped up in a situation many youngsters in America only dream about. But he sent his shot high over the bar, leaving Cincy again looking to win it.
Junior Moreno from Venezuela calmly drilled his into the back, setting up Celentano's heroics!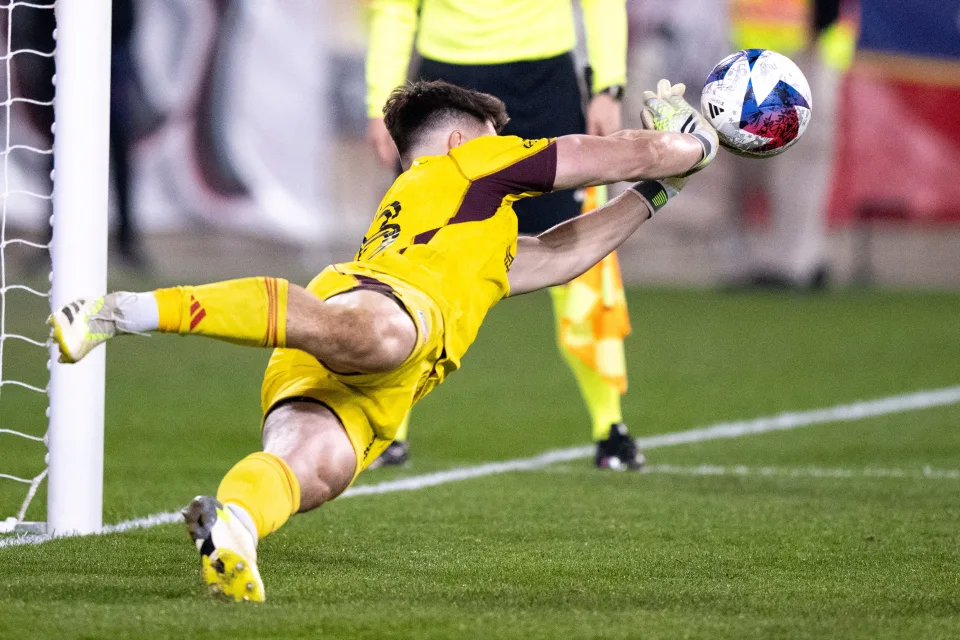 Pat Brennan, Cincinnati Enquirer
Next Up and Potential Playoff Problems for Cincy
Cincy now gets a little time to get healthy as they play their next game possibly in three weeks against the winner of the Philadelphia Union/New England Revolution match up.
Cincinnati's victory wasn't without potential problems. Matt Miazga, the center back, picked up a yellow during the match, making it two yellows in two games. After his successful PK, he was given another yellow for excessive celebration. This third yellow means he will be ineligible for the semifinal match in three weeks.
The club has not decided if they will request the third yellow be reviewed.
Also, two FCC players sustained injuries that will be monitored over the next few weeks. Obinna Nwobodo had his foot stepped on and Dominique Badji suffered some muscle problem. Also, MVP-candidate, Luciano Acosta, has been dealing with a foot injury for the last few games.
Here's FCC Pat Noonan's comments after the game regarding these issues:
"The injuries are part of it … Sometimes you can't avoid it. Obie gets stepped on, he's obviously had to come off. So, there's concern. But Dom was muscular. We obviously have a long break now, but we'll see how that news comes out in the coming days. And Matt – Matt knows better, we shouldn't be missing him for the next round, as simple as that."
Starters for Cincy
Taking the pitch for #RBNYvCIN pic.twitter.com/fn3YUVLDi1

— S – FC Cincinnati (@fccincinnati) November 4, 2023
Starters for New York
‼️OUR STARTING XI‼️@OANDA | #RBNY pic.twitter.com/i1RfDcjQE5

— New York Red Bulls (@NewYorkRedBulls) November 4, 2023
Red Bulls strike first
TOP FROM TOM 👏@Audi I #RBNY pic.twitter.com/hijC8w7GGf

— New York Red Bulls (@NewYorkRedBulls) November 4, 2023
Tom Barlow found the net first for the home side to get New York up 1-0. But just a few minutes prior, he was yellow-carded for a studs up challenge on FCC defender, Yerson Mosquera. It was strange that VAR didn't look at the challenge in more detail.
¡Tom Barlow abre el marcador para los locales!#RojoxSiempre | Audi #MLSCupPlayoffs pic.twitter.com/2fyMMh3ol3

— MLS Español (@MLSes) November 4, 2023
The two sides went into the break shortly after. But in the middle of the second half, FCC tied it up!
Boup…there it is!
The equalizer by Aaron Boupendza was a great build up from Brandon Vazquez blocking the free kick for New York to the cheeky pass from Acosta that Boupendza slyly nudged past Coronel.
Boupendza equalizes for @fccincinnati at Red Bull Arena #AllForCincy

(Via @MLS)
pic.twitter.com/feHnRUc9Yk

— FOX Soccer (@FOXSoccer) November 5, 2023
And then the match picked up in intensity!
Cincinnati created the most opportunities late in the game. Barreal had a great shot in the 90' minute saved amazingly by Coronel!
Carlos Coronel's Incredible Playoff Save: Keeping New York Red Bulls Level with FC Cincinnati https://t.co/q8YNQdrFNJ

— mundoMLS (@mundo_MLS) November 5, 2023
At the last second of the match, Acosta hit his best corner of the night that seemed to sail past Coronel for the game winning goal. But on review FCC's Santos had interfered with the goalkeeper and the goal was disallowed. The ball also appeared to roll off his arm into the net, but it appeared that the ball had already entered the net BEFORE all the other happenings.
Noonan said it best in his presser: "I'm very pleased we're moving on."
By far, the best game of the Audi2023 MLS Playoffs was the Saturday night New York Red Bulls versus FC Cincinnati match. Here are all ten penalty kick attempts for your enjoyment, courtesy of MLS.com!
Today Playoff Matches!
Today's matches include:
St. Louis visiting Kansas City at 5PM.
Sporting KC has a chance to end this first round with a win at home. St Louis' inaugural year could come to a close today.
LAFC heading to Vancouver kickoff at 7:30PM.
Last Saturday's 5-2 for LAFC has them poised to continue their playoff run. Vancouver better fix their set piece defense pronto! LAFC in their past six wins have scored four or more goals! Wow!
Both can be viewed on Apple TV with the MLS Season Pass. FS1 and FS2 will carry the LAFC/Vancouver match.

NEO Sports Insiders Newsletter
Sign up to receive our NEOSI newsletter, and keep up to date with all the latest Cleveland sports news.