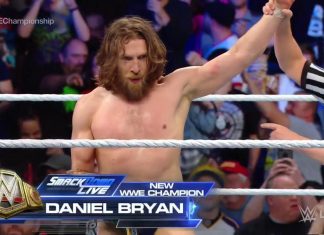 A wild night of WWE Smackdown saw some major changes, including a new World Heavyweight Champion crowned in the form of Daniel Bryan. While Bryan winning the gold was shocking enough, the WWE creative team went the extra mile by turning him heel directly after the match with a post match beatdown of AJ Styles.
The angle began in the opening segment when Bryan came down to the ring to interrupt a segment with AJ Styles talking to Paul Heyman. It appeared that we were headed for a classic rematch between Heyman's Beast Brock Lesnar and Styles this Sunday night at Survivor Series.
Instead, with Bryan winning later in the night, it will now be Daniel Bryan taking on Brock Lesnar in a champion versus champion match at Survivor Series. One half of the double main event changed in the blink of an eye.
It wasn't much earlier in the show that the other half of the double main event switched as well. Last nights conclusion of RAW saw Becky Lynch deliver a Stone Cold Steve Austin style butt kicking to half of the women's roster on her way to making Ronda Rousey look like a lost rookie in her first match.
Lynch, arguably the most popular superstar on the roster right now was headed to an intense showdown with Rousey this Sunday night. That all changed when Nia Jax, who simply can not get out of her own way, accidentally stiffed the red-hot women's champion with a punch. Breaking Lynch's nose and giving her a concussion as well.
This led to yet another shocker with Becky naming former best friend and current hated rival Charlotte, her successor to take on Rousey at Survivor Series as her replacement. One of two things should stem from this, if not both. The first being Rousey going over Charlotte at Survivor Series. The second, a post-match attack of Charlotte by Lynch under the cusp of "you let us down by losing".
For the WWE creative team who wanted Charlotte to headline this year's WrestleMania 35, this is actually the perfect scenario. They will have her lose to Rousey this weekend, only for her to win the Rumble, and jump ship to RAW to challenge Rousey at WrestleMania, headlining the show and winning back her title. Much in the same form they did with Cena vs The Rock II.
The WWE would be very wise to keep their Smackdown Women's title on Lynch as long as they can. The only way I would see taking it off her is to create a Stone Cold like run as they did in 97 after the Owen Summerslam match neck injury. Thus, taking the strap off her via injury and giving her time to heal while building her return to wreck everyone in her path on her journey back to the gold.
Stay tuned to NEOSI later this week as we answer the five burning questions below heading into WWE Survivor Series this weekend.
Who will replace Charlotte on the women's team for Smackdown?
How is a heel Daniel Bryan going to wrestle the Monster Brock Lesnar? It goes against every booking principle out there. No one is booing the smaller guy against Lesnar no matter how many times you tell them they have to?
Will Rousey defeat Charlotte cleanly in the middle of the ring, setting up the eventual WrestleMania main event rematch?
Will AJ Styles run in to cost Daniel Bryan his match with Lesnar?
Do we see the start of a Miz face turn this weekend as well?

NEO Sports Insiders Newsletter
Sign up to receive our NEOSI newsletter, and keep up to date with all the latest Cleveland sports news.