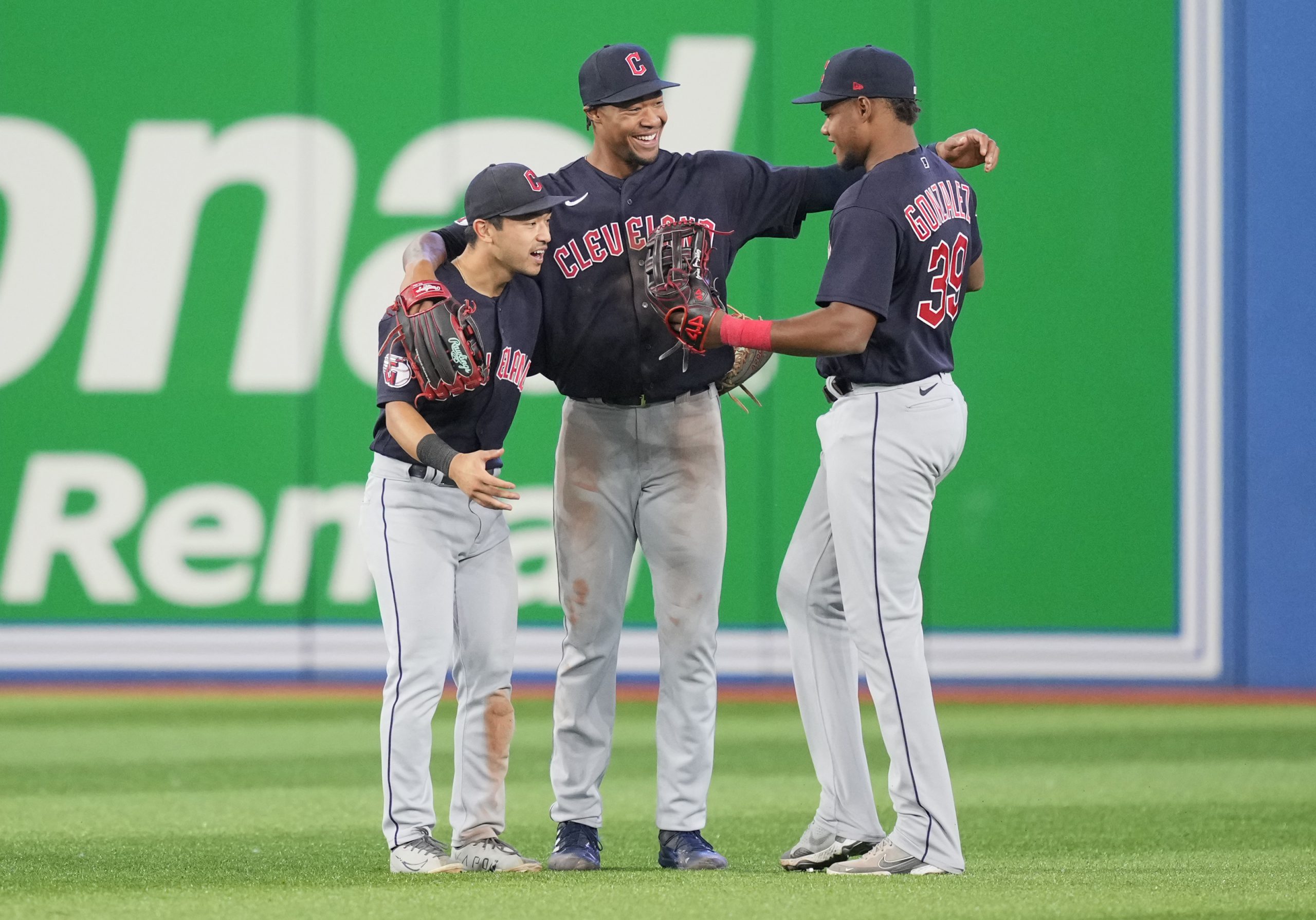 Cleveland, OH-
In 2022 the Guardians became the first team in major league history to start at least 16 rookies and clinch a division championship. They called up Bo Naylor (Oct 1) after topping the division (Sept 25) to make the total 17.
Woven in each of the rookies' stories is the magic that was Cleveland's season this year. The young age of the team caused them to be highly underestimated all year. They were predicted to be in the bottom of the American League Central. No one forecasted that they would win 92 games.
These young guys used their talent and camaraderie to quiet the naysayers. Several of the rookies made history. Cleveland's season ended taking the Yankees to Game 5 in the ALDS. Unfortunately, they didn't win the series. However, the rookies have playoff experience under their belt and the future looks bright.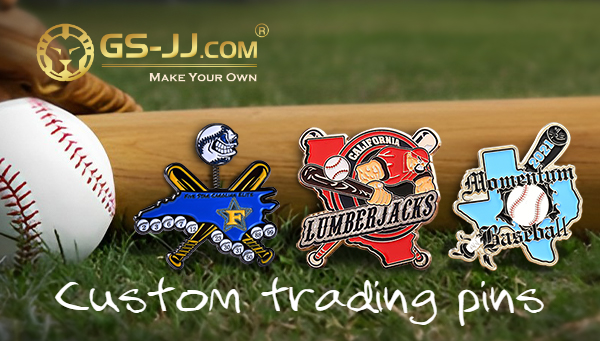 Youth baseball teams have been relying on baseball trading pins for years, and players like to collect and display pins throughout the sports season. All teams get together, which is an excellent opportunity for players to interact with referees, coaches, and each other in a relaxed and pleasant environment.
According to the tradition of the game, at the end of each game, the players will exchange baseball trading pins with the opposing team on the handshake line. Outside the competition, it may be one of the most exciting activities in the tournament. Many baseball games even have special pins trading ceremonies.
If your team is equipped with special pins, you will have a memory that will impress you in the years to come. GS-JJ.com provides free online design, which makes it easy for you to realize your baseball trading pins dream now.
17 Rookies
Position Players:
Steven Kwan
Kwan started the season on fire. He immediately put on an offensive clinic that was one of the greatest in the history of baseball. He became the first player to reach base 15 times in his first four games. It was a feat that hadn't been accomplished since 1904. To add more of an exclamation point, through his first 40 swings (116 pitches) he didn't miss. According to ELIAS no player has done this on debut since 2000. He ended the first month of the season with a .354 batting average and a .459 on-base percentage. Kwan was a Gold Glove winner in 2022 and he's a Rookie of the Year finalist.
This catch may have solidified Kwan's Gold Glove.
🚨 GREAT CATCH ALERT 🚨

Guardians rookie outfielder Steven Kwan dives into the stands to make this amazing grab in Seattle

(via @MLB) pic.twitter.com/ox4seLXIn6

— Bally Sports (@BallySports) August 27, 2022
Oscar Gonzalez
Gonzalez has a unique walk-up song. He's chose the theme from SpongeBob SquarePants. The rookie had this song throughout his minor league career and kept it when he joined the big-league club. Gonzalez stated that "the kids loved it" and he is a kid at heart. When he first stepped up to "Are you ready kids?" it raised some eyebrows and caused a few giggles.
However, in Game 2 of the Wild Card game against Tampa Bay, Gonzales showed he could hang with the big guys. The rookie hit a walk-off home run in the 15th inning to complete the sweep of the Rays. Thus, sending Cleveland to the ALDS.
Tom Hamilton calls Oscar Gonzalez's walk off homer to send the Guardians to the ALDS: pic.twitter.com/UhxWLogFWm

— MLB Walk Offs & Game Winning Plays (@MLBWalk_Offs) October 8, 2022
The ALDS shifted to Cleveland for Game 2. Heading into the bottom of the ninth inning, the Guardians were down 5-3. The bases were loaded with two outs and Gonzalez was at the plate. He was down to a two-strike count when he ripped a single into center field. This scored two runs and landed "SpongeBob" in history with that hit. The right fielder tied the All-Time record for the most go-ahead/game-winning hits in the playoffs with three.
Alex Call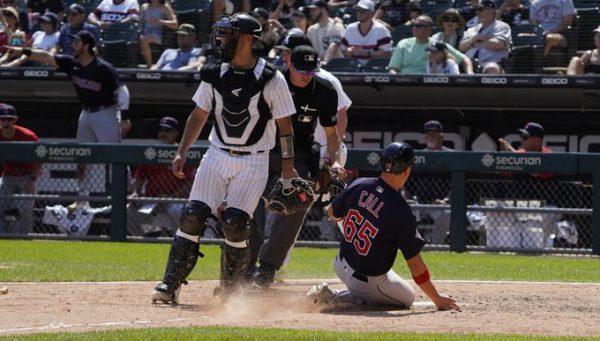 Call cracked the majors at 27-years old when he debuted with the Guardians on July 11th. The 2016 White Sox third round pick had his first major league hit on July 22nd.  A broken bat single by Call, knocked in two. The outfielder kept at his childhood dream to play in the majors. He's a small-town kid from Wisconsin with a vision and plenty of determination.
Call played in only 12 games with the Guardians and had two hits in 12 at-bats. He batted.283 with 11 homers and 44 RBI through 68 games with the Clippers. Cleveland designated Call for assignment on August 5 and he was claimed on August 7 by the Washington Nationals. Regardless of his short time with the Guardians, his tenacity fits the mold of this year's season.
Nolan Jones
Jones stood atop a parking garage in August of 2020 to watch his friend Triston McKenzie make his major league debut. McKenzie was able to return the favor watching from the dugout as Jones' debuted in early July. In his first MLB at-bat he scorched a two-out RBI triple. The following day, Jones had his first big league home run.
Nolan Jones hits his first Big League homer a whopping 4️⃣5️⃣7️⃣ feet!#ForTheLand pic.twitter.com/K4VofoWC4G

— Cleveland Guardians (@CleGuardians) July 9, 2022
The third baseman spent much of the season between AAA and the bigs. In his 86 at-bats with the Guardians he batted .244 with 21 hits and 13 RBI.
Will Brennan
Brennan debuted on September 21. He had his first major league hit that day resulting in his first RBI. He credits the Guardians organization for their development of the young roster saying "they bucket their players in proper categories where they're going to excel in their roles. You got your power guys, your table-setters…they do a really good job of taking your strengths and multiplying them exponentially." Every game that Brennan played he had a smile on his face. The passion he has for the game is undeniable.
His first major league home run was a three- run blast.
Will Brennan hit this through 21 mph wind blowing in. 😅

First Big League bop for the kid.#ForTheLand pic.twitter.com/EaqZ4y271o

— Cleveland Guardians (@CleGuardians) October 2, 2022
During the regular season he had 42 at-bats with the Guardians batting .357 with 15 hits, 1 HR, 8 RBI and 2 swiped bags. Brennan got a taste of the postseason with 11 at-bats garnering 2 hits and 1 RBI with a BA of .182.
Will Benson
Benson debuted with the club on August 1. He was in Taco bell when he received the call. Benson's family was nearby and when he gave them the news he said "We literally went crazy…just jumping around, screaming. It was just such an amazing feeling." The outfielder only had 55 at-bats with the Guardians. He batted .182 with 10 hits and 3 RBI in his stint with the club. Benson was Cleveland's top pick in 2016.
He did flash the leather with this dazzling catch.
No. 23 @CleGuardians prospect Will Benson takes a home run away from Max Kepler! pic.twitter.com/QjZ02tAHr5

— MLB Pipeline (@MLBPipeline) September 11, 2022
Gabriel Arias
Arias fell into misfortune at the beginning of the season. Cleveland called him up for a doubleheader on April 20. The infielder was sent back to AAA the next day. The assumption was he would be recalled at a later point in the season. However, Arias suffered a broken hand in the minors. Thus, the fracture in his right hand required surgery. He began rehabbing in late June and was recalled on July 2.
Arias went 2-4 with a single, a double and a run scored in his debut. He was one of the pieces in the mega-deal between Cleveland and San Diego for pitcher Mike Clevinger. His first MLB home run went half way up the bleachers.
Gabriel Arias clobbered this one!

His first MLB home run! #ForTheLand pic.twitter.com/QLd0znNPNv

— Bally Sports Cleveland (@BallySportsCLE) September 28, 2022
Arias also gained postseason experience with 11 plate appearances resulting in 3 hits and 1 run. The rookie made a stellar snag in the ALDS.
Gabriel Arias makes a nifty snag at first to cap Cody Morris' perfect frame for the @CleGuardians! pic.twitter.com/7MdnNOZIhu

— MLB Pipeline (@MLBPipeline) October 17, 2022
He had 47 regular season at-bats with the Guardians in which he had a .191 BA with 9 hits, 1 home run, 5 RBI and a stolen base.
Tyler Freeman
Freeman made his debut August 3 and on October 1 he was optioned to AAA. This move was to make room for pitcher Zach Plesac who was coming off injury. In September, Freeman slashed .283/.306/.304. Also, he made several great defensive plays such as this one:
Yes. Tyler Freeman. Yes.#ForTheLand pic.twitter.com/tiCJQlskGH

— Cleveland Guardians (@CleGuardians) September 14, 2022
Kwan spoke on Freeman's character which was praised in the clubhouse. Kwan said the infielder was a "consistent light. His love and considerate mentality can make any 0-5 feel that much better." He went on to say Freeman is "one of the best teammates he's ever had."
Much of this could be attributed to a pledge Freeman made to honor his mother's strength. She had undergone a surgery that took away her ability to speak. Through rehab she was able to gain that ability back. Thus, the journey his mother went through gave Freeman a deeper sense of faith. "I made a promise to myself that I can reach my lifetime goal of becoming a Major League Baseball player. It was going to take lots of work, but nothing is impossible."
Bryan Lavastida
Lavastida started the season as backup catcher, as Luke Maile, was sidelined with a hamstring injury. The rookie became the first catcher, without major league experience, to make Cleveland's Opening Day roster since Andy Allanson in 1986. The 23-year-old wasn't always behind the dish. In 2015, Lavastida was named the MLB RBI World Series MVP, in which he was recognized for his outstanding defense at shortstop. Despite manning one of the most difficult positions on the diamond, Lavastida's offensive skills stood out. The rookie only saw 12 at-bats with the Guardians in which he had one hit.
Congratulations Bryan!!! @Lavastida_ pic.twitter.com/VNwmRXLi2f

— Milb Central (@milb_central) April 23, 2022
Richie Palacios
Palacios made his major league debut on April 25. The switch-hitter recorded his first MLB hit during his first at-bat.
Richie Palacios picks up a base hit in his first Major League at-bat for the @Guardians. pic.twitter.com/MHQM1o7BPZ

— MLB Pipeline (@MLBPipeline) April 26, 2022
He spent the season up and down between AAA and the majors. In his 54 games with the Guardians, he hit .232 with 10 RBI. The Brooklyn native batted .279 in the minors with 50 hits, 4 home runs, 36 RBI and 12 stolen bases.
Bo Naylor
Naylor made his major league debut on October 1st. Bo is a fan favorite and the younger brother of Guardians' Josh Naylor. Bo slashed .263/.392/.496 between AA and AAA during 2022. After joining the Guardians, the rookie catcher had a small sample at the plate. He saw eight at-bats and went hitless. However, Bo showed he's a cannon behind the plate.
He had a lot to say after his debut:
After making his long-awaited debut for the Guardians, Bo Naylor speaks on the adjustments he had to make, adapting to the MLB. The young catcher also reflects on what it's like to be on the same team as his brother, Josh.#ForTheLand pic.twitter.com/imsT5gtNBw

— Bally Sports Cleveland (@BallySportsCLE) October 2, 2022
Pitchers
Xzavion Curry
Curry debuted on August 15th.  The right-hander was called up from AAA to take the mound for the second game of the doubleheader against Detroit. Curry pitched 5 innings allowing 3 runs on 8 hits. He had a total of two starts with the Guardians. He pitched a total of 9.1 innings over those contents with an ERA of 5.79.
The rookie started the year in Akron where he went 5-3, carrying a 3.65 in 13 games. He had 80 strikeouts in 69 innings pitched. Curry moved to Triple-A Columbus, where had made six starts, going 3-1 with a 3.09 ERA. On August 9, with the Clippers, he carried a no-hitter into the sixth inning. He tied Logan Allen for the most wins (9) in the minor leagues in 2022.
Cleveland drafted Curry out of Georgia Tech in 2019. Guardians' skipper, Terry Francona, said "He came out of college pretty raw. I guess he's real athletic. Again, he's not a finished product…I've heard nothing but people raving about this kid."
Hunter Gaddis
Gaddis made his big-league debut on August 4 against the Astros. He got banged up by Houston, giving up eight runs on seven hits. His stint in the majors was short-lived. Gaddis pitched 7.1 innings for the Guardians. He tied a club record in his second outing by giving up five home runs in only five innings. The rookie didn't let his tough start get to him. When asked how he views his performance he said, "there's always a change to get better…believing in myself and trust in my stuff."  That attitude encompasses what the young team has dealt with all season.
Kirk McCarty
McCarty debuted on April 24. He was used as the 27th man in several doubleheaders.
Kirk McCarty making his MLB debut gets IKF to groundout#Guardians 0 #Yankees 6 B6 pic.twitter.com/IyjLSjPmfx

— Sᴘᴏʀᴛs 24/7 (@Sports_24x7_) April 24, 2022
The relief pitcher embraced whatever role the Guardians needed to utilize him in. With the youth of the team, injuries and multiple rained-out games, McCarty knew he had to be versatile. By understanding how the bullpen works and the necessity for him to eat up innings he said, "he wanted to help the team however he could."
After being designated for assignment in July, McCarty was asked how he reacted. He spoke openly saying, "I try to keep my head down, it's out of my control. I want to keep pitching…when you are designated you think 'If I clear here, it's a long road back' there's always the hope that you end up somewhere else and, in my case, you end up back at home. So now I just want to perform and help us win meaningful games in September." In his time with the Guardians, he went 4-3 with a 4.54, with over 37 innings pitched.
Cody Morris
Morris was called up on September 2. Columbus Clippers' manager, Andy Tracy, had a little fun with him when giving Morris the news. Tracy told him "we're going to send you to Lake County…get you some more innings in (pause) but make sure you stop by Progressive first cause that's where you're going!"
The rookie made the start in place of injured Zach Plesac. Morris pitched in seven games in the regular season for Cleveland. He carried a 2.28 ERA in 23.2 innings pitched with a record of 1-2. Morris was added to the ALDS roster and on October 16 he threw two scoreless frames while striking out three.
Cody Morris fans 3 over 2 scoreless frames for the @CleGuardians! pic.twitter.com/AzWDESFF6y

— MLB Pipeline (@MLBPipeline) October 17, 2022
Konnor Pilkington
Pilkington made his major league debut on April 12 during the Guardians' Home Opener. He was one of three rookies to make the Opening Day roster for Cleveland. The 24-year-old left-hander entered the game in the ninth and threw a scoreless inning.
He, like several other rookie pitchers, found themselves up and down between AAA and Cleveland this season. It was a role that they embraced and did what was needed for the team.
Konnor "with a K" is the only player with that name to have played in the majors. The Mississippi native appeared in 15 games with the Guardians. He pitched 58 innings, recording 50 strikeouts, with a 1-2 record and a 3.88 ERA.
Tanner Tully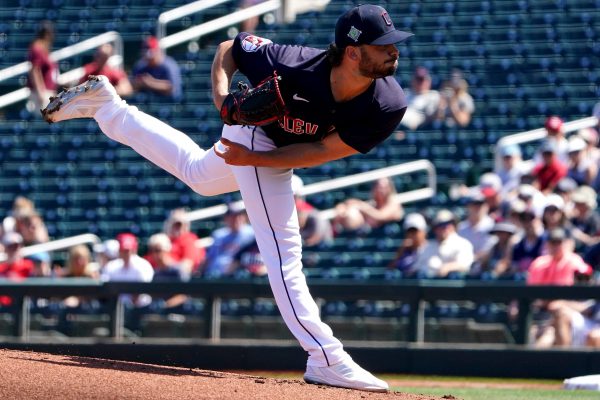 Tully debuted on April 22 after being with the organization since 2016. He pitched in relief in only three games with the Guardians. In his six innings in the bigs, the former Ohio State pitcher, held a 6.00 ERA and fanned two batters. Tully elected free agency on October 3, 2022.
Rookies with resilience
Regardless of how long each rookie was on the Guardians roster they each contributed in some way. Sure, several of them had big moments, while others impact was quieter.
The journey to the major leagues is not an easy one. It's a journey that fans don't always take into consideration. The intense level of training involved, the moves, the waiting, and the hard work often go over-looked. This season was special as it showcased the dedication of the rookies who's dream it is to get that call to the Show.

NEO Sports Insiders Newsletter
Sign up to receive our NEOSI newsletter, and keep up to date with all the latest Cleveland sports news.