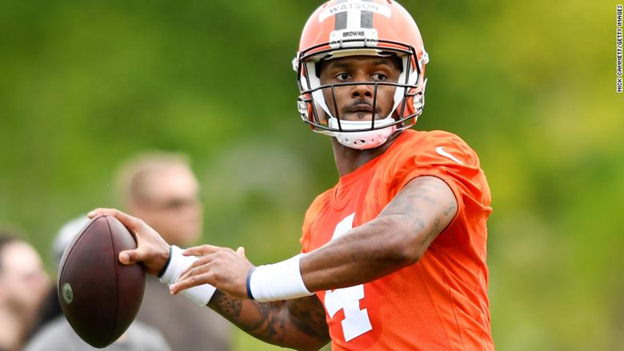 Deshaun Watson, backed by the NFLPA, and the NFL have worked out an agreement for his future. The Cleveland Browns QB will be suspended for 11 games and given a 5 million dollar fine for violating the personal conduct policy set forth by the league. The fine is the largest ever given to a player in the National Football League. In addition, the Browns and NFL will contribute a million dollars each to the fine helping to create a fund to assist programs that focus on sexual misconduct and assault.
Peter Harvey, the former attorney general appointed on appeal to the case by Roger Goodell, had not ruled on this case yet. It is not known if Harvey had encouraged both sides to work out the agreement or what way he would rule.
Twitter erupts
The NFL and Deshaun Watson have reached a settlement on his discipline for violating the personal conduct policy: an 11 game suspension (up from the six originally imposed by Sue Robinson, down from the full season requested by the NFL) and a $5M fine. #Browns

— Aditi Kinkhabwala (@AKinkhabwala) August 18, 2022
The NFL has officially announced the settlement with Deshaun Watson, who will be suspended 11 games, fined $5 million and required to undergo a behavioral health evaluation and follow a treatment program. pic.twitter.com/NqcQdzTrdb

— Tom Pelissero (@TomPelissero) August 18, 2022
Additional points in the agreement
The agreement demands that Watson comply with a professional treatment plan. It's unclear when Watson must undergo the mandatory evaluation from behavioral experts and who those experts will be. If he does NOT follow this, there CAN be a delay in the reinstatement to the team. In an interview with Aditi Kinkhabwala, Deshaun mentioned he was undergoing counseling.
Additionally, Deshaun Watson – who told me Friday he has been undergoing counseling for months – is required to "promptly undergo a professional evaluation by behavioral experts and will follow their treatment program." #Browns https://t.co/4rbarDvERF

— Aditi Kinkhabwala (@AKinkhabwala) August 18, 2022
Specifics
The suspension begins at 4:00 PM on August 30th. He will not be able to have contact with the team until October 10th. He can resume practice November 14th, according to Tom Pelissero. Watson will be able to suit up for the December 4th game at Houston. Deshaun will also forfeit his salary for these games which amounts to $632,500.
Deshaun Watson's suspension begins at 4 p.m. Aug. 30. He'll be eligible to return to the #Browns facility on Oct. 10 and resume practicing Nov. 14, per league source.

Watson is eligible to play Dec. 4 at Houston, 700 days after his last regular-season game.

— Tom Pelissero (@TomPelissero) August 18, 2022
Background
On August 1st, Sue Robinson, a retired federal judge, initially assigned  Deshaun to a six-game suspension with no fine. The NFL then appealed the ruling as per the NFL's Collective Bargaining Agreement. Harvey was given the case to rule on as the NFL's designee.
The Browns traded for Deshaun Watson in March and officially announced the trade on March 20, 2022.
"The Browns will receive Watson and a 2024 sixth-round draft choice (which was originally a fifth-round pick), while the Texans will receive a 2022 first-round pick (No. 13 overall), 2023 and 2024 first-round picks, a 2022 fourth-round choice (No. 107), a third-round pick in 2023 and a fourth-round pick in 2024. The 2022 fourth-rounder was an addition to what was previously reported."
The Browns also committed to a contract with the former Clemson QB guaranteed at five years and $230,000,000. From Spotrac.com: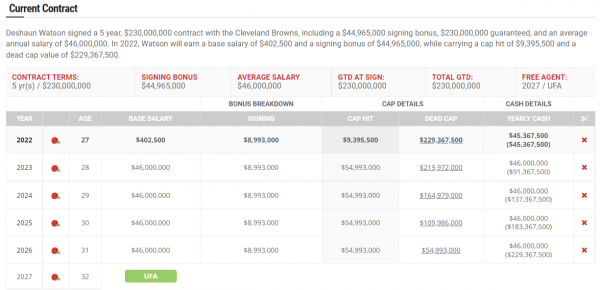 https://www.spotrac.com/nfl/cleveland-browns/deshaun-watson-21753/
What the NFL said…
The NFL commented on the fine and the fund.
"This fund will support the work of non-profit organizations across the country that educate young people on healthy relationships, promote education and prevention of sexual misconduct and assault, support survivors, and related causes," the NFL said on Thursday.
What's next for the team?
The Browns have a preseason game against the Philadelphia Eagles on Sunday, August 21st at 1PM. The two teams have been scrimmaging today and will continue into Friday. Coach Stefanski said that Watson will NOT play in the upcoming preseason games.
Jacoby Brissett will be the number 1 QB going forward with his backup most likely Joshua Dobbs. Myles Garrett is due back with the team Friday after attending a personal matter.

NEO Sports Insiders Newsletter
Sign up to receive our NEOSI newsletter, and keep up to date with all the latest Cleveland sports news.