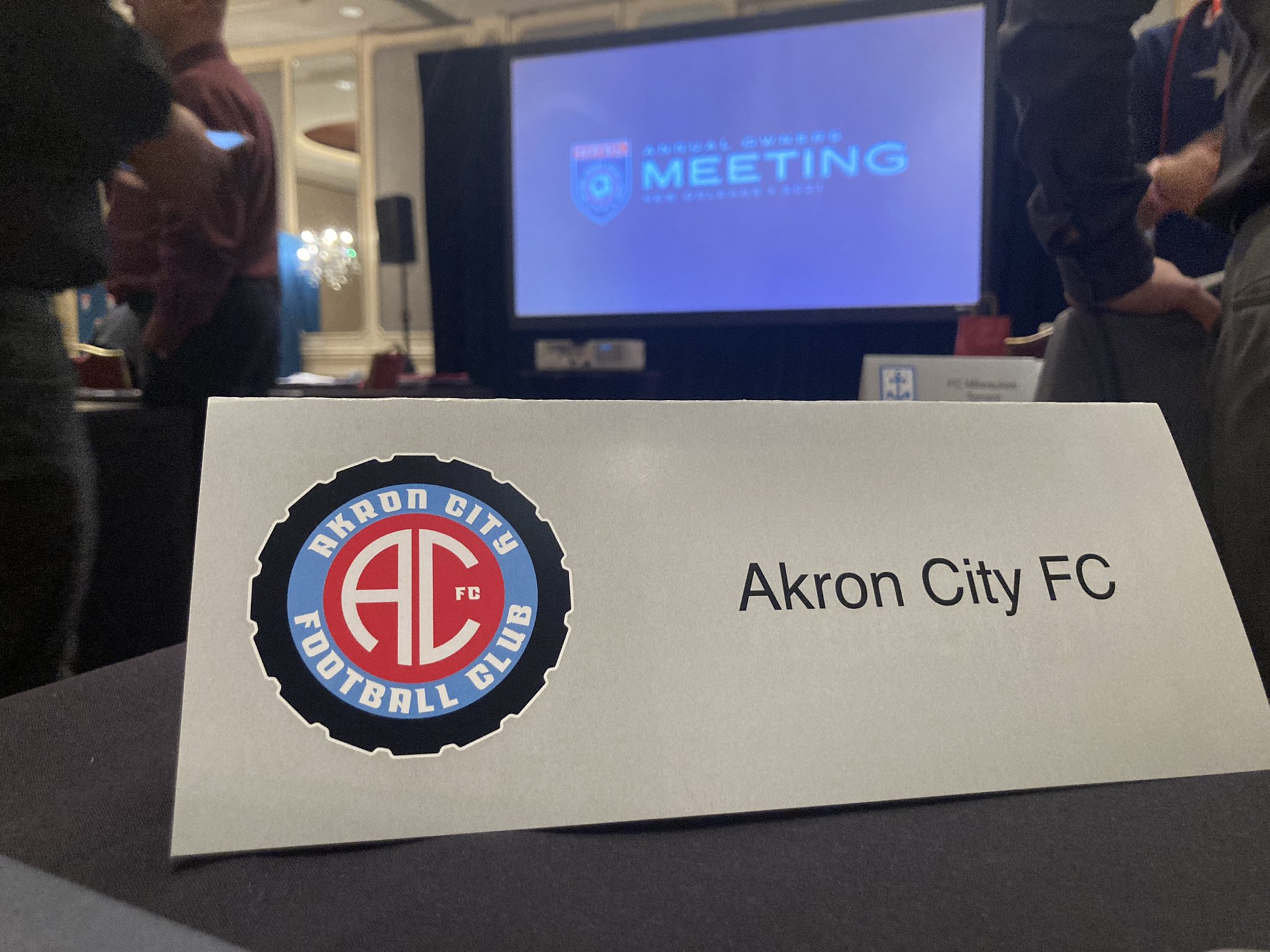 The City of Akron comes from humble beginnings and has a rich history in innovation and strong civic pride. The first police car to run on electricity was started there. Alcoholics Anonymous, one of the oldest sobriety programs, was founded in Akron. The tire and rubber industry started here with the likes of Goodrich, Goodyear, Firestone, and General Tire all founded and headquartered in Akron. Following the rubber blitz, toys like rubber ducks, balloons and baby buggy bumpers were first created and developed in the "Summit City." The NFL can also trace its beginnings back to the Akron Pros, who along with the Canton Bulldogs, Dayton Triangles and Cleveland Indians held the now famous meeting in the Jordan Motor Car company showroom in Canton that started the NFL.  
NPSL and Akron
Fast forward to today, where the Akron City Football Club ("ACFC") has begun its play in the National Premier Soccer League ("NPSL"). The team's beginnings, according to Nick Turchan, part owner and strategic advisor for the club, can be traced to a few local soccer guys having "a couple of beers at a soccer pitch!"

ACFC is enjoying its inaugural season as the first viable club to represent professional soccer in the Akron area. They currently sit in 4th place after their draw with Erie on Saturday June 26th. Turchan graciously shared the business insight and fascinating beginnings of the 330's newest sports organization.
In the late fall of 2020, Turchan, along with a few friends and his children's youth coach, Kia Zolgharian, decided to look into starting a minor league soccer franchise. A passion project that would be worked on outside of everyone's normal day jobs.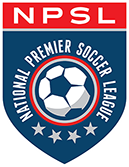 (Current standings as of 6.27.2022)
After months of research into the state of the business of soccer in the United States and the various minor/lower leagues, Turchan, who has spent over half his professional career in sports finance, along with other advisors deemed this opportunity to be viable. "Too many people start these endeavors without an understanding of the business or long-term financial projections," said Turchan, "I know it is boring and not a lot of people want to hear it, but while everyone wants to build a championship team, there are many teams at this level that are having success on the field, but are struggling on the business side. You must build team/brand awareness, which is more difficult today than ever before due to the plethora of entertainment options people have. But you need to be relentless on this to generate meaningful revenue or this fails like any business. What good is building a winner if there is a risk every year of the team folding."
WHERE IN OHIO?
"Naturally, we looked at Akron first, because of its rich soccer history stemming from both the successful University of Akron Men's program and the area's robust youth soccer programs, where we estimate there are over 10,000 kids under the age of 18 playing soccer." The ACFC team did consider some other locations within a 2–3-hour radius of Northeast Ohio, but nothing made more sense than Akron.
After vetting the viability of a lower league soccer team and settling on a location, the next order of business was to determine what league to play in. Turchan stated: "While we did speak with a number of leagues, the NPSL made the most sense." The league has ninety-five teams throughout the US, which is broken down into 13 conferences and 4 regions. Upon choosing the NPSL, Akron was slotted into the Rust Belt Conference with Cleveland SC, Erie Commodores, FC Buffalo, Pittsburgh Hotspurs, Rochester Lancers, and Syracuse SC. Prior to the season, Syracuse FC was moved to the North Atlantic Conference and Rochester chose to take the year off for business reasons. The regular season is played 100% against your conference rivals, with teams having the chance to move to regional and national playoffs later in the summer. "Losing Syracuse and Rochester put us in a bit of a weird spot with only a five-team conference and having to play each team three times. With that said, what an excellent group of strong cities with passionate sports fan bases. The makeup of the Rust Belt Conference and the ability to form strong regional rivalries was one of the biggest reasons we chose the NPSL.
GOALS
There were many things to consider in this sports venture. First were the goals. According to their website: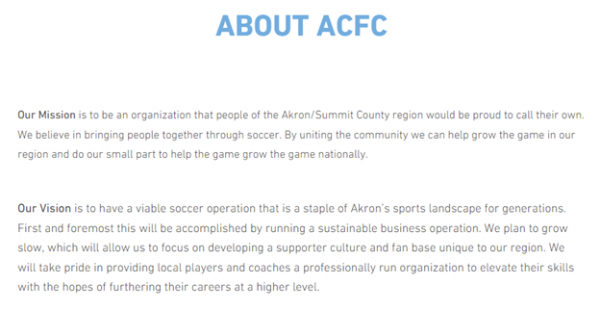 (www.akroncityfc.com/pages/club)
Clearly, they are very Akron/Canton centric. Hank Forrester, who runs 330ToGo a Facebook and iTunes news and media site, said, "They are very local, tied directly to the community" involving many partners, and "[They] try to include as many UA alumni" within the club as players/coaches. "They are going about it the right way."
"Our business model is always to build slowly, manage our cash flow out of the gate, but spend where appropriate to ensure we build properly. We did bring on some very successful and noteworthy investors, which put us in a good position to start, but we do not have the scores of people working on this day to day or a billionaire owner like major league sports teams do, so the staff and volunteers find ways to make things work."
WHERE WOULD THE PLAYERS/COACHES COME FROM?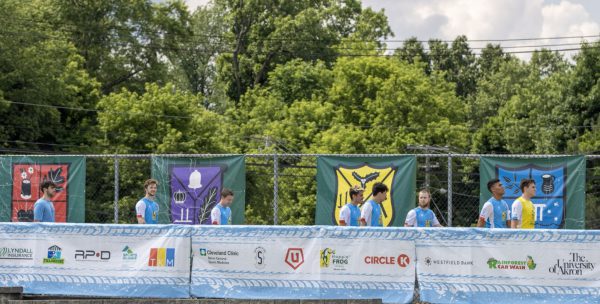 Next were the coaches and players. Kia Zolghanain was named technical director from the start with his forty plus years in Northeast Ohio as professional player and coach, he has developed relationships with other programs/teams/colleges that helped him identify players and coaches.
"Kia and his group really have this covered," Nick stated. "Kia led the group as interim coach through the first couple games and then passed the torch to Jay Stepp." Players on the roster include current and former collegiate athletes from Akron, Cleveland State, Mount Union, Malone, Hiram, and Notre Dame College just to name a few. Almost the entire roster is made up of players who either are from Northeast Ohio originally or have come here to play their college ball.
PARTNERS?
An endeavor like this can only succeed with partners. Nick and his team have an amazing group of local companies who are on board with the club. The team has nineteen sponsors, deemed "Founding Sponsors" who allowed the team to form a stable foundation. Springside Athletic Club, Circle K, Cleveland Clinic Akron General, Lyndall Insurance, Red Point Digital and the Sports Alliance of Greater Akron are a few that have stepped up in a big way.
The team also had a strong season ticket sales base. "Our sponsorship and season ticket base allowed us to invest to ensure we are creating the most professional environment for our players, for example, we have a 55-passenger bus for each away game. Many teams in this league use small vans or have the players drive themselves. It is the support of our partners that will allow us to continue to invest in the club and build one of the best organizations in sports."
The stadium being used is the pitch at St. Vincent/St Mary's High School, with volunteers from the school's Athletic Boosters, Band Boosters and Soccer Boosters helping with game day jobs. "We have developed a foundation for a long-term partnership with the school. The facilities are great! Leo Hyland (STVM President), Willie McGee (STVM AD) and Carley Whitney (STVM Assistant AD) have been very accommodating and a pleasure to work with. We are fortunate," Nick said.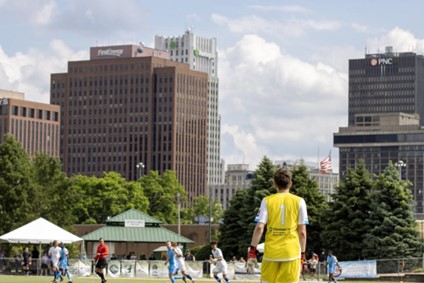 (View of Akron from the pitch, courtesy of @CharlesMurray19)
The home game live streams are professionally produced by OhioSportsNet with three cameras to show all the action. All games are broadcast on elevensports.com.
One of the team's jersey sponsors, Hoppin' Frog Brewery, created a special brew to sell at games, a refreshing shandy called Kickin' Blackberry Turbo Shandy. The product has also been popular at Hoppin' Frog's Tasting Room and at local grocers. The story behind the brewery sponsorship is pretty crazy. Vito Testa Jr, the team's Director of Operations, was a former referee and referee manager for US Soccer. He is friends with Zachary Bastin, Director at Hoppin' Frog, who also serves as a local referee assignor. That is where the conversation started and blossomed into a great partnership. Both Hoppin' Frog and ACFC are aligned in their missions of "selling fun."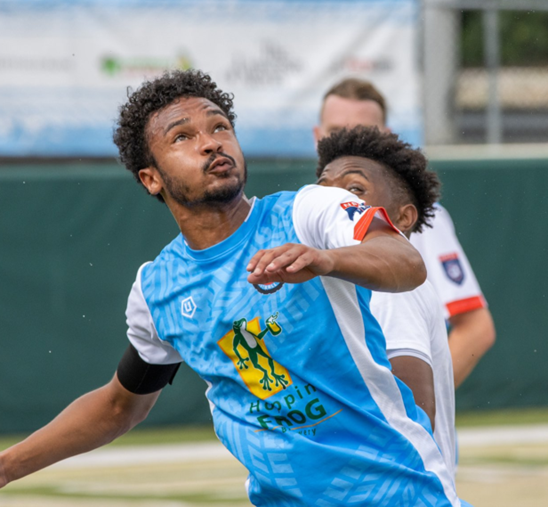 (Photo courtesy of Charles Murray)
GOING FORWARD
"The results have not been what we have wanted, no one feels the weight of this more heavily than the players. Despite the results, the players and coaching staff are working hard each week at practice to deliver results the fans want to see. We really feel we have a solid club and when healthy and playing together, have one of the better teams in the league. We also have two more matches with Cleveland SC, they are the benchmark, and we are looking forward to those matches," Nick replied. Getting Renato Kauzlaric back (family) and Daniel O'Callaghan (injury) will help stabilize the club and hope to reward the fans with victories like the first inaugural game, a win over Pittsburgh.
And Akron fans have responded to this local love. Over 1,000 tickets per game were sold for the first two home games, which the ownership group hopes to improve upon. "There is no doubt that we can be drawing between 2,000-3,000 fans a game, it just takes time and more investment, but we are well on the way."
The team has three remaining home games, so if you want to catch the inaugural season action, get over to the team's website, www.akroncityfc.com, and purchase your tickets.
Derby Week us upon us! ACFC looks to avenge an early season loss & level the NEO Derby at 1 game apiece, setting up a rubber match on 7/2 in Lakewood!

🆚- @soccercle
📆- Wed 6/29
⏰- 7:30PM
🏟️- Green Street Stadium
🎟- https://t.co/Oj5T7xJGhp
📺- https://t.co/RXc83S9R9M pic.twitter.com/9ZkzZ8vl85

— Akron City FC (@AkronCityFC) June 27, 2022
Their next home game is Wednesday, June 29th against Cleveland SC at 7:30 PM in the beautiful St Vincent/St Mary Green Street Stadium. Let's call it round two of the North coast Derby!

NEO Sports Insiders Newsletter
Sign up to receive our NEOSI newsletter, and keep up to date with all the latest Cleveland sports news.