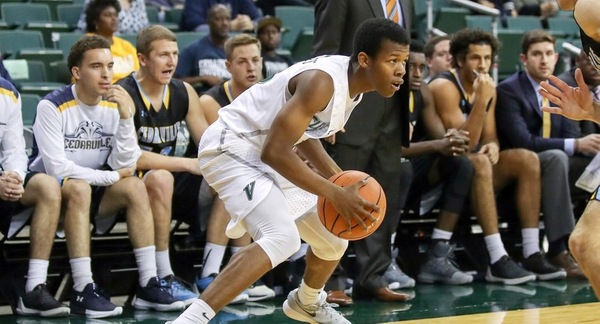 ***schedule of events provided to NEOSI by Cleveland State***
A LOOK AT WHAT'S HAPPENING
MEN'S BASKETBALL
Cleveland State (3-11, 0-1 HL) concludes a three-game homestand to open Horizon League play with a pair of games this week. The Vikings will host Green Bay on Thursday (Jan. 4) at 7:00 pm and Milwaukee on Saturday (Jan. 6) at 3:30 pm.
The Vikings dropped their League opener on Monday, 80-77, to Youngstown State as the Penguins hit the game-winner with 0.6 seconds to play.
Bobby Word scored 24 points, including a three-pointer with nine seconds left to tie the game at 77-77 before the game winner. Word also scored a career-high 26 points in Friday's setback at No. 2 Michigan State.
WOMEN'S BASKETBALL
The Vikings (10-3, 2-0) will continue their four-game homestand and #HLWBB play against IUPUI (Thursday, January 4) and UIC (Saturday, January 6) this week.
Last time out Cleveland State picked up a 70-62 victory over Oakland and a 75-50 victory over Detroit Mercy to begin Horizon League play.
This marks the first time under head coach Kate Peterson Abiad that the Vikings have notched 10 wins before the month of January, and the sixth time that they have started 2-0 in #HLWBB play.
WRESTLING
The Vikings will conclude action in the Southern Scuffle on Tuesday (Jan. 2) in Chattanooga.
A trio of Vikings – Evan Cheek, Nick Corba and Caleb Stockmaster – combined for eight wins on the first day of the Southern Scuffle on Monday and advanced to the second day of competition.
Cheek will receive a medical forfeit in his first match on Tuesday and will place in the event.
Corba and Stockmaster will wrestle in consolation matches on Tuesday with a win securing a top-eight finish in the event.
VIKING OF THE WEEK
Bobby Word | Sr. | Men's Basketball
Word averaged 25.0 points in CSU's two games last week, which included a 12-of-23 effort from three-point. He scored a career-high 26 points at second-ranked Michigan State and followed that up with 24 points vs. Youngstown State.
OTHER TOP PERFORMERS
Khayla Livingston | Sr. | Women's Basketball
Scored a game-high 26 points in CSU's win over Detroit Mercy as the Vikings improved to 2-0 in League play.
Caleb Stockmaster | So. | Wrestling
Advanced to the second day of the prestigious Southern Scuffle at 174 pounds.
Kasheem Thomas | So. | Men's Basketball
Scored a season-high 11 points with six assists vs. Youngstown State.
Olivia Voskuhl | Sr. | Women's Basketball
Averaged 20.0 points in two games last week to help the Vikings to a pair of wins to open League play.
THIS WEEK'S SCHEDULE
Tuesday, Jan. 2
Wresting at Southern Scuffle, 10:00 am
Thursday, Jan. 4
Women's Basketball hosts IUPUI, 4:00 pm
Men's Basketball hosts Green Bay, 7:00 pm
Saturday, Jan. 6
Women's Basketball hosts UIC, 1:00 pm
Men's Basketball hosts Milwaukee, 3:30 pm.