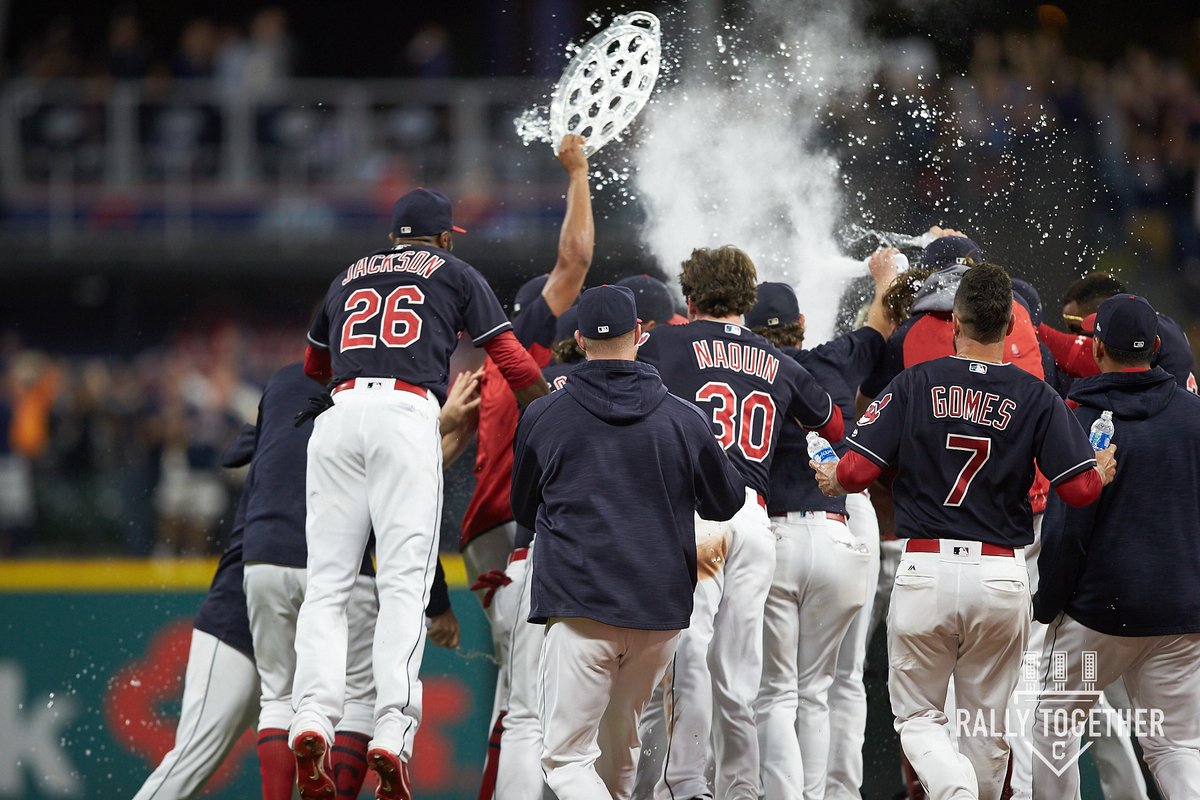 CLEVELAND– Last year when the Cleveland Indians swept their way to the World Series, it seemed as if the only people who weren't surprised were Cleveland fans.
The same goes for when they took a three games to one lead over the Chicago Cubs.
The 2016 Cleveland Indians were a team that won the AL Central, but flew under the radar even as they continued on in the postseason.
Despite their underdog status in Game 7 of last year's World Series, the Indians were arguably a rain delay away from hoisting the Commissioner's Trophy, which didn't even exist the last time the franchise won it all in 1948. No Cleveland fan needs to be reminded of what happened in that game, and how close the city was to a second parade in five months down East Ninth Street.
This year, as Cleveland returned the majority of its core, finished with the best record in the American League, and went on arguably the most impressive winning streak in league history, the atmosphere feels noticeably different.
In 365 days, the Indians have gone from being underdogs to front runners. In a sport where it is dangerous to put the cart before the horse as manager Terry Francona would say, the air surrounding Carnegie and Ontario is filled with inevitability.
That feeling does not permeate the air in the Indians clubhouse, however. The 102 wins from this season aside, the Indians are focused on their ultimate goal, and are prepared to push the pedal to the metal all the way through to another World Series Game 7 if necessary.
"Don't take anything for granted," Francisco Lindor said when asked what he learned from last season's improbable run. "Don't let up. Let up once you're finished. Once you see that finish line make sure you go across it, don't relax. … I'm trying to win it, this is what we play for, what we're looking forward to. This is the most exciting time of the year. It's a dream."
That's not to say that the team took anything for granted last year either, which Lindor did point out. It seems as though this year, the team is taking some hard-learned lessons into the postseason with them, rather than last year when the roster was filled with first-timers.
"The object is to learn from all of your experiences," Francona said. "I think experiences are good. Saying that, it's a brand new year, and everybody starts even. You don't get rewarded for it, but I do think the experience is good. I think guys know what to expect a little bit more."
"There's definitely things that you take into it that you've learned," said Trevor Bauer, who will start Game 1 of the ALDS on Thursday. "I don't know if it's necessarily a conscious, 'Oh, I learned this exact thing.' I think it's just when you get out there you're more comfortable."
While the team will undoubtedly use the larger lessons they learned last season to their advantage, they are arguably in a much better position this year, especially when it comes down to overall health. Last year, the pitching rotation was down to two healthy starters by the World Series. This year, there is practically an embarrassment of riches, especially when it comes to the bullpen.
But even offensively, it seems as though during each game, anyone can have a big night at the plate.
"The good thing about this team is they're not relying on me, they're not relying on [Corey] Kluber, they're not relying on Jose [Ramirez], [Jay] Bruce, [Edwin] Encarnacion," Lindor said. "We've all got different roles and everybody expects us to do our roles. It's not like everybody's counting on Jose to drive in 50 runs in the postseason. Because at the end of the day, he's just one guy of 25. We need everyone of the 25 guys on the roster."
There's no doubt that during Cleveland's epic 22-game win streak in August and September we saw them adopt that sort of mentality. After all, it's impossible to win that many games in a row relying on just one person. But even more importantly, they did not allow the streak to consume them. There was hardly any talking about it as it was ongoing, and no game was ever taken for granted.
"You didn't see guys showing up a little bit later or not going through their workout or routine the same way," closer Cody Allen said. "They really respected it, which says a lot about the group in here, respecting that we are playing well now but that's not a given. Guys worked their tails off from Game 1 through 162 and that will continue."
Throughout the 22-game win streak, and throughout all the best moments this season, the Indians have gone about their business as usual.  That is exactly why the remaining nine teams in the postseason should be nervous.
The Indians are no longer the underdog, but it's safe to say, they have kept the mentality. They have somehow managed to firmly keep the horse in front of the cart.

NEO Sports Insiders Newsletter
Sign up to receive our NEOSI newsletter, and keep up to date with all the latest Cleveland sports news.