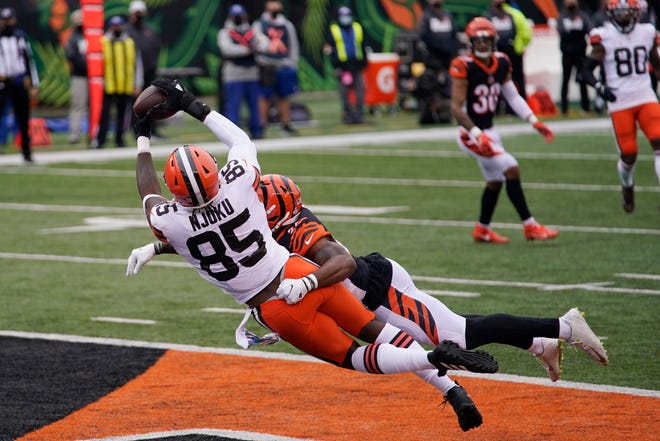 Cleveland, Ohio
The Cleveland Browns signed Tight End David Njoku to a 4-year $56.75 million dollar contract extension with $28 million guaranteed. Njoku had the franchise tag placed on him earlier in the off-season in hopes of agreeing on an extension. The two sides were able to come to an agreement, which was confirmed by Njoku himself. Thus, making Njoku a top-5 paid tight end in the NFL.
Fan Reaction
Fans have had mixed reviews to the extension for Njoku. Some criticizing the contract as an overpay, while others are thrilled. Count me on the side of being thrilled. I think the deal is a good one. However, keep in mind, the reported numbers of 4 years and $56.75 million, only $28 million is guaranteed. This tells me the Browns probably have an out in the contract after 2 years. But don't let the numbers fool you, Njoku will only get the full reported numbers if he produces.
As I mentioned, I'm a fan of the deal and of Njoku. He was drafted as a raw 20 year Tight End out of the University of Miami. He's still only 25 and has not yet reached his potential. Njoku has improved but is certainly being paid for what he can do and not what he has done. Njoku has a great skill set that can be a match-up nightmare for any linebacker or safety he draws in coverage. The Browns are now obviously committed to targeting Njoku more and giving him every opportunity to be a difference-maker in 2022. With Austin Hooper set to be released officially after June 1st, Njoku is the unquestioned TE1.
For those against the extension, this is a low-risk, high reward contract. Don't worry about the cap hit, don't worry about the guaranteed money, don't worry that this deal puts Njoku in the top 5 highest paid Tight Ends in the NFL. If things go south with Njoku, the Browns only took a 2-year gamble. The Browns are trying to look at the big picture with this deal. If it works out, they're ahead of the market and have a top 5 Tight End locked up for 4 years. I am a huge fan of #85, but it's up to him to fulfill the potential that many, including myself, see in him.

NEO Sports Insiders Newsletter
Sign up to receive our NEOSI newsletter, and keep up to date with all the latest Cleveland sports news.