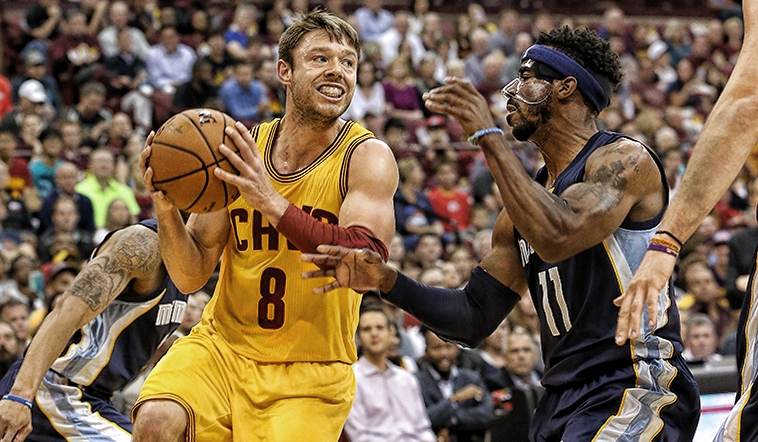 CLEVELAND – James Tears Page Out of Old Friend's Book
LeBron James knows about the economics of basketball. He especially knows about the importance of good shot selection.
James had an economical 29 points in Friday's win against Miami. He scored with an array of post moves that got him shots that were not highly contested and did not require much energy.
It is something that James needs to do more often due to the mileage he has accumulated, and Dwyane Wade scores easy buckets as well as anyone in the NBA.
Most of Wade's field goals on Friday came with little body contact. Wade slices and dices through the defense like a butcher chopping a thick slice of meat. At 33, he still changes directions well. His change of pace dribbles are still effective,, and he uses angles to score on the window.
James is no stranger to scoring on the block. But in the past, he would thrust his shoulders into post defenders, and back them down with muscle. He would blow by defenders with his speed and his solid finishes would draw a lot of contact.
Now, arrays of spin moves, quick feet, swift step backs will need to be his primary method of scoring.
"I just work through my game," James said Friday night. "Every game is going to present different challenges. I've got to continue to maintain the work I've been doing behind the scenes."
The poster move dunks Clevelanders are used to seeing from James are slowly becoming exclusive to break away plays in transition.
LeBron isn't quite in the twilight of his career yet, but an aching back that has already required two anti inflammatory injections in ten months is speeding up that process.
Still, whatever way it comes, James will continue to "get his" and find ways to be the elite scorer he always has been. After all, a bad back never bothered a King that much anyways.
Thompson goes right back to business
After having spent little time on the practice courts before signing his five year contract extension, big man Tristan Thompson has picked up right where he left off.
"The thing about Tristan is that he doesn't need a whole lot to be involved and successful in the game. He's going to go out there, he's going to rebound, he's going to be active. He's going to screen well, move and facilitate for himself or another player. The big thing for me is that he would get rhythm and the feel for the game. It has come a lot faster than I originally expected. Tristan took care of himself and came in good shape He plays his role perfectly."
The ironman of the team continues to be a reliable rebounding option and already looks to be in mid season form. His 13 points and nine boards in 26 minutes on Friday night were proof of that.
"He's one guy that never gets out of shape," James said. "We already know how durable he is. It's like counting and counting the games he has played. He plays above the rim, and we love it."
He and Matthew Dellavedova hooked up for a few alley-opp dunks Friday night. Business as usual.
Solid D
Through the first three games, the Cavs have held opponents to 43 percent shooting or lower, a good indicator that the core group of players is comfortable playing together on both ends of the floor.
"It is early in the day, but I don't think we're much different in that respect than we were from mid-point last year until now," said David Blatt. "That is a good sign. You want to keep the good, and improve the bad."
One thing to consider, however, is that those three teams, Chicago, Memphis, and Miami, are all slower, older, half court teams that never did much scoring. None of them have particularly good three point shooting range either.
Bench Becoming Big
The Cavalier bench has had two consecutive great scoring games; one of 50 points against the Grizzlies, and now 32 points against the Heat.
A season ago, it was rare that the bench would be so involved in back to back games.
"We're a team that has continuity, even with the problems of the pre-season," said Blatt. "We have stressed that our bench will form an identity as being an integral part of the team. They are doing their job at both ends of the court."

NEO Sports Insiders Newsletter
Sign up to receive our NEOSI newsletter, and keep up to date with all the latest Cleveland sports news.