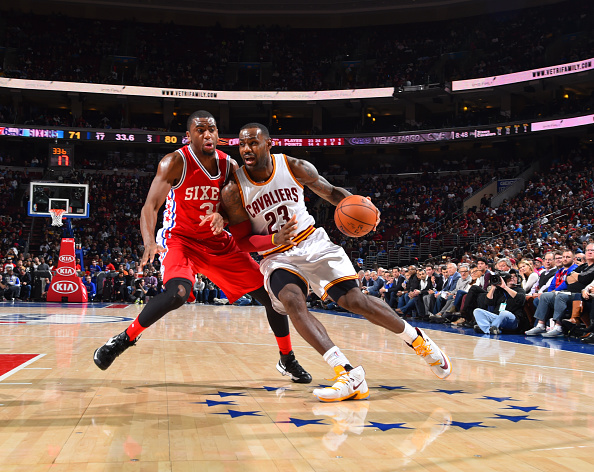 The Cavaliers improved to 3-1 on the season with a convincing 107-100 win on the road against the Philadelphia 76ers Monday night. The young Sixers came ready to play and capitalized on a slow, sloppy start for Cleveland.
Thanks to eigth first quarter turnovers by the Cavs, the Sixers led after one quarter 32-18.
The Sixers maintained momentum for most of the second quarter until Cleveland went on a 10-2 run at the end of the half, to cut the deficit to five entering halftime 54-49 in favor of Philadelphia.
The combination of young big men, Nerlens Noel and rookie Jahlil Okafor was lethal in the first half as Noel scored 12, and Okafor scored 14, despite committing three early fouls. Okafor would finish the game with 24 points.
The Cavs could not get going offensively for much of the first half, but Mo Williams had the hot hand, shooting five for seven from the field to enter halftime with 13 points. Williams would go on to finish the night with 21 points on eight of ten shooting.
The Cavs came out in the second half and picked up right where they left off before halftime, going on a 15-2 run in the first five minutes of the third quarter.
James Jones was hot off the bench, hitting back to back three pointers late in the third quarter. Jones went four for five on the night from beyond the arc, contributing a season-high 12 points.
Cleveland headed into the fourth quarter leading 82-72 after outscoring the Sixers 33-18 in the third.
LeBron James did not score much early, but made his presence felt as the game went on, putting together an impressive stat line with 22 points, 11 assists, nine rebounds, four steals, and two blocks.
The play of the night took place early in the fourth quarter when Matthew Dellavedova lobbed up an alley-oop pass and LeBron thundered it home to make it 88-77 in favor of Cleveland.
LeBron followed it up with another alley-oop slam to surpass 25,000 career points, making him the youngest player in NBA history to reach that milestone.
After the game LeBron reflected on the moment and said, "It's a heck of an accomplishment for me, individually. For the crowd to acknowledge me, and the moment, and give a standing ovation, it's special."
Cleveland led by as many as 21 early in the fourth quarter, but the Sixers went on a late run to cut the game down to a six-point margin with 29 seconds remaining, until Jones hit his fourth three pointer of the night to make it a nine point game and seal the deal.
The Cavs head back to Cleveland for a four-game homestand, starting with Carmelo Anthony and the New York Knicks (2-2) on Wednesday night at 8 PM.