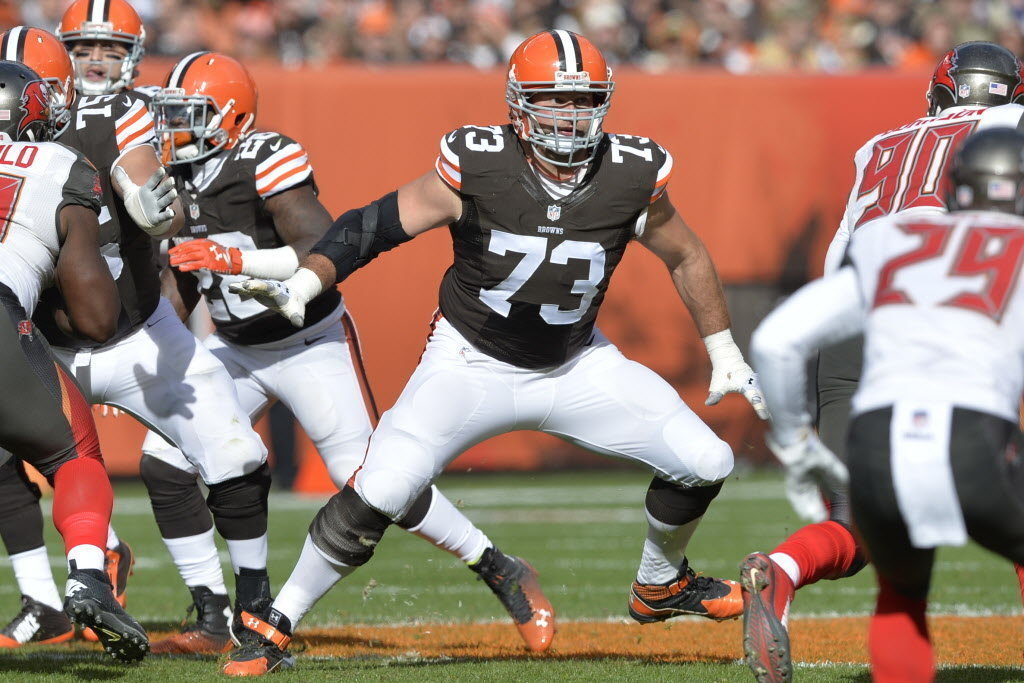 Browns tackle Joe Thomas has yet to announce his plans for 2018 and beyond when it comes to playing football, but he's been making the rounds as of late on the media side, basically knocking it out of the park and coming across more and more like a guy that could easily make the transition to the broadcast booth.
Today, a local Cleveland sports talk host took some shots at Thomas, warning him of being so quick to think he's going to be able to make the transition to the media industry.
Tony Rizzo, of ESPN 850 WKNR took some shots at Thomas last week after the tackle spoke at the Cleveland Sports Awards, but didn't want to come on Rizzo's 'The Really Big Show.'
Wednesday, the Browns tackle appeared on Wednesday on Dan Le Batard's national sports show, and gave his response.
The following day after the awards Rizzo spoke about Thomas, this after Rizzo sidekick Aaron Goldhammer said that Thomas stated that he was 'too big' to appear on Rizzo's show – this despite ESPN 850 being a Browns affiliate.
After that, Rizzo said he wasn't going to run an interview done at the Sports Awards with Thomas, and that he's outraged that Thomas wouldn't come on Rizzo's show live.
Here's the 19 minute segment the day after the Sports Awards of Rizzo and Goldhammer discussing the matter, and Rizzo throwing out some shots about Thomas, this after they ended up playing a moment of the interview after all.
Rizzo stated that 'no one' is going to care about Thomas once he's done playing, or the new Thomas podcast 'ThomaHawk.' He then went on to say that Thomas will be remembered for 'losing' and being part of the 'worst era of Browns history.'
Today the war between the two went to another level after Rizzo heard that Thomas and Le Batard were talking about him, and that Le Batard played the sound bite of Rizzo talking about him last week.
Here's the complete 40 minute segment:
Thomas used some of tweets that Hayden Grove of Cleveland.com used and gave out a 'Thank you' to Rizzo for being a fan.
Thanks for being a fan Mr Rizzo!! ? #ThomaHawk @Hawk @ThomaHawkNFD pic.twitter.com/RvCUGEQgWq

— Joe Thomas (@joethomas73) January 24, 2018
Don't expect the war to be over as likely Rizzo will have even more response on Thursday as more stories of the back and forth today gain momentum over the internet.