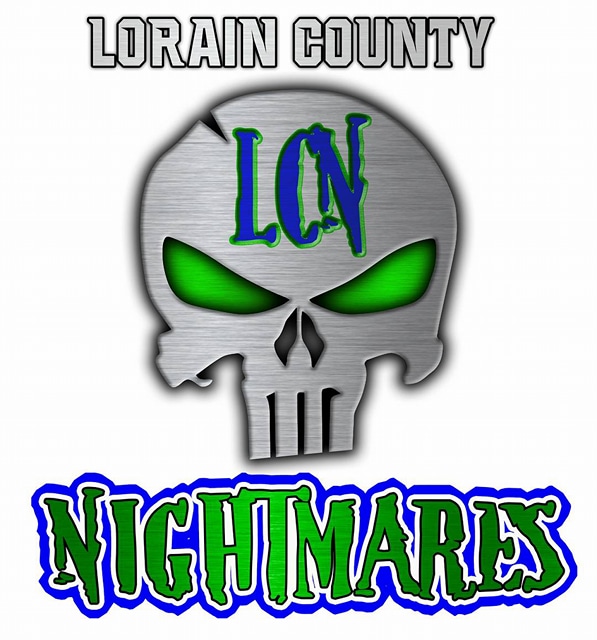 You may be asking yourself: "who are the Lorain County Nightmares?"
The Lorain County Nightmares are a non-profit AAA football team located in Northeast Ohio. The organization started in 2012 with owners Vaughn Sprinkle from Heidelberg University, Mitch Tulk, and Sonny Hazelwood. The Nightmares play in the Premier Amateur Football League (PAFL) and the teams they play against come from Indiana, Michigan, Pennsylvania, New York, and other Ohio teams.
What exactly is the story behind the Nightmares? 
The purpose and goal of the Nightmares is to help provide the community with competitive football ranging from players looking to get on an NFL roster, former college players or even players looking to help get recruited by colleges after high school. The Nightmares have been heavily involved in the community coaching youth, helping youth in poverty and numerous other charitable services. AAA football has grown over the last ten years to be a great supplement to the absence of football in the spring/summer.
The Nightmares are lead by Head Coach, Jamie Ray Adams. Adams took time out of his day to speak with me about the Nightmares.
Payton Vince: How did you become the Head Coach of the Nightmares
Jamie Ray Adams: "I started playing for the team in 2015 having moved to the area from Columbus. After the first season with the team, the owners and I agreed to make me the general manager of the team which I still am. After my second season with the team, we had an underachieving year and the glaring reason for it seemed to be coaching. We have one of the most talented rosters in the league and our wins did not reflect our skill set. All of the players and owners agreed that I would make a perfect fit as a head coach because I have an unmatched love and passion for the game that I believe the players acknowledge and respect. Both previous years I was a team captain and league leader statistically, so the leadership aspect of coaching the team was already there along with the respect I mentioned for being able to play the game at a high level."
Vince: Under your leadership as the Head Coach how much has the team improved?
Adams: "I often seek the opinion of others close to me for reflection of myself. I trust that these people give me unbiased opinions and true statements and critiques. The people I have spoken to have told me that there is a completely different culture, attitude and sense of pride in the organization. The difference between our team and other minor league teams is that my team is comprised mainly of former college players, many at the division 1 level. Having played at a high level myself, there seems to be a sense of mutual respect with the team. We have done some fantastic recruiting this year which has also given the team a sense of competition, that no one's position is secure just because they show up to practice. The biggest improvement we've had this season is the sense of competition and winning at all of the little things that we do. I preach a one-step-at-a-time mentality and accomplishing short-term goals and the guys have seemingly responded well to it. The players understand how seriously I take the game of football and the level of passion and love for it rubs off on them, I hope (laughs) ."
Vince: You mentioned the high level you've played at, playing at Kent State and with the Cleveland Gladiators what did that teach you as a player that helped expand your knowledge of football?
Adams: "I believe in the small nuances of football. I think it's the intricacies of the game, the environment and the other little things that make football great. Everywhere I've played in the past has taught me something different and that is what I think has developed my football IQ if you will. Being a student of the game is the most important thing I could pass on to anybody playing at any level whether it be Pop Warner, High School, College or at a Professional level. If there's one single thing I've taken from the game of football is that it has taught me a great sense of loyalty and pride. You're only chances of success are believing in what you're doing and having loyalty to the other men that step out onto the battlefield with you."
Vince: With the 2018 season coming up shortly, what is the thing you are looking forward to most with the Nightmares?
Adams: "Winning. As much as I hate to give a Bill Belichick style answer, it's what I'm looking forward to the most. We spent a lot of time, effort and money into marketing the team to where it has now become the most popular minor league team in the country by Facebook followers, Instagram followers and website hits. Now that we have accomplished all of that, and we have done the recruiting necessary to put the best team on the field I have focused this offseason on continuity, teamwork, Brotherhood and loyalty to LCN (Lorain County Nightmares). My hope is that all of it will transpire into wins on the football field so that we can give our fan base something to root for. 2018 is what I would like to call a make-or-break year for us."
Vince: If you had to pick, who are some players that fans should familiarize themselves with if they haven't already?
Adams: "Although that is a tough question to answer because I believe that there is talent at all 22 positions on the field and everyone will be witness to that May 12th, I will play along (laughs). We have a John Carroll University and Saint Edward High School alum Brandon DiMarco. Brandon is a 6 ft 5 230 pound cannon of an arm quarterback who we expect to have a great season for us. On the defensive side of the ball, we have a couple players worth mentioning. Our entire defensive line anchored by North Carolina State product Terry Oliver, All American defensive end Sonny Hazelwood, Heidelberg's Vaughn Sprinkle and MAC champion, former Marshall Thundering Herd defensive end Andre Portis. We have a local Ashland University linebacker Chase Green who should have a standout season. In the defensive backfield we have a three-time Big East Champion, Cincinnati Bearcat Chris Williams along with Desmond Guice at cornerback, who led the PAFL in interceptions last season. I also should mention David Mosby, he is a former running back at Tiffin University along with CJ Powell former ALL-OAC wide receiver at Heidelberg University."
Vince: Thank you for your time coach, and good luck this upcoming season.
If you are interested in going to a Lorain County Nightmares game this season home games are played at Oberlin College. Games are on Saturday Nights at 7 pm starting on May 19th.
Facebook: Lorain County Nightmares
Instagram: @nightmarefootball
Website: lcnightmares.com

NEO Sports Insiders Newsletter
Sign up to receive our NEOSI newsletter, and keep up to date with all the latest Cleveland sports news.