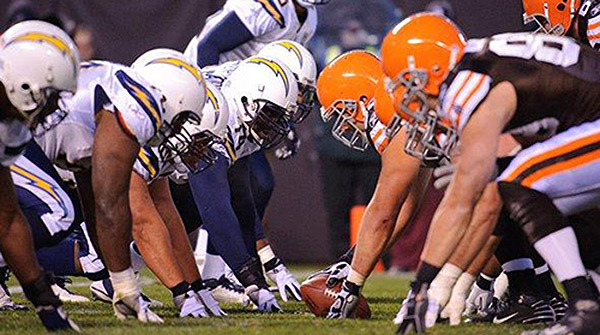 By Ryan Kaczmarski
My midweek pick from Thursday — Cleveland 17, San Diego 14
The Browns defense – still embarrassed by last week's showing – finally looks like the unit that they have thought they were all preseason. They will finally stop the run game of Chargers' RB Melvin Gordon, because of a brutally-injured SD offensive line, and will keep Gordon without a TD on the season. The Crow will be fed, with the Chargers' defense giving up 4.9 yards per rushing attempt, he along with Duke Johnson Jr. will combine for over 100 yards. As for the QB situation, it's a good thing the Browns are playing on the road this weekend. Johnny chants won't be heard at Qualcomm Stadium Sunday, and the San Diego secondary is playing the second and third string because of injuries to CB's Brandon Flowers and Jason Verrett, so it could be a good day to throw it down field to Travis Benjamin. Philip Rivers is still one of the top-tier QB's in the league, but Joe Haden has a game plan to keep his top WR Keenan Allen from accomplishing what he does well, come back to the ball on hard stop-and-go routes. The Browns will hopefully come out of San Diego, leaving the circus behind on the west coast.
3:40 — PREGAME — OK, Joe Haden is now not playing, so the rest of the Browns' secondary must dig deep within their hearts to keep Philip Rivers from hitting his wide receivers today. For the rest of the team, the mission is still the same: 1. Stop the run, 2. Run the ball effectively on offense, 3. Be all over Rivers on every snap. Even without Haden, I still think the Browns can win this game! Josh McCown will start this game, but I would not be surprised to see Johnny Manziel come in for special occasions. We'll see…
4:05 — Justin Gilbert to take the KICKOFF.
4:06 — That second pass by McCown could have easily been called a lateral.
4:07 — 3 and out, punt…Looked like a good pass, but not caught.
4:09 — Browns need to get that pressure on Rivers all day!
4:10 — That was an incompletion, much to my dismay
4:10 — I like how the Browns D is attacking that third-string O line of SD
4:11 — Another holding call. How many is that this season, just on the kick/punt return team?
4:15 — I thought his arm was going forward on that fumble call. I can already hear the Johnny chants from here in Rocky River…
4:18 — Keep up that pressure. It's a must to make Rivers beat you with his arm.
4:19 — BIG SACK!!! Christian Kirksey blows up the middle.
4:20 — Pierre Desir with a big play…another SD punt
4:23 — Can the Browns run a play not up the middle?
4:24 — McCown's arm looked really strong on that first-down throw.
4:25 — Brian Brennan, I mean Hartline with the first down on the short slant.
4:28 — Benjamin with a couple yards…going for it on 4th and 2. FLAG- P int. First down
4:30 — Bad play call on the screen. Could have been worse…
4:32 — Travis Coons comes out for a 36-yard field goal. Browns up 3-0 with 4:12 left in the first quarter.
4:37 — Again, it could have been worse. 5-yard holding penalty
4:39 — Floyd payed for making that catch. Keep hitting them hard
4:41 — Desir looked lost out there across the middle.
4:42 — Keenan Allen hauls in a Rivers toss for a TD. That's exactly how the Chargers will have to score today. Chargers 7, Browns 3 with 48 seconds left in the 1Q.
4:47 — Isaiah Crowell with a huge gain! This is what I've been waiting to see from him. Run off the end and get that burst of speed. He's not going to get much running into the middle, like they've tried all year.
4:50 — Hartline out with injury
4:51 — Johnson Jr. hauls in a great throw from McCown. Browns take back the lead 10-7 with 14:10 left in second Q.
4:57 — The Browns Defense is looking way too soft right now. Where is the intensity from the first Q?
4:59 — Lambo kicks in a 43-yard field goal to tie it up, 10-10, with 10:42 left in the first half.
5:02 — McCown, again, with no pocket awareness. Johnny, Johnny…
5:04 — Nice play call there with Johnson Jr. going across the middle.
5:05 — Awful penalty there. 1st and 30 for the Browns
5:10 — Punt and live to play again
5:17 — Bowe looked like he has hardly played this year.  Duh
5:20 — Who was watching Woodhead?
5:21 — Desir gets another holding penalty. Browns will not win games playing so sloppily.
5:29 — Lambo puts the Chargers back up, 13-10, with 1:36 remaining in first half.
5:35 — Perfect time for the TO with :31 left in half
5:38 — Manziel should be in for the last two plays
5:40 — Coons ties it up at 13-13 with three seconds left in the half.
5:44 — FIRST HALF NOTES: I know that using two QB's typically never works, especially in the NFL. But, Manziel should be put in the game in REd-zone situations. I know, it sounds pretty stupid, but McCown has no idea what is going on around him in the pocket. NONE! The running game has picked up with Johnson Jr. in the middle and Crow on the outside. The defense has to come out of halftime with the same aggression and intensity it had in the first quarter.
6:00 — Browns penalties are getting really stupid.
6:07 — Johnson Jr. is injured again. Maybe if someone is the leading yard-earner in college, they might not have much left in the tank for the pros.
6:12 — Pitch and catch to the Crow for the most yards for a Browns player today. 53-yard gain
6:15 — Coons put Browns back on top with a short FG, 16-13, with 5:54 left in the third Q.
6:21 — Woodhead shrimped out of the line of scrimmage on that play.
6:24 — Green catches a 19-yard TD pass to put the Chargers back up 20-16 with 4:23 left in the third.
6:28 — McCown. Enough said there…
6:30 — Browns need a 3 and out right here. I'd like to see Manziel in the next offensive possession.
6:36 — That sack was needed. Benjamin with a nice return. End of third quarter. Johnny still wearing a baseball cap.
6:41 — McCown did have a nice throw, but Manziel would not have been there to be hit to the ground.
6:42 — McCown and Browns putting a nice drive together.
6:43 — spoke too soon; McCown with no mobility
6:45 — Coons goes 4 for 4 with another Browns field goal. Cleveland still trails by a point, 20-19.
6:51 — Browns need to hold at the goal line and only give up 3
6:52 — 12 men on defense.
6:53 — Phillips with the 1-foot TD reception to put San Diego up 27-19. 
6:59 — Can you say "Metcalf up the middle?" Crow is not an inside runner.
7:03 — Red Flag. That looks like a catch in the replay
7:05 — If that's not a catch, I'm the queen of England
7:06 — Johnson Jr. was stopped at the line. Second and a foot
7:08 — Barnidge gets the TD, Browns go for 2.
7:08 — Browns tie the game 27-27, on Taylor Gabriel 2-pt conversion. 2:09 left in regulation.
7:15 — That was a huuuuuge hole in the D line
7:18 — Can the Browns get a blocked FG attempt?
7:20 — Missed kick, but Browns offside. Only in Cleveland
7:21 — FINAL – Chargers 30, Browns 27
QUICK FINAL THOUGHTS: Where do I start? McCown played well, but this season should now be about getting Manziel in the game and see what the Browns have in him. The defense is not good. They looked good for a quarter and that was it. The 480 bridge is calling, so we'll do this again soon.

NEO Sports Insiders Newsletter
Sign up to receive our NEOSI newsletter, and keep up to date with all the latest Cleveland sports news.