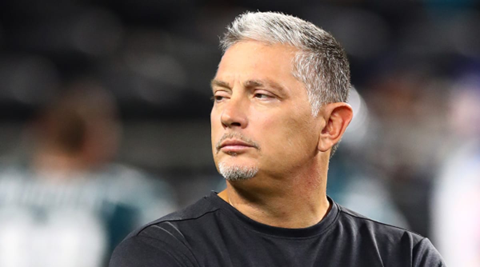 BEREA, OH – On Tuesday morning, news broke that Jim Schwartz was going to be hired as the next DC of the Cleveland Browns. This news comes after the Browns interviewed multiple candidates for the position. The candidates included Brian Flores, Sean Desai, Dennard Wilson, and Jim Schwartz. Multiple reports came in previous days that Brian Flores was the front runner for the job. While Flores has a good NFL résumé, the Browns may have hired the most qualified candidate.
Past Coaching Success
Jim Schwartz has made a living at building defenses throughout the league for the past 2 decades. His DC career started in 2001 where he landed the defensive coordinator job with the Tennessee Titans. Schwartz held the position through the 2008 season. During his time in Tennessee, he was considered for multiple head coaching jobs in 2005. He was not given any of the jobs and continued to coach with the Titans. He aided in the stardom of DT Albert Haynesworth, who gained 2 All-Pro selections in 2007 and 2008.
After the 2008 season, Schwartz was hired by the Detroit Lions to be their head coach. Schwartz had a lot on his plate as the Lions had become the first team to go 0-16 the season before. While in Detroit, Schwartz led the Lions to the playoffs just once from 2009-2014. His record through the 5 seasons was 29-51. However, like he did with Albert Haynesworth in Tennessee, Schwartz was big in the development of DT Ndamukong Suh in Detroit.
Since leaving Detroit, Schwartz has had 3 other positions throughout the NFL. He was the Buffalo Bills DC in 2015, the Philadelphia DC from 2016-2021, and a Senior Defensive Assistant for the Titans from 2021-2022. In Buffalo, he led the defense to 3rd in the league in takeaways, 4th in points and yards per game, and 2 All-Pro defensive tackles. In Philadelphia, Schwartz won a Super Bowl in 2017 where his defense ranked 4th in both yards allowed and points allowed. 
What This Hire Could Mean
For the Browns, this could mean a revamp of the defensive line room, or just a mere improvement. According to Pro Football Focus, aside from Myles Garrett and Jadeveon Clowney, who ranked 1st and 28th respectively, the highest ranked defensive lineman was Taven Bryan. Bryan was ranked as the 66th interior lineman out of 125 eligible. Schwartz comes in with experience coaching incredible defensive linemen like Fletcher Cox, Albert Haynesworth, and Ndamukong Suh. 
Notable Free Agent Defensive Lineman
The Browns have 2 starting defensive linemen entering free agency in Jadeveon Clowney and Taven Bryan. With Schwartz coming in as DC, the Browns may look to add different pieces to the line than what they had last season. Here are some notable free agents on the defensive line the Browns may be looking to add:
DT Ndamukong Suh – 36 y/o
DT Flecher Cox – 32 y/o
DT Dalvin Tomlinson – 28 y/o
DT Da'Ron Payne – 25 y/o
Fan Perspective
Throughout last season, it was obvious that there was a change on defense that needed to be made somewhere. Week by week it was getting harder to trust that the defense was going to do its job. Whether it was blowing leads, miscommunication, playing to deep in coverage, or leaving a man open, it was not getting any easier. Bringing in a guy like Schwartz is huge for no-nonsense and bringing energy to the team. This clip shows all you need to know about Jim Schwartz and his energy. 
Thank you @karnsies817 for reminding me that Jim Schwartz WANTS ALL THE SMOKE😂 #Browns pic.twitter.com/k3WgIyDd82

— 🟧Manny Maxwell🟧 (@mannymaxwell5) January 17, 2023
With that being said, Schwartz seems to be a great fit for this Browns team and could look to propel the defense to what it was supposed to be in the past few seasons. 

NEO Sports Insiders Newsletter
Sign up to receive our NEOSI newsletter, and keep up to date with all the latest Cleveland sports news.