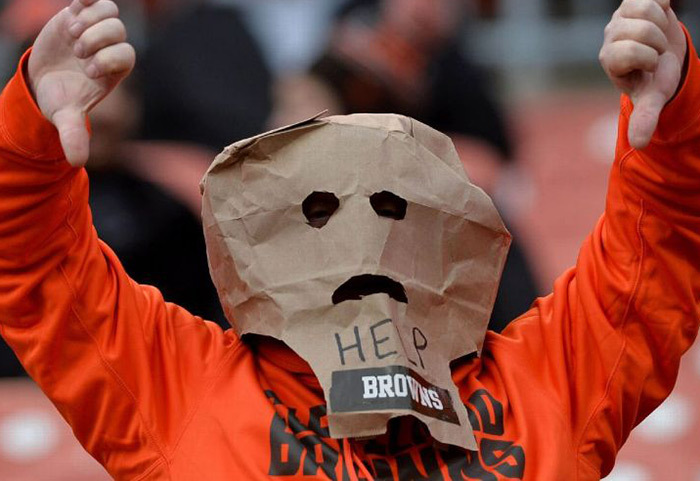 It's mid-January, I'm exhausted, but still breathing, which means I survived another Cleveland Browns season. That may not sound like much, but successfully making it through a Browns season has become increasingly more difficult the older I get. I'm not the young buck I once was with boundless energy and hope. Each season is more like going to the dentist. You know it's going to hurt, and you just want to get it over with. At least the dentist has the decency to numb me up.
In the 2022 edition of the Cleveland Browns… it looked a lot like every other chapter since 1999. That's what makes season reviews so difficult with this team. They rarely change. Many games this season could have even used the same recap. The post-game pressers were the same, the failures were the same, and the Browns lost in Pittsburgh the last game of the season. A seasonal tradition as regularly occurring as Christmas itself. The only solace this year was that suffering Browns fans could bet the Steelers to cover the spread (they did) in order to soften the loss.
Speaking of traditions, the Browns fired their defensive coordinator, Joe Woods. Firing coaches is also a tradition in Berea. Granted, coaching changes happen all the time and this one was certainly necessary, but the fact remains that needed coaching changes happen far too often. When employees in any business have to be replaced constantly and/or the turnover is high, you look for the problem in management, ownership, or flaws in the structure of the business itself. Something tells me that logic also holds true for the Browns. If only there was another Cleveland sports franchise the Browns could look to, talk to, and study that has been a model of stability…
We now know Jim Schwartz has been hired as the new defensive coordinator. Now there will be some turnover on the defensive side of the ball. There has to be, not only because of the new coordinator, but because there has to be more production and more of an effort to scheme  to the strengths of the players. Whether it's the players in the locker room now or ones yet to be acquired. That was sorely lacking with Joe Woods. I love the Schwartz hire. He's the steady veteran I want as a coach. He doesn't need oversight, he's not the unproven next big thing in coordinators, he knows what he's doing and has been in this role before. Credit where it's due, kudos to the Browns.
As far as the team… well, if you're not named Garrett, Chubb, or Cooper, you have a lot of work to do. I'll be the first to admit that bad coaching can make superstars look pedestrian, but that doesn't stop me from calling the performance of this team as a whole: underwhelming. I know the prevailing opinion among fans is to treat the 2022 season as a punt to set up next year. Two things about that: 1) The team put itself in the position to waste an entire year of their core players, that should bother you, and 2) Aren't you tired of hearing and believing that? It's always about next year. Kicking the can down the road so-to-speak and delay judgment. That's been the game for over 2 decades.
It's no secret, the Browns are low on draft picks and cap space, but offensively they need another reliable receiver, tight end, and interior lineman. Defensively, other than Myles Garrett, the Browns' cupboard is pretty bare on the defensive line. There's some potential there, but Alex Wright, Isaiah Thomas, and Perrion Winfrey are raw.
The linebacker Corp was decimated by injuries. It's incredibly hard to project them, but it's safe to say there needs be a shake-up there. In the secondary, John Johnson has been disappointing, Denzel Ward can't seem to stay healthy, Grant Delpit has his moments of good and bad. Greg Newsome is solid, but his development stalled this year. The Browns need help everywhere on defense. But again, there's not a lot of assets. Andrew Berry will have to get creative and the Haslams will have to agree to convert salary into signing bonuses to create cap space
The Jim Schwartz hire is a good start to the offseason. He was my number one choice. The Browns have work to do going into 2023. It could be Kevin Stefanski's last season if the Browns don't make the playoffs. That's my prediction. If the Browns are sitting at home after week 18, they'll be looking for a new head coach and offensive coordinator. I'm sure Jim Schwartz knows that this could be a one and done year for him. If Stefanski stays, so will Schwartz, if not, he'll be a head coaching candidate. That's the reality of the situation. There's nothing we can do but wait and see.
The success of the Browns for the next 5 years is the responsibility of Deshaun Watson. Whether Stefanski is here or not, or if any of us like it or not, that, again, is the reality of the situation. Speaking of reality think of the quarterbacks in the AFC: Burrow, Allen, Mahomes, Lawrence, Jackson, Herbert, etc. Watson better play at an All-Pro level to even compete for a playoff spot let alone make a run.
Things seem as unclear as always for the Browns. It wouldn't be a Browns offseason circus without coaching and quarterback issues under the big top. Hopefully, things stabilize, but these are the Browns. I won't be optimistic until given a reason to be.
And now it's time to do what we do best: prepare for the draft, get ourselves unrealistically optimistic about a potential 5th round pick and undrafted free agents for 6 months before things slowly fall apart in September leading to an inevitable November collapse leaving us looking forward to 2024 by Thanksgiving.
Happy Holidays Everyone!

NEO Sports Insiders Newsletter
Sign up to receive our NEOSI newsletter, and keep up to date with all the latest Cleveland sports news.