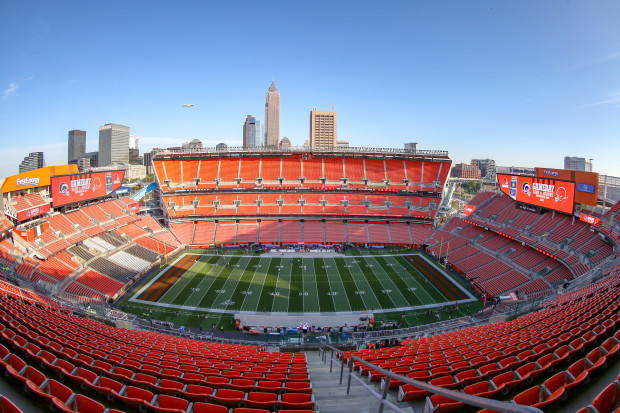 The Cleveland Browns began playing football in the new Cleveland Browns Stadium back in 1999. Since then, the stadium has seen some renovations done. For the last 10 years, there have been rumors swirling that owners Jimmy and Dee Haslam, who took over as owners of the Browns back in 2012, wanted to either renovate the current stadium, which they recently did or build a brand-new stadium that was either a dome or featured a retractable roof.
MY THOUGHTS: For football purposes, Cleveland Browns stadium isn't being used nearly enough. Ten or so home games a year isn't good enough. The stadium has managed to bring in other events, such as ice hockey, concerts, and monster truck events, but that's still not good enough.
A member of the media tweeted out a few months ago some numbers on what it would take for the following.
Another renovation: $1 billion
Basic new open air: $2.5-$2.75 billion
A dome: $2.75+ billion
A retractable roof stadium: $3.5 billion.
The current stadium is fine for football, but, if the Haslam's and the city want to bring in larger named events, they need to come to an agreement and figure out a smart way to build a state-of-the-art stadium that can host world-class events along with other smaller events all year long. And if they need help figuring that out, call up Minnesota city officials, U.S. Bank stadium is officially paid off, twenty-three years ahead of schedule.
If you are going to work on this stadium, build something special that can last and bring in a lot of money. Stop nickel and diming a stadium that you clearly can't keep up with.
Watson And His New Weapons:
I have been seeing a lot of social media videos of Browns starting QB Deshaun Watson really putting in a lot of work with his new teammates, both on the field and off.
He hit new Browns wide receiver Elijah Moore on some nice routes and made great deep ball connections with another new Cleveland receiver, Marquise Goodwin.
MY THOUGHTS: I know there are still a decent amount of people doubting Watson's ability to get back to his prime, elite form. With the work he's Putting in, I'm feeling more comfortable that he'll be there soon. Cleveland general manager Andrew Berry has done plenty of work to make Watson's job as easy as possible.
Berry has upgraded both sides of the ball on paper and has been extremely aggressive. Hopefully, all this will show up on the field and in the standings this season.
HOPKINS TO CLEVELAND:
Another big rumor is recently released Arizona Cardinals WR DeAndre Hopkins might be interested in coming to Cleveland. A lot of that is due to Hopkins wanting to play with a team that isn't rebuilding and is ready to compete for a championship and Watson being here. Hopkins and Watson played together in Houston.
Hopkins was a great wide receiver and still might be. He is a five-time Pro Bowler and has been named to five All-Pro teams.
MY THOUGHTS: I like the idea of adding Hopkins, but if Cleveland does that, they will have to cut a WR. Cleveland has a lot of wide receivers in that receiver room, and I bet Anthony Schwartz wouldn't be safe. The main thing is money with Hopkins. I don't think Cleveland can afford $20 million for him. Again, it would be nice, but I don't see it happening.
DEFENSE!!:
New Browns defensive end Za'Darius Smith was brought in to help this defense, but he won't play in his normal role. For most, if not all of his NFL career, Smith has been in a 3-4 defense and played as a linebacker and defensive end. When speaking with new Browns defensive coordinator Jim Schwartz, he simply told Smith that he wants him to just worry about attacking the quarterback as a defensive end and that's it. Not dropping back into coverage. Smith did that back in college at Kentucky. He seemed very happy about it.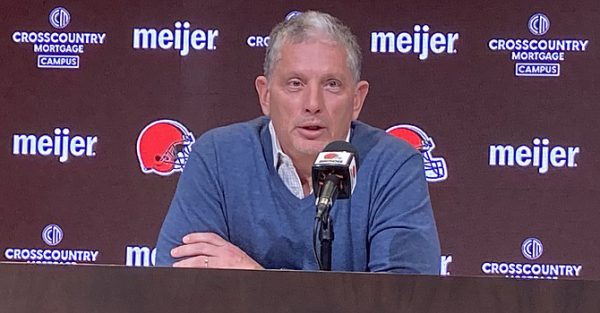 MY THOUGHTS: For those of you that have been tired of Joe Woods and his less than aggressive defenses for the past few years, I hope you're ready to embrace a much more aggressive style defense from new DC Jim Schwartz. Schwartz will blitz much more and that's fine if the defensive backs can do their jobs in one-on-one matchups. That's what will happen when Cleveland calls for a blitz. I like aggressive defenses, but that comes at a price.

NEO Sports Insiders Newsletter
Sign up to receive our NEOSI newsletter, and keep up to date with all the latest Cleveland sports news.