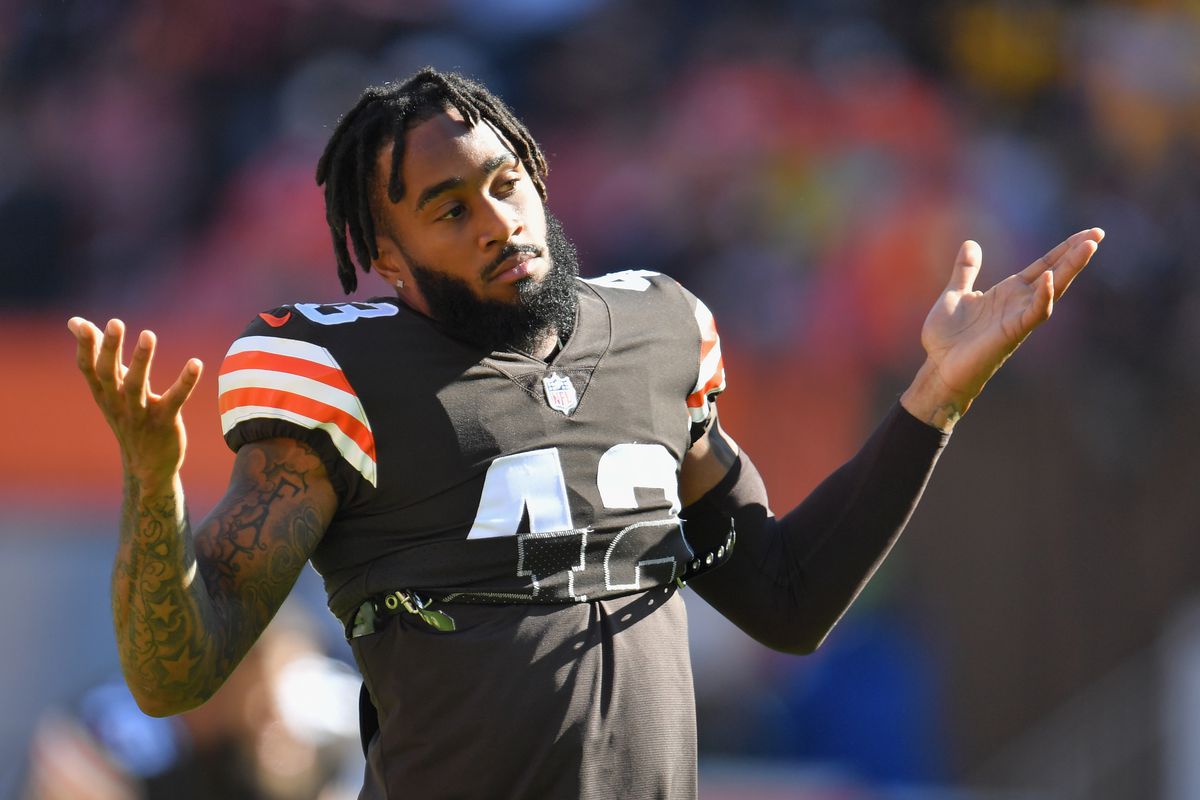 Cleveland, OH-
For weeks now players have been not so subtle about their displeasure with defensive coordinator Joe Woods. Kevin Stefanski stated he would address the players who spoke out and doesn't have any plans to get rid of Woods. He did address the frustration of his players "When you're 3-7 there's frustration…we have to have that attitude of fixing everything that needs fixed."
Myles Garrett sat alone on the bench after Cleveland's latest loss to the Bills as the teams headed to midfield. This image speaks volumes of the discord.
Garrett had plenty to say to reporters after the game. "It's got to be more emphasis in practice," the defensive end said, "It's been a lack of importance when we go out there and practice, and it's got to be more important to us if we want to force those takeaways in the game."
Stefanski told the media "Myles speaks for Myles." The coach is having to address these types of comments that are being made to the media. Players are taking their internal frustrations and making them public. That's a red flag.
Heading into the 2022 season Cleveland touted itself as having one of the best defenses in the NFL. That certainly has changed. The defense has turned into a huge disappointment.
Cleveland won the season opener in Carolina but the defense almost ruined that win. The secondary let Robbie Anderson get behind them and former Browns quarterback Baker Mayfield found Anderson for a 75-yard touchdown. Cade York nailed a 58-yard field goal to squeak out the first season opening win since 2004.
Browns' defense has given up multiple leads
The worst was the week two loss to the Jets. The defense had no answer for Joe Flacco allowing him to torch Cleveland with four touchdowns. With less than two minutes left in the game the Browns held a 13-point lead. Corey Davis ran for a 66-yard touchdown and then the Jets recovered the onside kick. Flacco went on to throw a touchdown to Garrett Wilson and Browns fans were stunned. The feeling of shock turned into anger as fans booed the team. Garrett's told the media after the game that "he was disappointed at the boos."
Can't blame Nick Chubb for scoring his third touchdown in the loss. No way Chubb could've envisioned that the defense would blow the lead however, he took it on the chin – "I probably shouldn't have scored right there. Honestly, looking back at…it cost us the game." Chubb did what a leader does and took the high road when speaking on it.
Nick Chubb decided to run this in for a TD rather than slide down.

The Jets came back to win 31-30.

(via @Browns)pic.twitter.com/5LYhhE9yZz

— SportsCenter (@SportsCenter) September 18, 2022
Thus, you can't blame Cade York for missing an extra point. The loss was completely on a reoccurring theme…blown coverage. Yet no one wanted to take responsibility. John Johnson IIII said "not everyone is playing the same coverage."
Denzel Ward gave what was a half-hearted response stating, "It wasn't my coverage, but I'll take the blame for it."
A lot of talk & little action
These types of comments sound like a dysfunctional family. It wasn't the first time Johnson III had talked of the team's issues.
Cleveland's safety alluded that all players weren't 100 percent committed to doing everything possible to turn the season around.
"Yeah, it's a commitment thing," Johnson III said earlier in the season "When practice is over and our day is done, you can't just run out of the building and forget about your job. I think we need everyone in this building to really be 100 percent in on the task at hand. Right now, I think we're at a place where that's not the case. So, whatever we gotta do to get as many guys, if not everyone in on the same page, I think that's what it is. Because that's the only way things are going to change."
After the epic debacle of the loss to the Jet's, the defense had a players-only meeting. It didn't appear to have an impact as the defense is still crumbling week after week.
On the heels of the latest loss Browns' tight end David Njoku said, "I have no sympathy for us. We're a team…put your hard hat on and go to work. There's no time for excuses or time to point fingers."
Pointing fingers & making excuses is repeated
Week 13 Deshaun Watson will be behind center for the Browns. This prompted another controversial statement from John Johnson III, "Jacoby's been playing great, but obviously you get that spark from Deshaun coming back. It's a spark for the locker room. It's not over, yet. As easy as we lost 4 games straight, we can win 4 games straight and then it's a whole different ballgame."
This begs the question – the locker room can't rally behind Brissett?
Or is it just a lack of self-motivation? Whichever is the case, that statement speaks volumes as to the current state of the team.
The Browns defense is ranked 30th mostly due to giving up huge passing plays. Their run defense is most likely the worst in the league allowing 202 rushing yards to the Falcons and a whooping 238 rushing yards to the Chargers.
Now what?
Joe Woods stated "We are addressing issues. We are trying to fix it. Part of it is fundamentals. Part of it is scheme. Part of it is just guys doing their job. It is a little bit of everything. We all have to get on the same page, give them a good plan and we to out …and most importantly and execute. Believe in it and execute."
Denzel Ward spoke about Wood's defense, "We've got to get everybody on the same page and buy into it."
It certainly doesn't appear that the players believe in it as there's a lack of conviction in their play. Woods is correct on one thing; it comes down to guys doing their job. The product the defense is putting out on the field is a result of players not being serious about their job. It is a glaring truth. Everyone gets unhappy at work or with their boss. This group of men appear to be quite unhappy, and it shows. It's football, however, it is their job as well. At the end of the day, it boils down to that.

NEO Sports Insiders Newsletter
Sign up to receive our NEOSI newsletter, and keep up to date with all the latest Cleveland sports news.