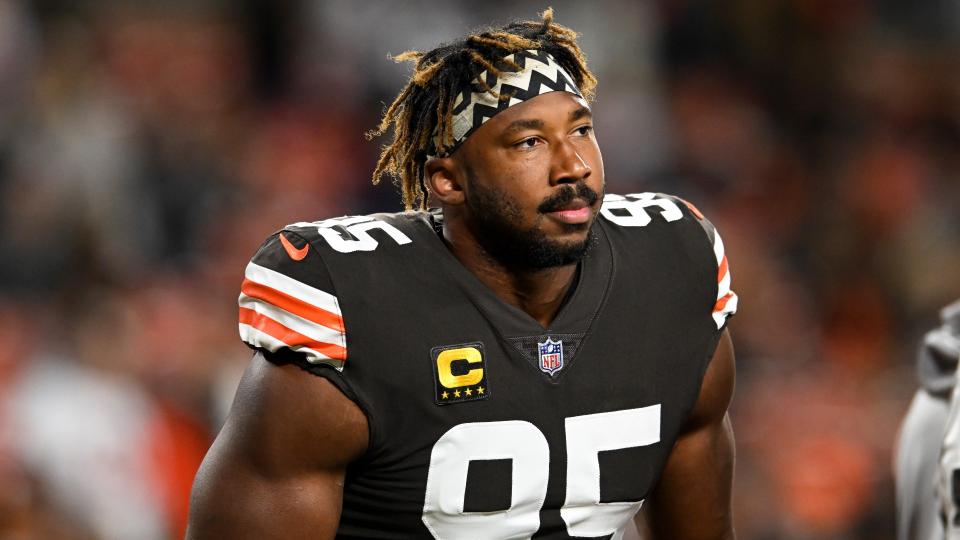 Myles Garrett has been described as a freakishly skilled athlete, and he wants to use that talent to win the NFL Defensive Player of the Year Award.
After a no sack and no QB hit game with one solo tackle vs Miami, Garrett was quoted as saying: "It doesn't matter if you're ready to run through a wall if it's in the wrong direction. We really need to just focus in a little bit more and that's where we're going to get back to doing."
Only Garrett truly knows what that actually means, but after nine games and a 3 – 6 team record, it is getting a bit late for trying to focus in a little bit more. And shouldn't Garrett as the leader know the right direction?
Knowledgeable Browns fans know that this year's team has plenty of issues, and a Garrett led defense is front and center within those issues. The Miami Dolphins 39 points and 491 yards gained emphasizes that point quite un-nicely.
Garrett's Career 2017 – 2022
If I am unfairly singling out Garrett on a defense that breakdowns in all areas, keep in mind these facts:
Garrett will earn $19 million from the Browns in 2022
He was the very first player drafted into the NFL in 2017 by the Browns
The 2022 season represents Garrett's 6th season with the Browns
Garrett will be 27 years old in a little over 6 weeks
His 2022 stats are 13 solo tackles, 7.5 sacks, and 2 forced fumbles in 8 games
Three-time All-Pro, in 2018, 2020, and 2021
Leadership?
Garrett did not earn All-Pro in 2019 due to his six-game suspension that was levied after he swung his helmet as a weapon and hit Steelers QB Mason Rudolph. The game was nationally televised on November 14, 2019. In the aftermath, the Browns finished 2 – 4 without Garrett, and 6 – 10 on that season. Coach Freddie Kitchen lost his job, and GM John Dorsey ended up resigning.
Garrett has missed a game this season because on September 26th he rolled his Porsche over several times after losing control while speeding, and missed the Atlanta game due to injuries, including a shoulder sprain. He and his female passenger were lucky to survive the accident, as the Porsche was badly damaged and totaled. His auto accident was careless, reckless, and 100% self-inflicted. It had a negative effect on the team, and Garrett has since stated that he probably came back too soon from his injuries.
Given his talent, five plus years of NFL experience, and stated goal to assume a stronger leadership role with this Browns team in pre-season training, it is fair to assess just how effective of a leader Garrett actually is.
The defense has struggled in most games, as opponents have successfully run and passed to outscore and beat the Browns. Many fans have suggested firing DC Joe Woods. Others blame the lousy performance on the players.
Garrett is leading a lousy defense. A defense that has 9 of 11 starters returning, including Jadeveon Clowney, at the opposite defensive end. Those two were supposed to wreak havoc on opposing QB's, and their offenses. That has not happened is an understatement, and a weekend football fact in at least seven of the nine Browns games.
While his talent is respected, I believe that Garrett's voice in the locker room is ineffective. My guess is that it is a passive voice, and an inconsistent voice. It is a voice that does not demand his defensive teammates to run as hard as they can to the ball.
Leaders are role models. As you watch Browns games, do you ever wonder if teammates that seem to take plays off, and are out of position frequently, are following the lead of Myles Garrett?
Garrett is leading a defense that is searching for leadership and lacking in emotion and desire. Fans like me question their desire, and that question rarely gets asked when strong leadership is present. So, I question Garrett's leadership.
So where is the leadership, Myles? Not asking for a friend, I am asking for me.

NEO Sports Insiders Newsletter
Sign up to receive our NEOSI newsletter, and keep up to date with all the latest Cleveland sports news.