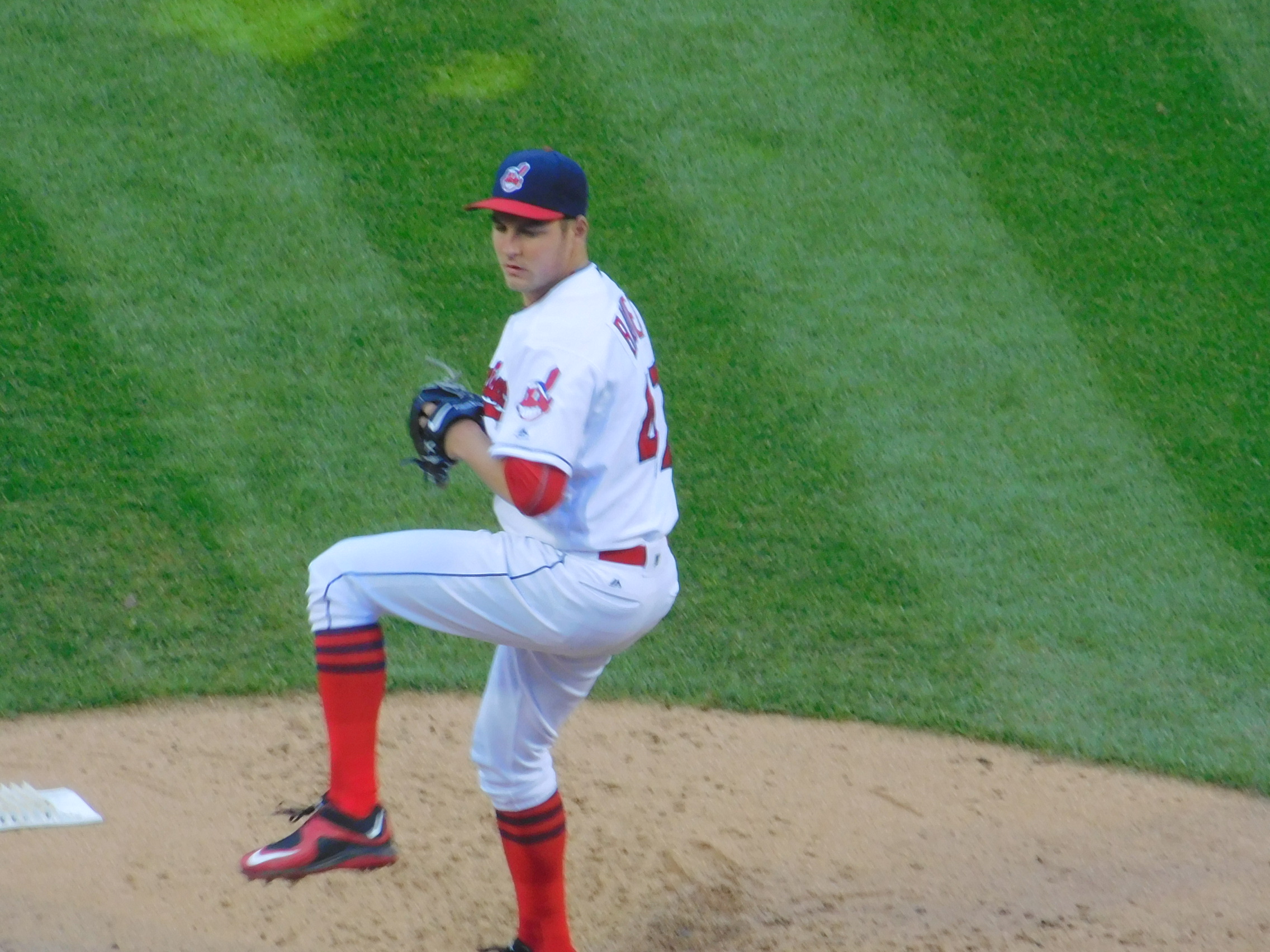 CLEVELAND– On Tuesday afternoon when Cleveland Indians manager Terry Francona announced that he was starting Trevor Bauer in Game 1 of the team's American League Division Series rather than the franchise's ace, Corey Kluber, it sent some shock waves through the baseball universe.
Francona said that a few weeks ago, he and Kluber discussed keeping Kluber on normal rest. In order to accomplish that, the team needs to start him in Game 2 to have him ready for a potential Game 5.
And while it may seem crazy to not start the guy who is likely going to win the Cy Young in the first game of the postseason, Bauer has hardly had a bad year. Against the Yankees in 2017, he's 2-0 with a 1.38 ERA (for the record, Kluber is 2-0 with a 1.59 ERA). Overall, he's posted a 4.19 ERA and a 17-9 record. Over his last 14 appearances, 13 of which were starts, he's 10-1 with a 2.60 ERA.
During the second half of the season, it seems as though Bauer is not overthinking, and in his mind, his numbers and stats finally caught up to his appearances on the mound.
"The first half [of the season] was miserable," Bauer said on Wednesday during his media availability. "I was depressed for the first month, month and a half of the season. I didn't enjoy coming to the field. My numbers sucked. I didn't feel like I was contributing to the team. So like, I was on the team, but didn't feel like I was contributing, which is a terrible feeling for any competitor.
"And the second half started out terribly, one of my worst starts in pro ball. And then over the course of the next couple of months it turned around. So, it's been enjoyable for sure because I feel like I'm able to contribute. Instead of just being on the team, I feel like I'm a part of the team."
Bauer also said that during the back half of the season, he did a much better job at limiting damage. For example, instead of giving up home runs with runners on, he was more likely to instead give up solo shots.
"My numbers look a lot better because my ERA has now matched what I've been doing all season," Bauer said on Tuesday. "I feel confident with where I'm at, I feel strong, I feel healthy, I'm executing well. Again, just trying to do the same thing we've been doing the last couple of months as a team."
All in all, the season seems to have panned out about as well as Bauer could have expected, even off the mound. Throughout the years, even going back to his college days at UCLA, his struggles with teammates and unique training methods have been well-documented. Whether fairly or unfairly, he has oftentimes been painted as difficult to get along with and overly confident in his abilities.
This year, that seems to not be the case. Off the field, he's one half of the duo that has created #MiniTeamCLE2017, making caricatured versions of his teammates out of baseballs along with Carlos Carrasco. The baseballs have basically become the 2017 Indians' version of the Cleveland Cavaliers' Lil' Kev.
That sense of camaraderie has translated to his on the field performance, especially when you look at the way he has worked with catcher Roberto Perez all season.
"Five years ago, the growth he's made, not just being a teammate but as a pitcher, he's come a long way," Francona said. "Trevor's done a heck of a job. For him to get the ball in Game 1 speaks volumes. Trevor will never back down from a challenge and we love that about him."
The fact that he is getting the nod doesn't indeed show how far he's come. He is, however, still unapologetically himself.
During the 2016 playoffs, Bauer became infamous nationwide after he sliced his pinky finger open while working on a drone he was building prior to his start in the ALCS. The team was forced to push his start back a game, and when he pitched in Game 3 at Toronto, he only made it two-thirds of an inning before the team had to pull him. Ever since the incident, Bauer and drones has turned into a touchy subject with Cleveland fans.
"People get freaked out about me working on stuff, they don't realize I work on my drones literally over the entire season for the past three years," Bauer said on Tuesday.
Early last week, one of Bauer's drones was stolen from Clague Park in Westlake, and he even took to Twitter to hilariously request its return with a wanted poster and the hashtag #SaveMyPinky.
Now, it's over a week later and the drone has still not been returned to Bauer, who said that he is going to Iceland after the season is over and will need a full fleet for pictures and videos.
"I've pretty much given up on it, so I've started the process of building a new one," Bauer said. "I took the [propellers] off this year, so we should be good."

NEO Sports Insiders Newsletter
Sign up to receive our NEOSI newsletter, and keep up to date with all the latest Cleveland sports news.