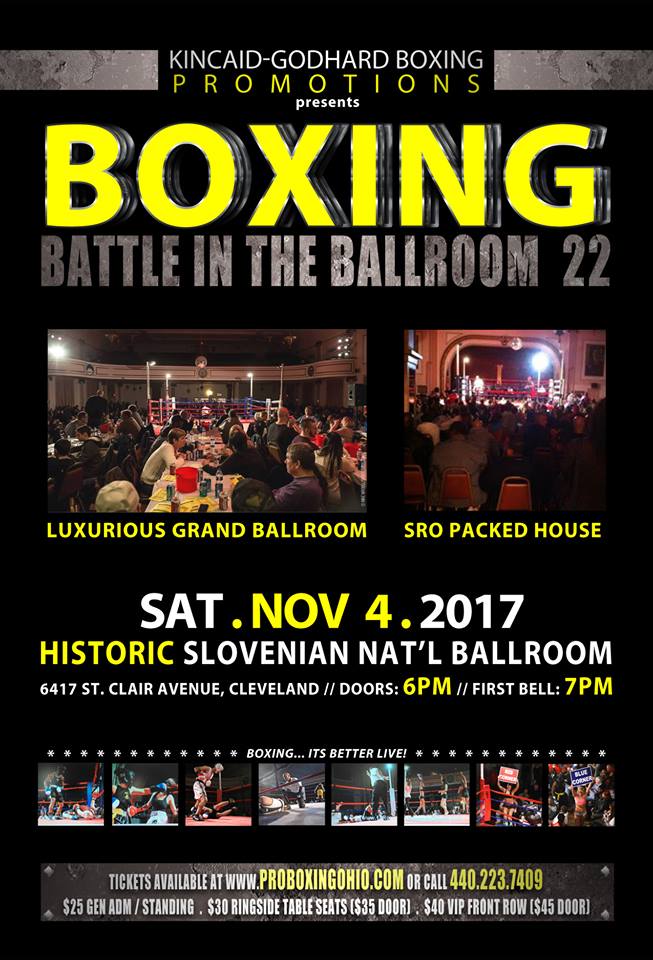 Kincaid Godhard, the premier boxing organization in Ohio is at it again this weekend with a loaded card
The action will be Saturday night from the Historic Slovenian National Ballroom.  It is located at 6417 St. Clair Ave.  Doors open at 6pm and the first bell will be at 7pm.  It is always a great night of fights with plenty of action!
You can see the entire fight card below, and we will see Saturday night at ringside!
– Elvis T. (Cleveland) vs. Chuckie B. (Erie, PA) [TITLE]
– Peyton M (Mentor HS) vs. David M. (Heritage HS) [TITLE-HS]
– Crashonna W. (Cleveland) vs. Asia S. (Cleveland) [FEMALE]
– James M. (Maple Hts) vs. Fredrick B. (Louisville, KY)…
– Brad F. (Fairview Park) vs. Patrick F. (Mansfield)
– Christian J. (Eastlake) vs. Charles S. (Cleveland)
– Eugene M. (Cleveland) vs. Braden L. (Dover)
– Nick L. (Kent State U.) vs. Anthony H. (Euclid)
– Shane F. (John Carroll U.) vs. Anthony C. (Cleveland)
– Nick J. (Cleveland) vs. Joseph C. (Cincinnati)
– Brian C. (Ashtabula) vs. Jermain B. (Cleveland)
– Alex M. (Cleveland) vs. Wilfredo L. (Erie, PA)
– Nolan T. (Nordonia HS) vs. Henry L. (Canton HS)
– Justin G. (Parma HS) vs. Anthony B. (Erie, PA)