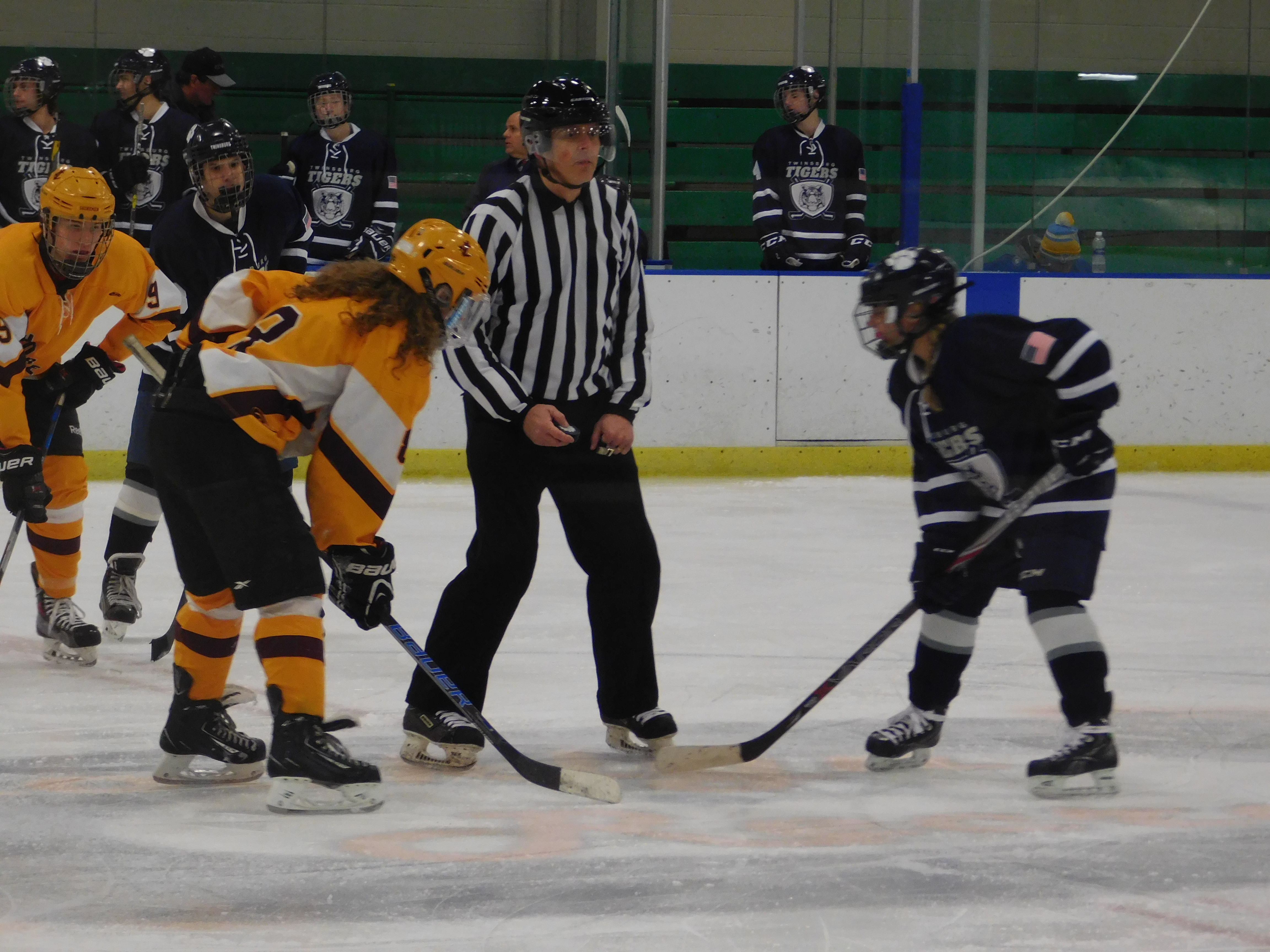 BROOKLYN, OHIO – The Avon Lake Shoremen were presented with their Blue North Championship award prior to Monday's Baron Cup opener against the Twinsburg Tigers, but celebrating that trophy was the furthest thing from their mind.
Last season they were upset by CVCA in the first-round of Baron Cup play, but Monday after a slow start never looked back, as they shoutout the Tigers 7-0 to move onto semifinal play on Saturday.
"I think there were some nerves on the first and second shift, I didn't like some things, but as I told them, there's no passengers, everyone has to work hard and keep the puck alive and just play simple hockey," Avon Lake coach Fran Sullivan said.
Part of that 'simple hockey' was getting their big scorer, Jared Aslaksen involved, and the senior responded with a hat trick, his third in his last four games.
He also led a charge that saw the Shoremen out-shoot the Tigers 22-6 in the first period, 18-6 in the second, and in the third period put 13 shots on net to five for Twinsburg for a total of 48-17 on the day.
Senior goalie Cameron Stepka recorded her third shutout on the season for Avon Lake, stopping all of the Tigers shots and being helped by a defense that held their ground the entire afternoon.
Luke Farthing got the Shoremen on the board first in the opening period, getting assists from Brian Walasinski and Patrick Graney to make it a 1-0 game 5:19 in.
Avon Lake went up 2-0 with 4:46 to play in the opening period as Connor Koncelik found the back of the net, freshman forward Murphy Mohar collecting the assist.
The second period also saw Avon Lake score twice, the first goal going to Aslaksen with Koncelik getting the assist to make it 3-0 5:40 into the period.
Koncelik scored to extend the Shoremen lead to 4-0 at 9:01 of the period, with Timothy Lubertozzi getting the assist. The final goal of the period went to Mohar, with Aslaksen gaining the assist to make it 5-0 after two.
Aslaksen finished off the night with two more goals in the third for the hat trick, the last goal coming with 6:52 as he laid on his back and got a backhanded goal past Tigers goalie Hannah Zochowski.
It's the first win in the Baron Cup for Avon Lake since the 2003-2004 season, and they are hoping not the last as they move one game away from playing in the Baron Cup II Title Game Sunday in Brooklyn.
"There's not an overconfident kid in that room, and the coaching staff isn't overconfident, and we're just going to take it one period at a time, and see where it takes us."
Three Stars of the Game
1 -Jared Aslaksen
2- Cameron Stepka
3- Connor Koncelik