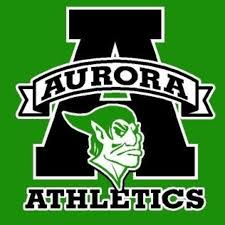 BROOKLYN, OHIO – The Aurora Greenmen came back from a 2-0 deficit, scoring four unanswered goals in the final two periods to defeat Normandy in Baron Cup III action on Thursday night.
Normandy was in control in the first, as Lukas George and Jacob Herchick gave the Invaders a nice cushion heading into the second.
"I thought we came out flat," said Aurora coach John Sheridan.
"The good thing is after the first period, we took a deep breath."
Along with taking a deep breath, Joe Capretta fired up his teammates during the intermission, giving a speech that he said was not out of anger, but frustration.
"We could have played better than we did in the first period and sometimes you just have to rile everybody up," the senior said.
"We came out and we showed it in the second period. I think we were a lot more jazzed up after the first. We were ready to go."
Aurora regrouped with its Baron Cup survival on the line, as Tomi Pirinen and Capretta answered back, taking turns getting on the board.
The one-two punch of Capretta and Pirinen has been a lethal combination for the Greenmen this season and the senior called their chemistry "a trampoline effect."
"I get a goal, he gets an assist. He scores, I get an assist. That's kind of how it's been," said Capretta.
Capretta netted the first Greenmen goal less than two minutes into the period, wristing home a pass from Maxx Goldston, who was credited with the assist.
Aurora went on the power play with seven minutes left in the period, but spent much of the time in its own defensive zone, only taking one shot before the power play was about to expire.
Just as Normandy returned to full strength, Pirinen delivered a clutch goal to even up the score at two.
"It was huge," Capretta said of his teammate's game-tying goal.
"It was a big momentum goal and we knew we didn't get a lot of chances, so that time we capitalized."
The two sides entered the final frame deadlocked at two.
Aurora got another opportunity for a four minute power play and quickly took advantage, as Pirinen scored his second goal of the night, also assisted by Capretta.
Normandy found itself down with less than ten minutes remaining and was on the offensive for much of the frame, but couldn't capitalize, as the Invaders were turned away at every chance by goaltender Joey Brockway.
"Big game," Sheridan said of his goaltender.
"He comes in as a senior with a lot of experience. He's been in a lot of pressure situations and he came up big. This should only give him momentum going into Saturday against Brooklyn."
Fittingly, Capretta slapped home the insurance goal with two minutes to play, as the senior had a clean look to fire home what head coach John Sheridan called "the biggest goal of the night."
The Greenmen advance to the Baron Cup III semifinal, where they'll face #1 Brooklyn, who is 22-3-1 and won its first match of the cup, 7-1.
Although Aurora comes in as underdogs, that didn't stop the Greenmen from knocking off #2 Normandy and the team believes it can play much better than it performed for three periods against the Invaders.
"We feel confident," the coach stated.
"They play a lot of the same teams we play and we're giving them all kinds of respect. They're undefeated in the conference."
Brooklyn will have a raucous home crowd on hand for the semifinal and Sheridans knows it will be a hostile environment.
"It's their home rink and their fans will be fired up. Hopefully that makes them a little nervous but I think we could have played better and if we play better than we did today, we have a good shot."
Our stars of the game are Capretta (two goals, two assists), Pirinen (two goals, one assist), and Brockway, who held the Invaders scoreless in the final two periods.
Aurora (12-12-1) and Brooklyn face off at 3 pm Saturday at the Brooklyn Ice Arena, where the Greenmen once again hope to pull off the upset.

NEO Sports Insiders Newsletter
Sign up to receive our NEOSI newsletter, and keep up to date with all the latest Cleveland sports news.