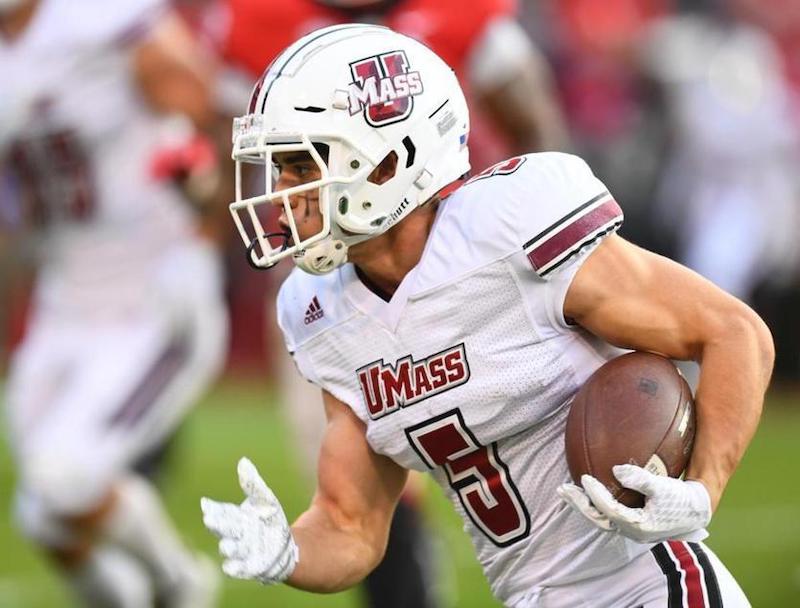 Coming out of high school, Andy Isabella was hardly recognized as a Division I talent. The only two offers the Mayfield, Ohio, native had were from FCS Lafayette and Air Force.
Four years later and being selected as one of three finalists for the Biletnikoff Award— given to the nation's best FBS wide receiver— Isabella's name is rising up draft boards. But before NFL scouts and the college football landscape even heard the name Andy Isabella, he was just a 5-foot-9, 180-pound running back from a small suburb 22 minutes east of Cleveland, Ohio.
Speed was the one thing you couldn't miss when evaluating Isabella. In fact, he was the Division I state champion in the 100-meter dash during his senior year of high school. The thing that really drew the attention of Umass head coach Mark Whipple at the time was the 6.72 seconds Isabella ran in the 60-meter dash at the NEOITC Buckeye Meet at Spire Institute on Jan. 28, 2015.
At the time, the 6.72 seconds stood as the fastest time in the country. That record-setting time was good enough for Whipple to call Isabella and offer him a scholarship. Isabella wasn't a typical college football prospect, but all he needed was an opportunity and he got that at UMass.
"Every school came in and just said I was too small," Isabella said. "Nobody gave me a shot my whole life. Coach [Mark] Whipple gave me a shot."
Isabella's freshman season started off with playing special teams. He spent the majority of his time on the field returning kickoffs, eventually returning 17 kickoffs in eight games played. After his first year with the team, Mark Whipple— former UMass head coach who coached Andy the past four years— wanted to use Isabella's speed to the team's advantage. Him and his son Spencer, the team's receivers coach, decided to convert Isabella into a slot receiver, one who can open up the offense due to his game-changing speed.
The transition from running back to wide receiver was the beginning of a historic three year run with the Minutemen. During his sophomore season, Isabella caught 62 passes for 801 yards and seven touchdowns. It all started with a three-catch, 95-yard performance week one against the Florida Gators. Following that game, coach Whipple knew Isabella can become an elite playmaker lined up at wide receiver.
"He worked on his skills receiving and he had football speed and not just track speed," Whipple said. "He was just a hard worker and didn't make mental mistakes. When he ran by Florida we knew he had talent and he gained a lot of confidence."
After a breakout sophomore season, Isabella was ready to prove more as a junior. The new year called for new looks within the offense. Whipple decided to feature him more by not just limiting him in the slot position.
"We moved him around and got him the ball more in his hands," Whipple said. "He can line up anywhere. Each week we'd put him in different places. He didn't need a whole lot of reps because he's smart."
That seemed to pay off for Isabella and the Minutemen. During his junior season, he ended up catching 65 passes for 1,020 yards and 10 touchdowns. His best game that season came on Oct. 11, against Maine. During the team's win against the Black Bears, he caught a season-high eight passes for 152 yards and three touchdowns.
After yet another breakout season, Isabella's name swiftly began to be heard across the country. In fact, heading into his senior season, Isabella was recognized and in the discussion for several different preseason watch list awards. This would turn out to be the beginning of a historical season for the slot wide receiver.
In his final season with the Minutemen, Isabella caught 102 passes for 1,698 yards and 13 touchdowns. He ranked first in FBS with 1,698 total receiving yards and 141.5 receiving yards per game. He also ranked second in the country in catches (102) and tied for fifth in touchdown receptions (13). On top of that, he had six games of 100 or more receiving yards, while catching four or more passes in all 12 games.
During the team's Week 10 win against Liberty, Isabella caught nine passes for a career-high 303 yards and two scores. The 303 receiving yards broke Victor Cruz's previous record of 282 for most receiving yards in a single game in UMass history. This game was surely the best statistical game of his four-year career, but the game that stands out the most to Isabella was their final game of the season, a week 12 matchup against the Georgia Bulldogs.
In that game, Isabella caught a career-high 15 passes for 219 yards and two touchdowns. During the team's loss to the Bulldogs, Isabella ended up breaking former UMass great and current Tennessee Titans wide receiver Tajae Sharpe's school record for most receiving yards in school history. The previous record of 3,486 yards now belongs to Isabella with 3,525 yards.
In his four-year career at UMass, Isabella ranks second all-time in career touchdowns (30), receptions (231) and single-season touchdown receptions (13). Keep in mind that he only caught two passes for seven yards during his freshman season as well.
What Mark Whipple saw from Isabella throughout his career was something special. It was so special that he went on to call Isabella the best wide receiver to come out of UMass. To hear that from his former coach was something that brought a smile to Isabella's face.
"That means a lot coming from Coach Whip. He saw things in me that I couldn't see in myself and always believed in me," Isabella explained. "He never gave up on me through bad games and having him say that means a lot to me."
All of the postseason awards and recognition Isabella has received following the historical 2018 season is a product of his hard work and dedication to the game. All the extra time spent in the weight room and watching film has been shown on the football field the past four years.
Isabella was recently invited to the Reese's Senior Bowl— an exhibition game for the top senior prospects entering the NFL draft— on Jan. 26 in Mobile, Ala. After that, the 5-foot-9, 190-pound wide receiver will start training for the 2019 NFL draft, something he always dreamed about doing.
From being recruited as a running back coming out of high school, to breaking the team's all-time receiving yards record in his last game played for the Minutemen, Andy Isabella's legacy at UMass is written in stone. He's been flying under the radar his whole collegiate career and it's satisfying to Isabella to see all of the work he's put into the game finally paying off.
Being selected for eight different All-America awards is something that doesn't go unnoticed. But for Isabella, what he leaves behind at UMass is much more than setting records and personal recognition. The past four years have taught him how to create an impact and influence on the players around him and that's the one thing Isabella wants to be remembered for the most during his time spent in Amherst, Massachusetts.
"I want to be remembered for my hard work and dedication to making the team and teammates better," Isabella said. "Even as an inspiration to my teammates to see that they can accomplish similar things through hard work."

NEO Sports Insiders Newsletter
Sign up to receive our NEOSI newsletter, and keep up to date with all the latest Cleveland sports news.