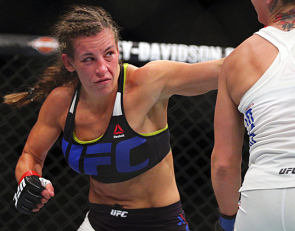 LAS VEGAS, Nevada – A little over two years ago UFC president Dana White turned his nose up to women competing in the UFC Octagon. Now with the sudden influx of talent and must see matchups, it has become one of his companies most electric and must see divisions.
The divisions main star and draw remains Ronda Rousey as she continues to be one of the biggest stars in not only MMA but all of sports. Her crossover into main stream media has been unheralded as Rousey appeared nude on the cover of ESPN The Magazine's 2012 Body Issue and in a pictorial therein. Si wasn't the only mainstream magazine to promote her as in May 2013, Rousey was ranked 29 on the Maxim Hot 100. Sales for the magazine were huge so they once again had her appear on the cover and in a pictorial of the September 2013 issue. She also crossed over onto the big screen as Rousey co-starred in The Expendables 3 (2014) and then again in 2015 as she appeared in the film Furious 7, and then played herself in the film Entourage.
Her sex appeal and over exposure has not been limited to just the states as in 2015, Rousey became the first woman featured on the cover of Australian Men's Fitness, appearing on their November edition. She has been a major factor in the expanding coverage of MMA on Fox Sports and ESPN as proven when in October 2015, Rousey became the first female athlete to guest host ESPN's SportsCenter.
Even the boxing world which tries to separate itself as much as possible from MMA couldn't ignore the appeal of Rousey when she appeared on the cover of the January 2016 issue for Ring magazine. She was the first MMA athlete to appear on the cover. It wasn't long after that SI came calling again and in 2016 she appeared in body paint on the cover of the Sports Illustrated Swimsuit Issue.
The gravy train for Rousey and the UFC just kept on rolling when even after a shocking loss to Holly Holm in November 2015, Rousey hosted the January 23, 2016 episode of the late night variety show Saturday Night Live, with musical guest Selena Gomez. She became the first MMA competitor to do so.
The mainstream coverage of the UFC's golden girl will not stop as a number of starring film roles have been developed for Rousey, including an adaptation of her autobiography My Fight/Your Fight at Paramount, The Athena Project at Warner Bros., the Peter Berg-directed action film Mile 22, and a remake of the 1989 Patrick Swayze action drama Road House. Road House will mark her biggest acting job to date.
Rousey was 12 – 0 with 11 first rounds submissions and knockouts, including nine of those victories inside of 90 seconds. She was the most dominant athlete in fighting since the days of Mike Tyson which made her loss at UFC 193 in November 2015 even more shocking. The options for the UFC and Rousey are wide open and all of which present a lot of appeal to them.
Fans are already clamoring for a rematch with Holm as everyone wants to see if the loss was a fluke. Another key matchup that has everyone talking is a shot at the current champ Miesha Tate, a women Rousey has beaten twice and has also developed a very heated rivalry with. The smart money is on Rousey taking one of them on in the UFC 200 main event. Again, the biggest card in UFC history and the rumor is a main event of women. It just goes to show how far they have come in two years.
As for current UFC women's champ Miesha Tate, the intrigue of anything she does at this point is also a big reason the division is buzzing. After back to back brutal losses to Rounda Rousey and Cat Zingano, Tate has been on a tear, winning five straight including a thrilling fifth round submission win for the title over Holy Holm earlier this month.
A rematch with Holm is in the cards as well as a match with her long time rival Rousey. Like Rousey, Tate is also very easy on the eyes and has extremely positive mainstream appeal. Her next move will go a long way to shape the division.
As for the woman Tate took the title from, Holly Holm, there may not be a bigger enigma in all of sports. While her victory of Rousey generated Buster Douglas like comparisons, her loss to Tate had people labeling her a choke artist as she had the match in the bag before getting stunned in the final round.
People forget that Holm is only in her first full year in UFC and has only competed in four times in the Octagon. Logic would have it that she can only get better, but an immediate rematch with Tate is not yet a sure thing, as the majority of the fans want to see her face Rousey again first.
Paige VanZant is picking up on the mainstream attention that Ronda Rousey started. Despite recently losing only the second fight of her young career, she has landed a spot on Dances WithThe Stars on ABC. In her six MMA wins the 22 year old has shown immense passion and talent which clearly indicate a long future in the sport and plenty of main event matchups in the strawweight division. Much like Rousey and Tate, she also has extreme sex appeal that will keep her crossover appeal at a high rate for a very long time.
As if those top four aren't enough to hold every MMA fans interest, mix in recent signing Cristiane " Cyborg" Justino and the UFC just got even better. 15 – 1 lifetime and a former Strikeforce and Invicta Champion, Cyborg brings instant credibility and a name big enough to main event any show she is on.
One thing is for sure, no matter the matchup, whether it is Rousey vs Tate, Rousey vs Holm, Rousey vs Cyborg or Tate vs Holm, whatever the UFC decides will be sure to draw PPV buys and keep bringing the UFC the mainstream attention they crave!
If you want to reach out to Vince McKee, you can contact him on twitter at VinceTheAuthor

NEO Sports Insiders Newsletter
Sign up to receive our NEOSI newsletter, and keep up to date with all the latest Cleveland sports news.