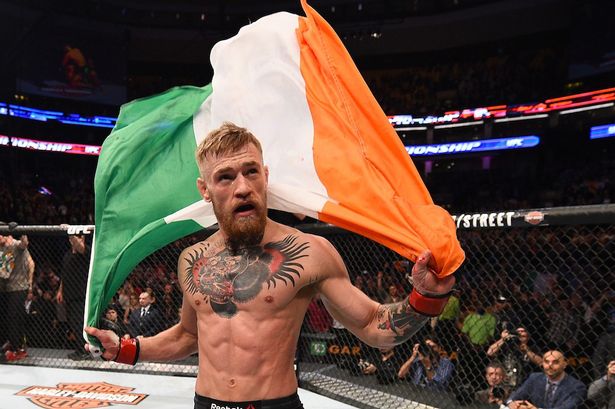 March 5th, 2016 will forever be known as the night Conor McGregor bit off a little more than he could chew.
McGregor took a big risk by moving up twenty-five pounds to fight Nate Diaz, who many overlooked as a fighter. A few months ago, McGregor made the decision to move up ten pounds to fight Rafael dos Anjos for the Bantamweight title, but those plans fell through when dos Anjos pulled out with a foot injury. That's when "The Notorious" Conor McGregor decided to cause bigger shock waves in the UFC than ever before, accepting a fight at Welterweight with only two weeks to prepare.
Everybody loved the tenacity of McGregor, who showed he doesn't back down from a fight and claimed weight wouldn't stop him from fighting anyone. Unfortunately for him, the one thing he said wouldn't become a factor, became a factor.
Diaz caught Conor in a rear-naked choke and forced him to submit with forty-eight seconds left in the second round. That was by far the biggest upset of the night, but the Co-Main Event surely didn't disappoint.
Miesha Tate finally put her demons to rest on Saturday, defeating Holly Holm to win the UFC Women's Bantamweight Championship. Tate really excelled when the fight was taken to the ground, eventually ending the fight with a rear-naked choke in the fifth round.
This was Holm's first title defense since defeating Ronda Rousey and she never seemed to get in a groove offensively.
So now the question being asked after UFC 196: What's next?
Well, let's answer that question with fights already scheduled to take place, starting with UFC Light Heavyweight Champion Daniel Cormier defending his title against the returning Jon "Bones" Jones.
This will be the second time these two have met, with Jones winning the first meeting by unanimous decision. Not long after that fight, Jones was stripped of the title and suspended indefinitely by the UFC due to him fleeing the scene of a hit-and-run accident.
These two have been chomping at the bit to face each other again, and they will on April 23 in Las Vegas. After that will be the UFC Heavyweight Title fight between champion Fabricio Werdum and Cleveland's-own Stipe Miocic on May 14 in Brazil.
The fight was rescheduled after Werdum was injured training, which gives the UFC more time to hype up this fight. Both of those fights are definitely attention-grabbers.
But with UFC 200 coming this July, the UFC is definitely lacking a superstar to put on that card.
If you would've asked the UFC what the card for UFC 200 was going to look like before last night, their answer probably would have been along the lines of a Conor McGregor super-fight and a returning Ronda Rousey hungry to take back her title from Holly Holm.
As soon as Nate Diaz made Conor McGregor submit, all of the promotion's fight bookers drew a big "X" on those plans. So with no obvious direction to take, here's three fights I think most fans would be interested in seeing take place at UFC 200.
1. Conor McGregor vs. Frankie Edgar for the UFC Featherweight Title – Frankie Edgar has been begging for a title shot for a while now. Considering he hasn't had a title shot since 2013, Edgar would come out hungry for this fight. McGregor has said he would like to defend his Featherweight Title at UFC 200.
2. Miesha Tate vs. Ronda Rousey lll for the UFC Women's Bantamweight Title – As soon as Tate defeated Holly Holm to become the new Women's Bantamweight Champion, Rousey texted UFC President Dana White and told him it was time for her to get back to work. These women have fought in two meetings, with Rousey defending her title successfully both times. It would be interesting to see Miesha would fight in the championship role compared to Ronda being the hungry challenger looking to avenge her shocking loss to Holly Holm. Dana White has said this fight will be the next UFC Women's Bantamweight Title match but has not announced a date yet.
3. Robbie Lawler vs. Georges St. Pierre for the UFC Welterweight Title – Robbie Lawler is one of the most physical fighters in the UFC and Georges St. Pierre ran the Welterweight division for eight years. UFC fans would love to see GSP return to the Octagon for the first time since 2013. If Lawler was to win this fight, it would cement him as the best Welterweight fighter since St. Pierre.
Last night definitely altered the UFC's plans for UFC 200. Luckily for them, they have four months until July, the month that UFC 200 takes place.

NEO Sports Insiders Newsletter
Sign up to receive our NEOSI newsletter, and keep up to date with all the latest Cleveland sports news.