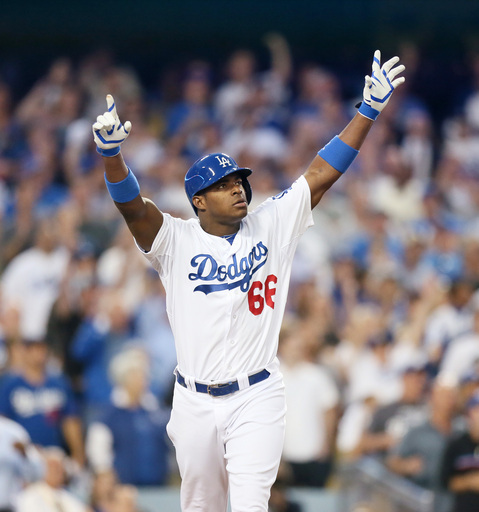 4. This Is A Move For the Future and the Present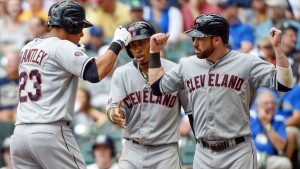 A trade for Puig would be looked at as the Indians saying "We're in win-now mode." But bringing him to Cleveland would also make sense in the long-term view, as well. Puig is only 25. He is signed for $6 Million per year through 2018. That's three seasons from the start of the 2016 season where you have him. He is arbitration-eligible in 2019, and a free-agent in 2020.
The window for the Tribe, which is seemingly changing every season, is ripe for the Indians to contend in the next couple years. Kluber is signed long-term. Carrasco/Salazar are both signed long-term. Kipnis and Brantley are signed long-term. Even Gomes, who isn't a great hitter, but is a phenomenal defensive catcher, is locked up for years to come.
Closer, Cody Allen is here long-term. And oh yeah, Lindor is entering his second season and is arguably, already the best shortstop in the game.
But, let's take that one step further. Everyone has been raving about the up and coming outfielder, Bradley Zimmer, in the Indians' farm system.
Zimmer could be the Tribe's center fielder for years to come. Behind him in the minor league system is Clint Frazier, another elite prospect.
Since Zimmer is closer to being Major League-ready, let's picture this outfield for a second. Say… in 2017?
Left Field: MVP-Candidate and two-time All-Star, Michael Brantley
Center Field: One of baseball's best prospects, Bradley Zimmer
Right Field: Dynamic athlete, All-Star, power-hitter, Yasiel Puig
If that doesn't get you excited to come down to Progressive Field, no amount of dollar dogs will.
Just to paint a little bit more of a picture, imagine this 2017 lineup 1-5…
1. Kipnis
2. Lindor
3. Brantley
4. Puig
5. Zimmer
Maybe this is far-fetched, but it's worth considering if you're in the Indians' front office deciding whether or not to make the move for Puig.
But not only does the move make sense in the long-term, it also could make the Tribe contenders in 2016, even with Brantley missing 1-2 months.
Here is a projected lineup of the 2016 Indians without Brantley to start the season, if they trade for Puig.
1. Kipnis 2B
2. Davis CF
3. Lindor SS
4. Puig RF/LF
5. Santana 1B
6. Napoli DH
7. Chisenhall LF/RF
8. Gomes C
9. Urshela/Ramirez 3B
Here is a possible lineup with Brantley when the team is fully healthy.
1. Kipnis 2B
2. Lindor SS
3. Brantley LF
4. Puig RF
5. Santana 1B
6. Napoli DH
7. Chisenhall 3B
8. Gomes C
9. Davis CF
I know, moving Chisenhall to third base would not make the defense great, but it's an option. If you don't want Chisenhall there, maybe you keep Urshela and slide him down to eighth or ninth in the lineup. But it's worth considering.
All of this is to illustrate the vast difference it makes in the lineup to add a legitimate power-hitter. Which leads us to our next and final point.
(Continue to next page)

NEO Sports Insiders Newsletter
Sign up to receive our NEOSI newsletter, and keep up to date with all the latest Cleveland sports news.