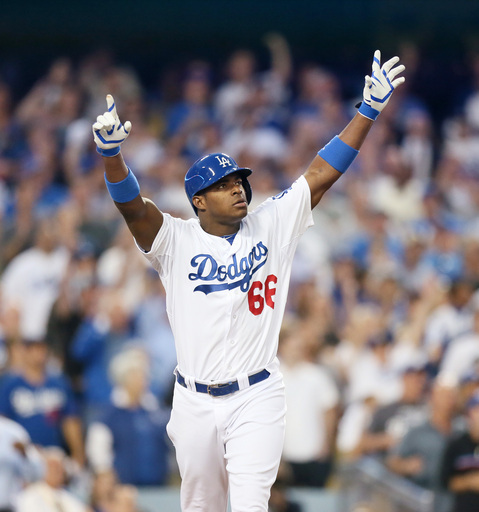 3. Terry Francona
The biggest complaint that people around baseball have had with Puig is his attitude/behavior/maturity, whatever word you want to use to describe his off-the-field antics.
There's no doubt he is a hot-head, and teammates haven't all gotten along with him.
You know who that sounds like? Albert Belle. Not saying that Puig is that level of player yet because Belle hit 50 homers and 50 doubles in a season, and was one of the premier power hitters in the game in the mid-90's. But Puig has potential to be that kind of impact player in a lineup.
He's only 25, so he is just beginning to enter the prime of his career. He's also signed through 2018 at a relatively cheap, 6 million per year, which is something we'll discuss further in our reasons, but as it relates to his "character issues," there are only two words you need to know about why Cleveland would be a good place for him to play.
Terry Francona.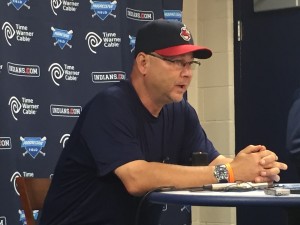 Francona won two World Series rings in Boston, and he didn't do it with a bunch of choir boys. Every manager would love to have a team full of guys like Tomlin, who are super nice and willing to do anything to help the team, but the reality is you're not going to find that anywhere in life, let alone a baseball clubhouse, where you would like to have a superstar player or two to help your chances.
When Francona was in Boston, he had to deal with the egos of Nomar Garciaparra, Curt Schilling, Pedro Martinez, and most notably Manny Ramirez.
You don't have to look hard to find stories about all the craziness that took place in those clubhouses, but you also don't have to look hard to see the success they had on the field, and a lot of that is due to a great manager, who knew how to handle them.
Francona is a shoe-in for the Hall of Fame. He ended the curse in Boston. He has a chance to end a 68-year drought in Cleveland. Right now, it would be fair to say he doesn't have the resources to work with to end that drought.
But the addition of a legitimate clean-up hitter, with an experienced manager, unlike Don Mattingly in Los Angeles, could be the right combination to put the Tribe in the conversation of contenders.
Francona is considered to be a players' manager. He gets along with his guys. For all we know, he may not want another head case like Puig to have to deal with, but I'm sure he would approach it with as much professionalism and have the right amount of experience dealing with players like that, as any manager in the game right now.
Everything about a potential trade for Puig is somewhat of a risk, but when you're a team like the Tribe, a risk like that paying off, could be the difference between hovering around .500, and getting to the playoffs.
(Continue to next page)

NEO Sports Insiders Newsletter
Sign up to receive our NEOSI newsletter, and keep up to date with all the latest Cleveland sports news.