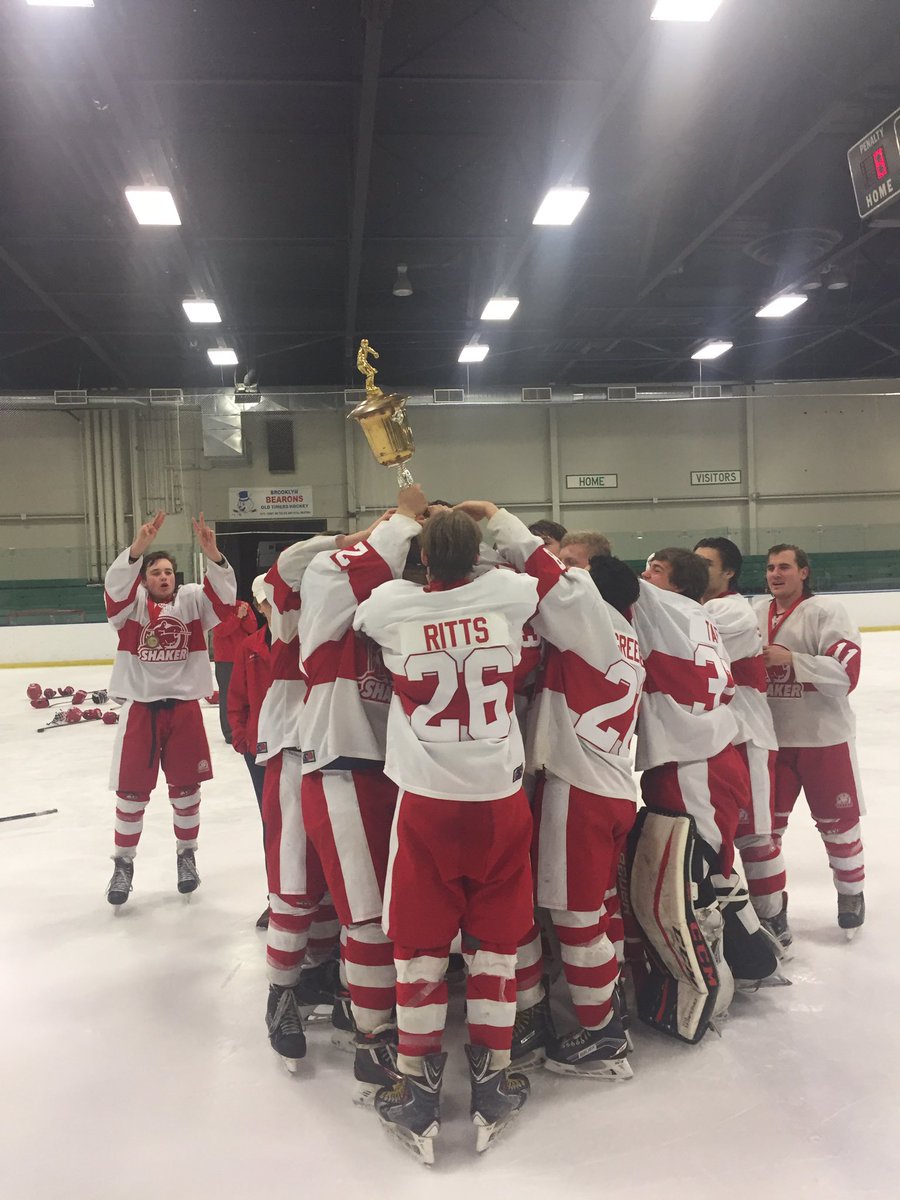 BROOKLYN, Ohio–  The Shaker Heights Raiders and the North Olmsted Eagles faced off in the Baron Cup I Championship game on Sunday. Both teams came into Sunday worn down after playing in a combined seven overtime periods the night prior to earning their spot in the championship game.
The Raiders started off their evening scoring at the 5:35 mark with a goal from Daniel Ritts that was assisted by Geoff Grossman-McKee and Nick Forbes.  Shaker Heights scored one more time in the first period with a goal by Stephen Straffon that was assisted by Britt Anderson and Ben Greenberg with 4:28 remaining in the first. The Raiders led 2-0 after the first period.
In the second period, Shaker Heights added three more goals. The Raiders started the scoring in the period with 12:32 remaining with a goal from Ryan Wheeler that was assisted by Chris Strnisha and Forbes, making the game 3-0.
Later in the period, Shaker Heights scored at the 1:42 mark with a goal by Greenberg that was assisted by Straffon and Anderson. With 6 seconds remaining, the Raiders scored a short-handed goal when Ritts scored off a pass by Anderson.
Heading into the final period of the night, Shaker Heights had a lead of 5-0 over the Eagles. Shaker Heights scored once again with a goal from DC Benincasa that was assisted by Devin Campbell and Asher Pollack with 10:04 remaining in the 3rd period. With 9:14 remaining, Ritts scored his third goal of the game, getting a hat trick. Ritts goal was assisted by Dylan Shelton and Keenan O'Toole making the game 7-0.
Shaker Heights scored their final goal of the night at the 2:57 mark in the third period with a goal by Benincasa with an assist from Evan Grossman-McKee.
With Shaker Heights winning the Baron Cup I Championship 8-0, the Raiders won their second straight Baron Cup Championship, and the team is already thinking about a three-peat for next year.

NEO Sports Insiders Newsletter
Sign up to receive our NEOSI newsletter, and keep up to date with all the latest Cleveland sports news.