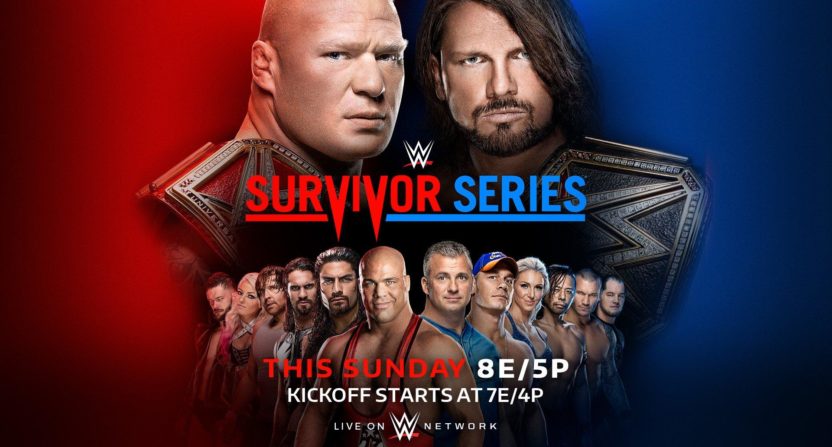 WWE Survivor Series tonight featured the classic team competition mixed in with some hot singles action as well.  The main event matches of the evening all featured Smackdown versus RAW attractions.  There were several strange booking decisions made, so let's get right to our Hot Takes and break it all down!
Strange Booking in the Main Event
Former NXT and TNA competitors were the first to be eliminated in the Main Event Match. As much as the WWE tries to proclaim they don't punish former TNA and New Japan Talent, they sure did tonight.  In a move that made little to no sense, the first three competitors to be eliminated from the main event tonight were Bobby Roode & Samoa Joe (two TNA guys) and Shinsuke Nakamura, a former New Japan performer.  All three of them were eliminated early, meanwhile guys like HHH and Angle, both part time performers lasted until the end, and looked awful.  What sense does this make?
You could have set up the VERY PREDICTABLE Angle vs HHH storyline at any time, by having them both last until the end made little to no sense.  Again, sadly, they both looked 5 years past decent ring shape as well.  You can tell Angle is working very limited with neck issues and appeared to be stiff and slow.  HHH didn't look much better.  Why have them last until the closing moments while having studs like Balor, Roode, Nakamura get eliminated in the first 5 to 10 minutes
Why was John Cena brought back to be in this match as well?  He did little to nothing and didn't seem engaged. Having him lose to Angle also made no sense, why not have Balor pin him after the Coup De Gra?  Just odd decision making all the way around.
Perhaps the oddest booking of all was having Kevin Owens and Sami Zayn run in to attack Shane McMahon, only to have Shane O Mac fight both off and get the better of it.  How does that help anyone and who did Zayn and Owens piss off to be booked this poorly?  Bad enough that were demoted to jerking the curtain tonight in the opening dark match.  There is much more then meets the eye here all the way around.  Shane was made to look like superman while Owens and Zayn get embarrassed?  Just odd!
AJ Styles can have a good match with anyone!
Brock Lesnar tried hard tonight to have another clunker as it appeared he wouldn't be selling anything for Styles.  Once again, the Phenomal One proved he could pull a good match out of anyone.  He truly is the best pound for pound performer on the WWE planet! Styles made it a great match after the terrible sloth like start from Lesnar.  Styles made the fans believe several times he may actually pull off the upset.
The best thing the WWE can do is keep the strap on both guys and set up a rematch for Styles to win a take all match at Mania, but clearly the chances of that occurring about a 1000-1.  The WWE Title will be back on Jinder Mahal well before then and another gigantic opportunity will be missed to instead crown Reigns with another Mania moment.
The Shield opens the PPV portion of the show.
The New Day is a great choice to open any show, the fans get behind them and they can really bring the action to get the show started off right.  Not when they are facing The Shield however.  Very strange choice to open the main portion of the show with this match.  Just one in many odd choices this evening.
Team Raw (Alicia Fox, Asuka, Bayley, Nia Jax and Sasha Banks) defeated Team SmackDown (Becky Lynch, Carmella, Naomi, Natalya and Tamina
Do you remember when Sasha Banks and Becky Lynch were a big deal?  We are a long way away from those days.  Say hello to Asuka.  Expect Alicia Fox to be released by the end of 2017.  Tamina and Nia Jax are basically the same performer and Naomi is the most over rated female competitor in Women's Wrestling History.  This division remains Bliss, Charlotte and everyone else.  Perhaps a returning Paige will shake things up?  Or maybe a Lana bikini shoot?  Something……
United States Champion Baron Corbin defeated Intercontinental Champion The Miz (with Bo Dallas and Curtis Axel)
Smart booking, Corbin needed the rub, The Miz did not.  Simple as that.
The Uso's defeat the Cesaro and Sheamus
No matter who won, the fans were going to be happy.  Two great teams that have each come a long way and should both stay together for a long time to come.
Charlotte forces Alexa Bliss to tap out.
Yet again, like the tag match before it, everyone was a winner in this one.  The two very best female pro wrestlers in the world going toe to toe.  Very smart to have this one end cleanly.  The only thing they should have done different was giving Bliss the win.
All in all, I give this show 2 out of 5 stars.  It simply didn't come close to living up to the high standards the WWE Survivor Series has always had.  A poor outing and the main event was wasted.

NEO Sports Insiders Newsletter
Sign up to receive our NEOSI newsletter, and keep up to date with all the latest Cleveland sports news.