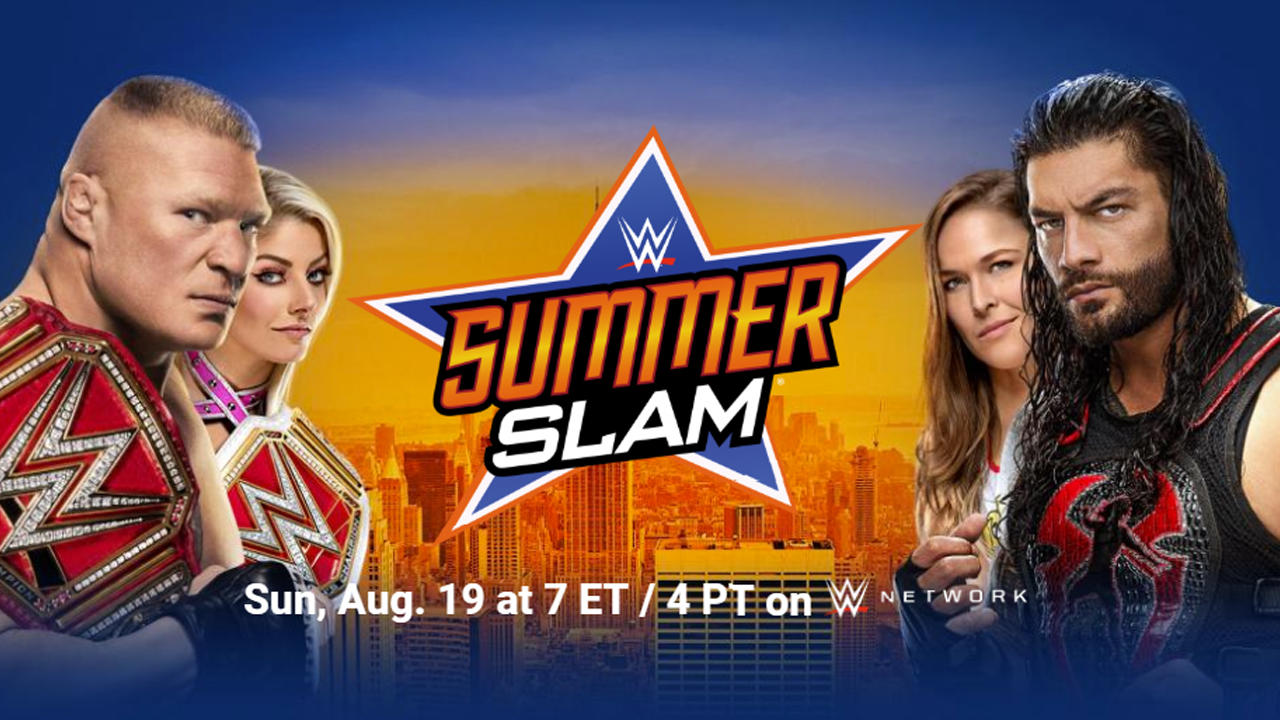 WWE presented its 31rst edition of Summerslam tonight from the Barclays Center in Brooklyn. As expected it was a loaded card packed with plenty of thrills and surprises. While some of the decisions will be debated, there is no denying that the card will have people talking. Of the 9 title matches, 4 saw new champions crowned. Let's get right to it.
The card started at 5:41 EST – Why have matches in a half empty arena, when people at home aren't event watching yet? A strange choice for WWE to continue to do this major PPV after Major PPV.
Cien Almas and Zelina Vega defeat Rusev & Lana – Smart choice. Almas has a bright future and needs to compile the wins early. Also, Rusev and Lana are already very much over and not in need of a win at this point.
Cedric Alexander retains his 205 Live Championship by pinning Drew Gulak. – It was a good match as both men did well. However, this is not a Cruiserweight division. They need to switch it to "Light Heavyweight" and just go with that moving forward. Again, these guys are anything but "Cruiserweights".
The B-Team defends their tag titles successfully over The Revival – This again was the smart choice as The B-Team is doing a great job and the fans love them. The Revival have been a dramatic disappointment since coming up from NXT. Even more so then the ill-fated Ascension were.
Seth Rollins pins Dolph Ziggler to win the WWE Intercontinental Championship – An excellent match as we have come to expect out of these two. The perfect way to open up the "PPV" portion of the card. Everyone thought we'd see the Ambrose heel turn here, but the WWE is smart to stretch that out and get more out of this feud first.
The New Day defeat the Bludgeon Brothers by DQ – A cheap match and the result of having 13 matches on a card. The fans got cheated here.
Braun Strowman squashes Kevin Owens – This was a terrible choice. Owens deserves so much better then the way they treat him. The WWE continues to push Strowman to the moon. It won't be much longer until the WWE Universe turns on him too.
Charlotte Flair wins the Smackdown Women's Title in a three way over Carmella and Becky Lynch – WOW! This match was outstanding and earned the biggest pop of the night when Lynch turned on Flair post-match. These two will have classics after Flair grants Carmella the mandatory rematch. Look for Flair to hold onto the title until she Main Events Evolution with Ronda Rousey.
AJ Styles gets DQ'd in his WWE Title defense against Samoa Joe – This was the exact ending this match needed. It will keep the feud alive for at least two more PPV's. Somewhere Dixie Carter had to be kicking herself watching this. TNA never truly capitalized on the talent they had while these two were headlining shows for them.
Daniel Bryan loses to The Miz – The video package before the match was excellent, very emotional and far better then the actual match. I'm not sure what was wrong, but the crowd was dead for this entire match. There was no doubt, the crowd and announce team were both absolutely gassed heading into this contest.
It was a smart choice to have The Miz win. Because again, this will allow the feud to continue and also highlights why The Miz is so good at being bad. Rumors are that Daniel Bryan has signed a contract extension and we are just getting started with these two.
The Demon Balor squashes Baron Corbin – While the squashes of both Kevin Owens and Alexa Bliss will be heavily debated and angered a lot of fans. The Demon King destroying Baron Corbin in under five minutes was perfectly placed. It is time the WWE pushes Balor to the moon.
Shinsuke Nakamura pins Jeff Hardy to retain the United States Championship – Shinsuke Nakamura is so fluid in that ring. He can go bell to bell with the best of them and tonight was vintage Nakamura. Perhaps the best part of this match came after the finish when Randy Orton arrived, did nothing, and left. Can you imagine making the kind of money Orton does for 45 seconds of "work"?
Ronda Rousey destroys Alexa Bliss to claim the RAW Women's Championship – This was terrible as Bliss didn't land a single move. Rousey dominated almost every second and talked some horrible trash along the way. It doesn't make any sense to me why hard workers like Kevin Owens and Bliss, who are both great in the ring and on the microphone, have such heat backstage with the writers and company brass.
Instead of waiting until WrestleMania for Rousey vs Flair, you're going to rush it for Evolution with no title on the line. On top of that, you bring Natalya and The Bella Twins back tonight for what reason? To have them celebrate with Ronda? None of this makes sense to me.
Roman Reigns wins the WWE Universal Title by pinning Brock Lesnar – Despite the botched spot to end this match, I still agree with the decision. I can see Reigns first title defense being against either Bobby Lashley or Braun Strowman. Not much to say other then glad it appears to be finally over between Lesnar and Reigns.
The crowd was cheering wildly at the end of this match, not to celebrate Reigns, rather it almost seemed like a cheer of relief that this appears to be the end of this obnoxious feud.
All in all not a bad card.  I give it four bodyslams out of five.

NEO Sports Insiders Newsletter
Sign up to receive our NEOSI newsletter, and keep up to date with all the latest Cleveland sports news.