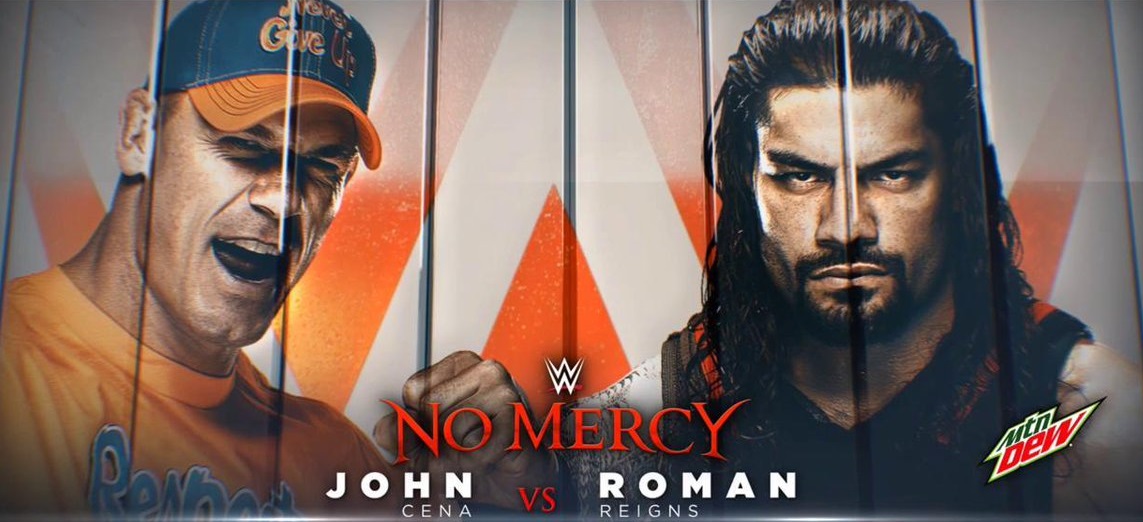 WWE No Mercy Quick Predicts
Apollo Crews vs Elias Sampson 
Preview –  While both guys needs this win badly to keep their struggling mid card careers going.  Elias appears to have a little more steam coming in and "The Titus Brand" seems to have no issues taking the loss.  Apollo Crews was one of the best independent wrestlers I had ever seen, it is a shame to see his fall.
Prediction – Elias Sampson
The Miz © defends his IC title against Jason Jordan
Preview – While both guys have done well in the ring to build this feud, The Miz has truly carried it on the microphone with some great shots at Angle.  It shouldn't be much longer until Jordan turns heel on Angle as part of a HHH ruse.
Prediction – The Miz Retains
Finn Balor vs Bray Wyatt
Preview – Balor is incredibly over, but seldom wins the big one when he is not "The Demon".  Wyatt has grown stale and will need something to keep him relevant.
Prediction – Bray Wyatt
Dean Ambose & Seth Rollins © vs Sheamus and Cesaro for the Tag Championships
Preview – The mini Shield reunion has been fun for everyone involved and I wouldn't expect it to end anytime soon.  It sucks to see a guy as talented as Rollins relegated to tag action, but he pulls it off well and it should keep him injury free until WrestleMania.
Prediction – Rollins and Ambrose retain
Neville © vs Enzo Amore for the WWE Cruiserweight Championship
Preview – Neville is one of the best pound for pound workers on the roster.  The kid can do it all!  If the WWE puts Enzo over, the entire 205 division is dead.
Prediction – Neville in under 5 minutes.
Alexa Bliss © vs Sasha Banks vs Bayley vs Nia Jax vs Emma for the RAW Womens Championship
Preview – I'm really getting sick of these matches.  What is the need to have the entire women's division on RAW in the same match, yet AGAIN!  How many times are they going to keep doing this.  Smackdown ran into the same problem.  It gets old quickly.  And what does it say that Mickie James is the only Diva left out.  Maybe Paige comes back, who knows, who cares. A total waste of Bliss's talent.  One thing is for sure, Banks does not win, and Emma takes the pinfall loss.
Prediction – And still WWE RAW Womens Champion… Alexa Bliss
The Reigning, and defending WWE Champion Brock Lesnar defends his title against the Monster known as Braun Strowman.
Preview – This should be great as Strowman has been billed a very legit threat!
Prediction – It was all part of the plan, Lesnar to get wins over Samoa Joe, Roman Reigns, Fina Balor and Braun Strowman.  While the Balor one is still to come at the Rumble, the Strowman one is scheduled for Sunday.  We saw Lesnar take down Joe in July, Reigns at Slam, and now Strowman will be Sunday.  He will then take a few months off, before it is Balor at the Rumble, before finally losing the gold to Reigns in the long awaited rematch at WrestleMania.
John Cena vs Roman Reigns
Preview – Cena has absolutely owned "The Guy" in the battle of the promo's.  Sadly, it won't matter tomorrow night as Reigns was predetermined to win this one a long time ago.  They should have saved this match for WrestleMania and let Cena go over.  Oh well!
Prediction – Reigns

NEO Sports Insiders Newsletter
Sign up to receive our NEOSI newsletter, and keep up to date with all the latest Cleveland sports news.