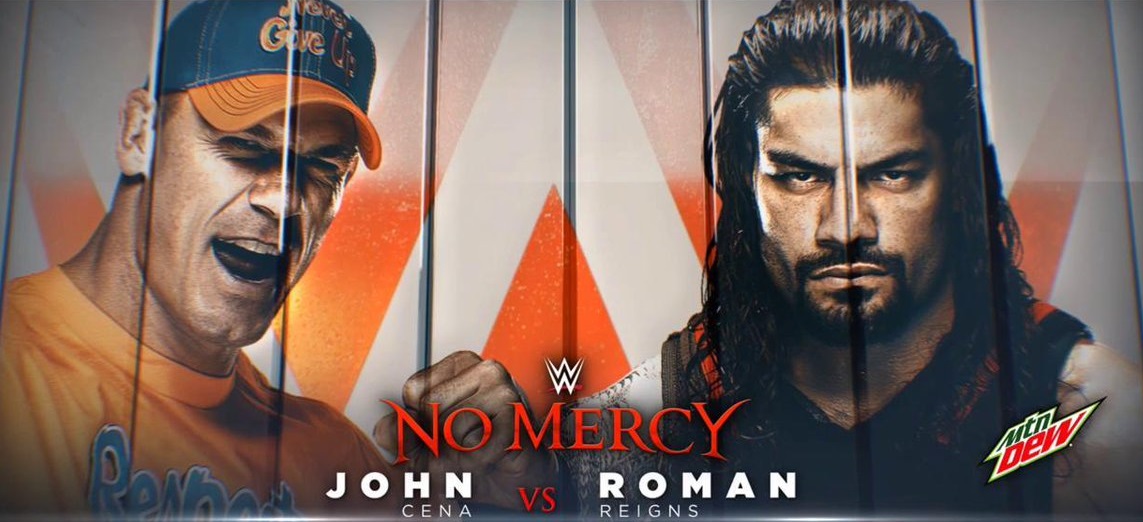 An interesting card put on by the WWE tonight entitled "No Mercy".  A solid pay per view tradition that has been around since the late 90's.  Perhaps the most famous No Mercy match of all time took place right here in Cleveland back in 99 with the first ever tag team Ladder Match between Edge & Christian vs The Hardy Boyz for a shot at the "services" of Terri Runnells.
Speaking of Cleveland, before we get too far into this, a quick shoutout to local guy Vic Charles, for realizing his own dream tonight and commentating on a WWE Pay Per View. We have heard Vic for several months commentate on 205 Live, but this was the first time on PPV.
Let's start right there however, and open up the second guessing with the decision of putting the 205 Live Belt on Enzo Amore.  It makes the entire shaky division look like even more of a joke.  They also sandwiched the match between two of the best matches on the card (Lesnar vs Strowman and Reigns vs Cena).
To take the belt off of Neville, one of the best performers in the entire company for a guy everyone hates, is a head scratcher.  Also, to have a "Face" in Enzo win by cheating, also does nothing to help him.
The undercard saw Elias Sampson defeat Apollo Crews.  A good match for "free" tv.  The Titus brand is going nowhere and Crews will go down as one of the greatest Indy wrestlers who absolutely did nothing on the big stage.
The Miz defeated Jason Jordan to retain his IC belt.  The Miz is solid gold on every level and the WWE creative team is just buying time with Jordan while he develops.  A good filler match, but one that could have been saved for RAW.
Finn Balor defeated Bray Wyatt.  In other news, the sun will come out tomorrow and their will be NFL Football next Sunday.  Totally pointless match with the sole exception that it builds towards the push they have Balor on until loses to Lesnar at the Rumble.
Dean Ambrose & Seth Rollins defeat Sheamus and Cesaro to retain the Tag Gold.  This was a sneaky good feud and it will be interesting to see where Sheamus and Cesaro go from here.  I do wonder who challenges Ambose and Rollins next as well.  A lot of openings with this one based on the result tonight.
Alexa Bliss retains the RAW Womens Championship.  Smart move as this was the best match of the night, also one of the shortest.  All five women delivered and it also showed Bayley wasn't shy about costing Banks the title, and vice versa.  Again, that leaves the door wide open for both of them.  Also, Emma held herself well in this match and made a good showing for herself.  Great match!
Brock Lesnar pins The Monster Braun Stowman to hold onto to his WWE Universal Championship.  The match was a little slow at times, but had that big fight feel to it and worked well.  Strowman made a good account for himself in the loss and was protected well despite the finish.  Lesnar will now take a break before the Rumble and his Finn Balor showdown.
Roman Reigns survives multiple AA's to pin John Cena.  It was an excellent match as both men looked strong and kept the pace moving.  Cena is a true pro, and helped the sport out tremendously tonight by once again showing how unselfish he really is.  The WWE has built an unstoppable force in Reigns, with the sole exception of Brock Lesnar.  Thus, the storyline for WrestleMania continues to take shape.  Who puts Reigns over next? The smart money is on Samoa Joe.
I predicted 6 of 8 matches correct tonight, sadly I don't know if that is a good thing, or bad thing.  All that aside, it could have had a few more twists or surprises and not been so predictable, but at the same time, it is nice to see they didn't do anything too stupid either.  Other then putting the belt on Enzo that is….

NEO Sports Insiders Newsletter
Sign up to receive our NEOSI newsletter, and keep up to date with all the latest Cleveland sports news.