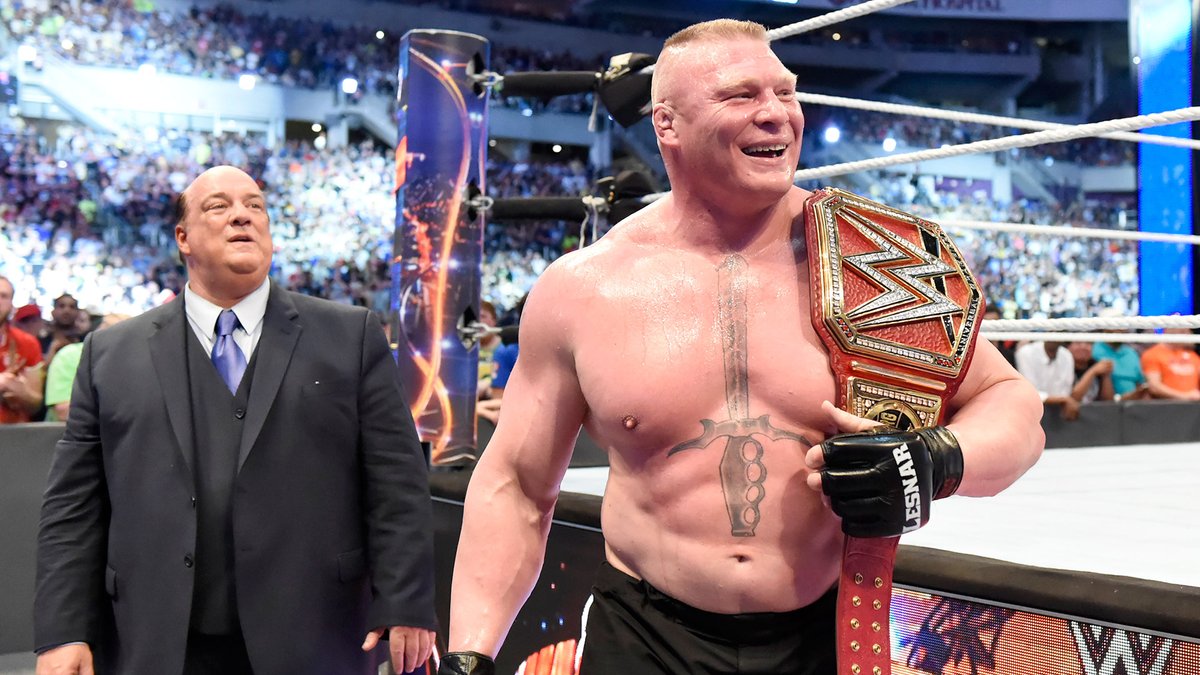 As the WWE heads into the biggest party of the summer, SummerSlam 2017, a 6 hour show, the episodes of Raw and Smackdown continue to heat up.   Let's get right into tonights Monday Night Raw Hot Takes!
The use of Brock Lesnar on Monday Night Raw 
Brock Lesnar was used on Monday Night Raw for the second straight week, with absolutely no direct interaction with any of his three opponents at SummerSlam.  Is it me, or is the WWE burning through his dates to make sure he uses them all up before leaving for the UFC?
Sure seems rushed.  Albeit, I do have to give full credit to The Miz and Paul Heyman for having an exciting back and forth.  The "Miztourage" seems to be catching on, I foresee Heath Slater joining the group soon,  I mean after all, he has kids to feed!
All that aside, why oh why does the WWE continue to have Brock Lesnar appear and not do much if anything.  It is getting really odd and starting to make everyone believe his days as champ our numbered.
Booker T sticking around on the RAW announce team.
If you recall, the original plan called for David Otunga to be moved from Smackdown over to RAW after the roster shakeup following WrestleMania. Instead, it has been Booker T in that role while Otunga fulfills some outside obligations.
Booker T has taken to the role like a fish in water and the WWE Creative team would be wise to keep him around while giving Otunga his walking papers.  Booker T is a perfect fit and meshes perfectly with Corey Graves and Michael Cole.
Enzo has heat, so WWE puts him in a shark cage! 
The fans may love Enzo right now, but strong rumors have it that he is under major heat with the boys in the back.  In fact, he was recently kicked off of a bus by Roman Reigns for disrespecting the business. Who knows what the actually means, but I'm sure it wasn't good.
Despite the love of the fans, the WWE powers that be let the locker-room rule on most occasions, and this is no different.  With that being said, not only have they let him get in zero offense in any of his singles clashes over the months, but now, they are putting him in a cage!
Yes, you're reading that right.  A boring predictable match between Big Cass and Big Show at SummerSlam just got even worse, as now it will have Enzo suspended above the ring in a cage. Let's hope that is the extent of his punishment.
Neville is the only thing worth watching right now in the 205 Division.  
Ok, so not exactly a hot take, but each week gets a little more obvious.  With Aries long gone, their remains no one tno even challenge Neville.  It is a shame, the kid deserves better.  Nuff said…
Samoa Joe is over HUGE with the fans!
For a guy who was supposed to be a heal, this average "Joe" has taken off like a rocket.  Each week the cheers get louder and louder and they continue to allow him to look great against any competition.  At this point, he has to be the favorite to be walking out of SummerSlam with the strap.  But again, that entrance music?????? I digress…
The Finn Balor vs Bray Wyatt Feud works!
Finn may have not needed Wyatt, but the Eater of World sure needed Balor and it is working!  A true good guy vs bad guy feud.  Balor even got in a little microphone time tonight, and the fans ate it up! This one needs to go one several months.
Sasha Banks vs Alexa Bliss for the WWE Women's Raw Title Will Happen at SummerSlam
Ok, so technically, Banks still needs to get past Nia Jax next week to earn the title shot at Bliss for SummerSlam, but it almost seems like a foregone conclusion.  It is a shame that it took an injury to Bayley to make such a obvious booking.  This should have been the match since day one.  These two have major chemistry and need to clash on the big stage!
Seth Rollins brings out the best in Dean Ambrose
After what seemed like a bit of a decline for Ambrose the last year or so, a reuniting (kind of) with Seth Rollins has seemed to bring the best out of him once again.  If both of these guys continue to push each other, then RAW will remain absolutely loaded!  I'd look for them to take the Tag Title at SummerSlam!

NEO Sports Insiders Newsletter
Sign up to receive our NEOSI newsletter, and keep up to date with all the latest Cleveland sports news.